EN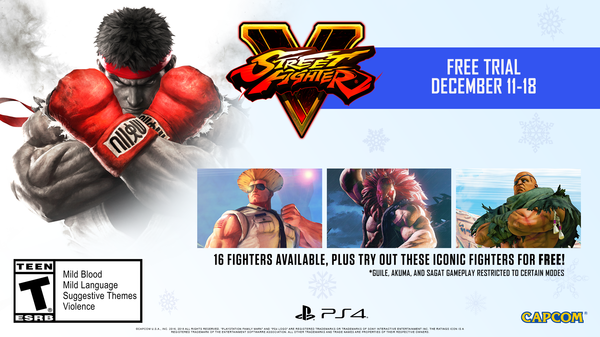 Play Street Fighter V for FREE from December 11-18 on PlayStation 4 and Steam!
Capcom Cup 2018 is quickly approaching, where the best Street Fighter V: Arcade Edition players around the world will fight it out. As we eagerly await the next champion, we figured it would be a good time for new players or those who haven't joined the fight to experience the game as the season ends and 2019 peeks above the horizon.
Click the "Try Free Demo" button on the left.
Scroll down and click "Play Game"
We're hosting a free trial, which will begin on December 11 at 1pm PT (download begins at 9am PT) and will end on December 19 at 9:59am PT. For the trial on PlayStation 4, PlayStation Plus subscription is not required to download and take part, but is required to play online. For PC users, the Steam client is required to take part in the trial. All the initial content from the original Street Fighter V and the modes introduced in Street Fighter V: Arcade Edition are included for free during this time.
16 Characters – All 16 original characters are included in this free trial, including the legendary Ryu, Chun-Li, Ken, and M. Bison! This is also your chance to try out characters who are new to Street Fighter V like the electrifying Laura, nimble Rashid, and tricky F.A.N.G. As a bonus, three fan-favorite DLC characters will be available for free during this trial: Guile, Akuma, and Sagat! These three characters are only available in Ranked, Casual, Battle Lounge, Training, and Challenges.
Arcade – Introduced in Street Fighter V: Arcade Edition, this mode allows you to relive the past main entries in the series. If you're able to defeat all the computer-controlled opponents, you'll receive one of over 200 unique illustrations.
Versus – Play against another local player or against the computer with different difficulties.
Challenges – Learn how to use each character in Demonstrations and Trials or see how long you can fight in Survival Mode.
Training – Practice against a dummy AI as you test out set-ups, combos, and get used to a character without the pressure of a real match.
If you have friends or family who have always wanted to try Street Fighter V, spread the word! This is their chance to see what the hype around Capcom Cup is all about.
SPONSORED CONTENT
Sponsored Content will be introduced into Street Fighter V: Arcade Edition on December 11. Sponsored content will be displayed in several locations in-game to remind you about costumes, bundles, and the Capcom Pro Tour. When Sponsored Content is enabled, players can obtain additional Fight Money in Ranked and Casual Matches – these bonuses come with an upper limit. Here are the places where you will see Sponsored Content:
Costumes: Ad Style – Every character will have an Ad Style costume where the sponsored content will appear somewhere on their clothing or model
Loading Ads – A sponsor will appear in the versus screen before a battle – this will not affect loading screen times
Stage Ads – Some tournament stages feature a sponsor like the Ring of Power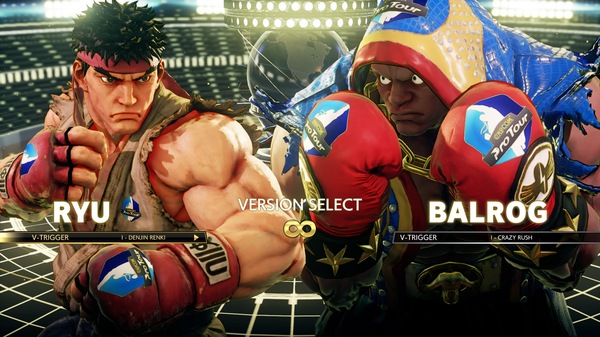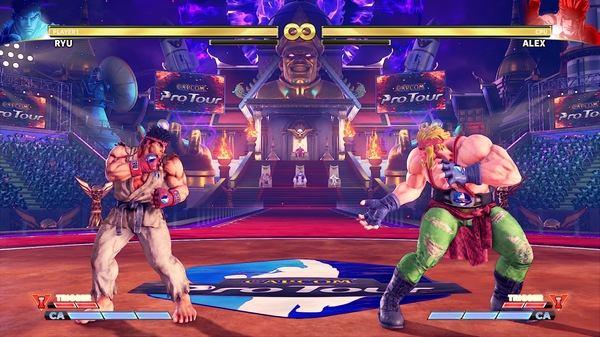 If you'd rather not see Sponsored Content, you can easily turn this feature off by going into Battle Settings, which will give you the following options:
Sponsored Content Settings – Here, you can adjust the sponsored content settings. Turn sponsored content on to receive bonus Fight Money in Ranked and Casual Matches.
Sponsor Display – Turning the setting on allows you to access sponsored content such as Ad Style costumes.
Loading & Stage Ads – Selecting "on" gives you access to Stage and Loading Ads.
We have also been keeping an eye on the number of Extra Battle Challenges cleared and would like to adjust the difficulty, the number of plays, and the rewards. An adjustment will be made on December 11. Please note that we may modify Extra Battle further in the future as we continue to keep tabs on it.
We hope to see players, both old and new, during the free trial from December 11-18!