EN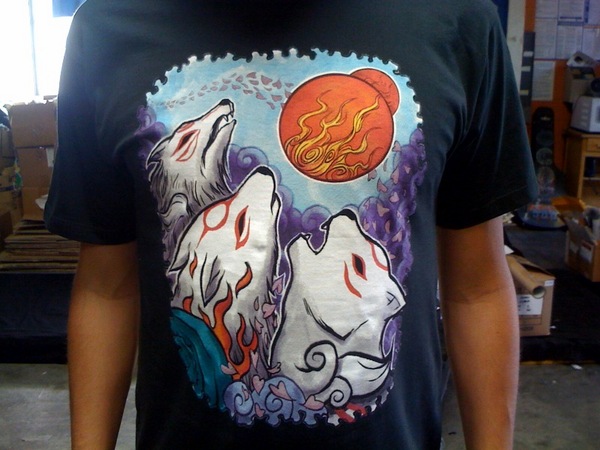 SDCC Update: Triple Function Design
Jul 14, 2010 // vabor
San Diego Comic Con Good Godness…
Here, drawn divinely by artist Gerald de Jesus and produced by Iam8bit, is one of the ultra exclusive items Capcom will be featuring at SDCC. You can win this one via raffle only. The first customer review is already in on this item and it's pretty on point…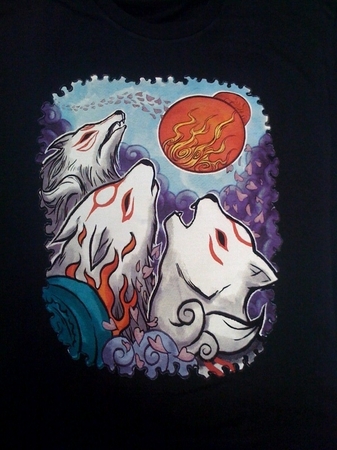 322,210 of 322,211 people found the following review helpful:

Triple Function Design , July 14, 2010
By J. Yang "J-Wow-Omi-Wolf God" (New York, USA) – See all my reviews

This review is from: The Three Wolf God Sun Short Sleeve Tee (Apparel)
This item has celestial wolf gods on it which makes it intrinsically awesome and worth 5 stars, but once I got to try it on, that's when the magic happened. After making sure my godly shirt was lint free, I walked from my apartment to the supermarket with the shirt on and was immediately approached by men, women, children, forest animals, and even a drunken bear. They all knew from the wolf gods on my shirt that I, like a true celestial deity, am a mysterious, omnipotent badass who knows how to howl and "draw out the sun" destroying the true darkenss (if you get my drift). The ones that approached me wanted to know if I could bloom cherry blossoms and/or give them money for something they called sake. I told some no, because they didn't need (anymore) sake, but as a dude with a three wolf god shirt I couldn't settle for not showing some true mojo. BAM! Sunshine everywhere. I felt I made some blossoms bloom (if you know what I mean).
I arrived at the supermarket, collected happiness (happiness is such a rush!) and strolled with my chest puffed out so that my three wolf gods would show. While I was shopping for dinner, I could hear audible gasps of "what awesomeness!" following behind me. I stopped, planted, and made a turn that only a dude in a badass wolf god t shirt could make. The fricken suns from my shirt beamed so strongly that the world around me turned to full color and cherry blossom pedals flew through the air. Thank you three wolf god t shirt. You rock.
Pros: Lights up the sun, has wolves WOLF GODS on it, attracts the people
Cons: Only 500 made, cannot win the wolves WOLF GODS unless you come to SDCC, might have been better if it all glowed in the dark.