EN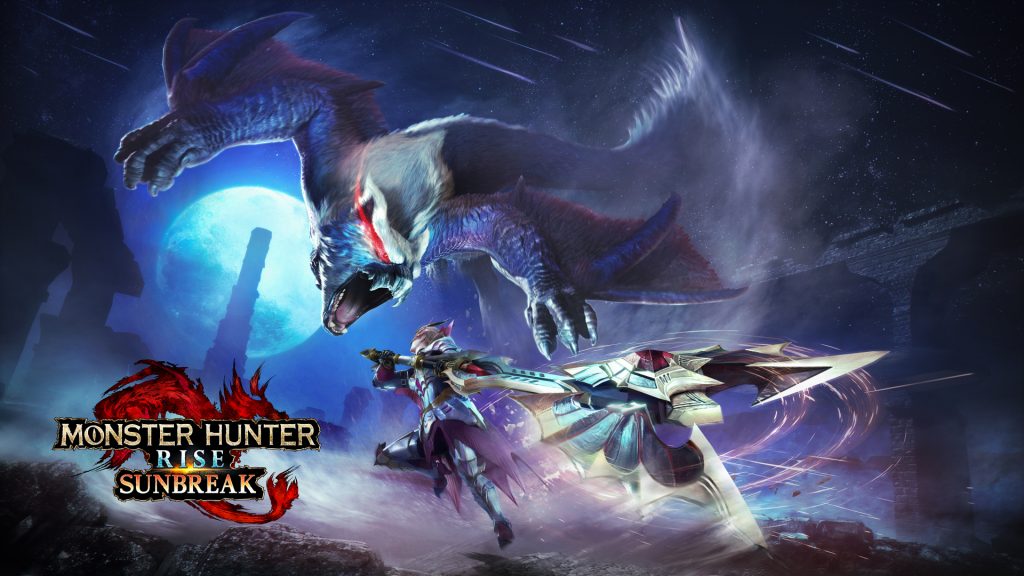 Monster Hunter Rise: Sunbreak Digital Event August 2022 Recap
New Monsters and Endgame Additions Arrive with Free Title Update 1
Time flies, doesn't it? It's been a little over a month since we launched Monster Hunter Rise: Sunbreak, and it's been great to see the positive responses as you've set foot in the Kingdom. As promised, this is just the start of the hunt. We've got plenty more on the way through a series of free title updates, so let's get started with details on Title Update 1!
Watch the trailer for a crash course, then keep on reading for the full breakdown.
The first free Title Update for Monster Hunter Rise: Sunbreak brings four new monsters, introduces new endgame Anomaly systems, and more! If you've been paying close attention, you might have noticed us teasing a few of these details through Director Suzuki's weekly posts on the official Monster Hunter social accounts. We're super excited to finally reveal how your adventure will continue to expand.
The best part is, you won't have to wait long for the Version 11.0.0 update to arrive – it all hits on August 10.
Four Forlorn Fan-Favorites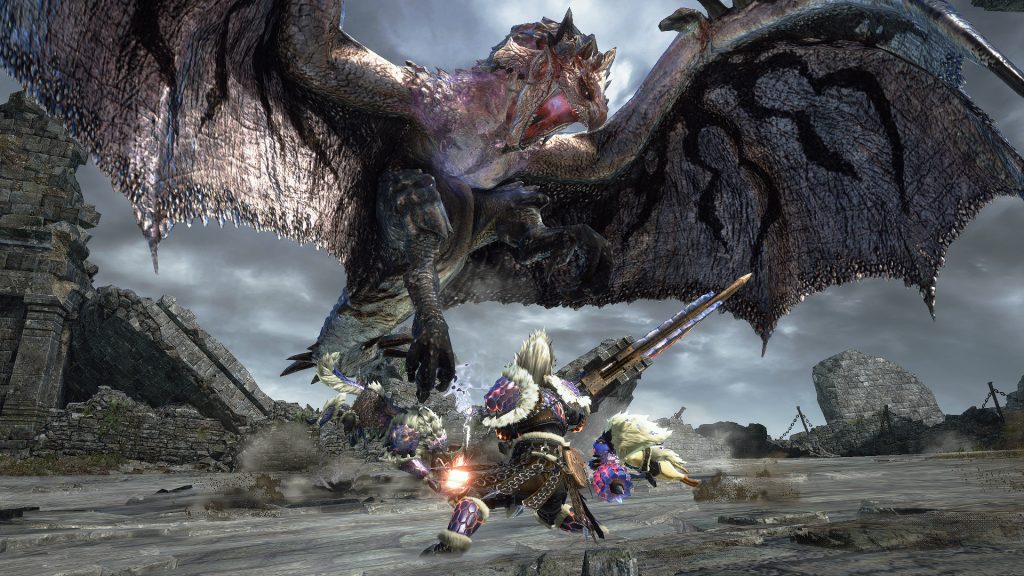 Silver Rathalos and Gold Rathian
Let's start with the two newly revealed monsters: Silver Rathalos and Gold Rathian. Since this pair both debuted in Monster Hunter Portable 3rd and have appeared in multiple Monster Hunter games throughout the years, some of you veteran hunters out there might feel right at home heading into the hunt. That said, they've got a few new moves to up the challenge even further, so don't get too comfy! They'll also be featured together in an extra difficult event quest, so keep on reading to learn more.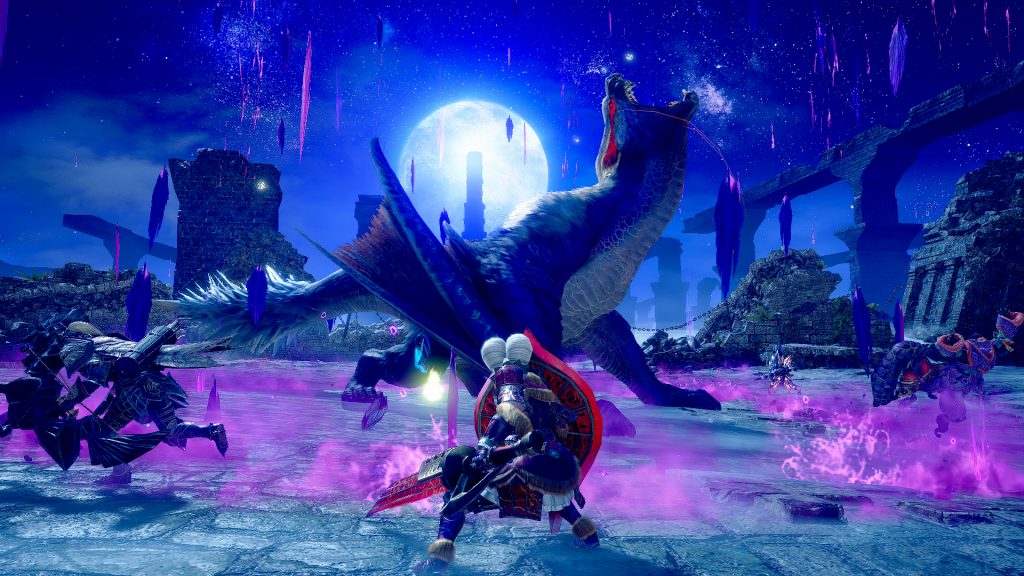 Lucent Nargacuga
Nargacuga is one of my personal favorite monsters, so I'm really excited to see Lucent Nargacuga making a return. This rare species first debuted in Monster Hunter 3 Ultimate and true to its nature, retreated back into the moonlight ever since. That's actually how this monster is able to turn invisible – by refracting moonlight using its distinctive bright white fur. Look out for its glowing red eyes to avoid getting caught off guard, especially from its powerful and swift double tail slam.
We shared some gameplay of Lucent Nargacuga a few weeks ago, so be sure to check that video out below if you haven't seen it yet.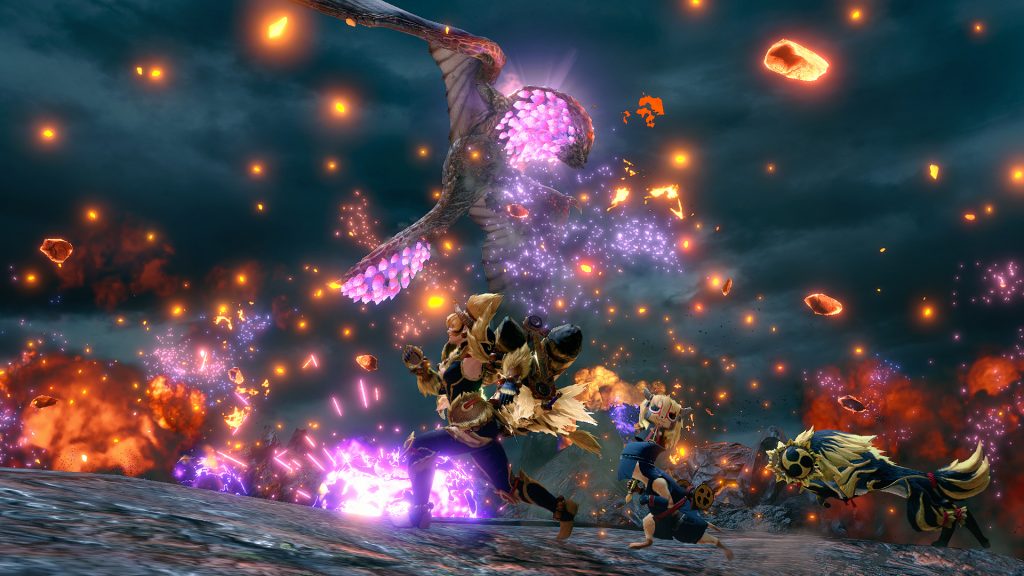 Seething Bazelgeuse
Similar to how Furious Rajang permanently stays in its enraged state, Seething Bazelgeuse's explosive scales are always active. It can also enter an even more powerful state where it "seethes" with increased rage and begin showering the ground with explosively dangerous scales.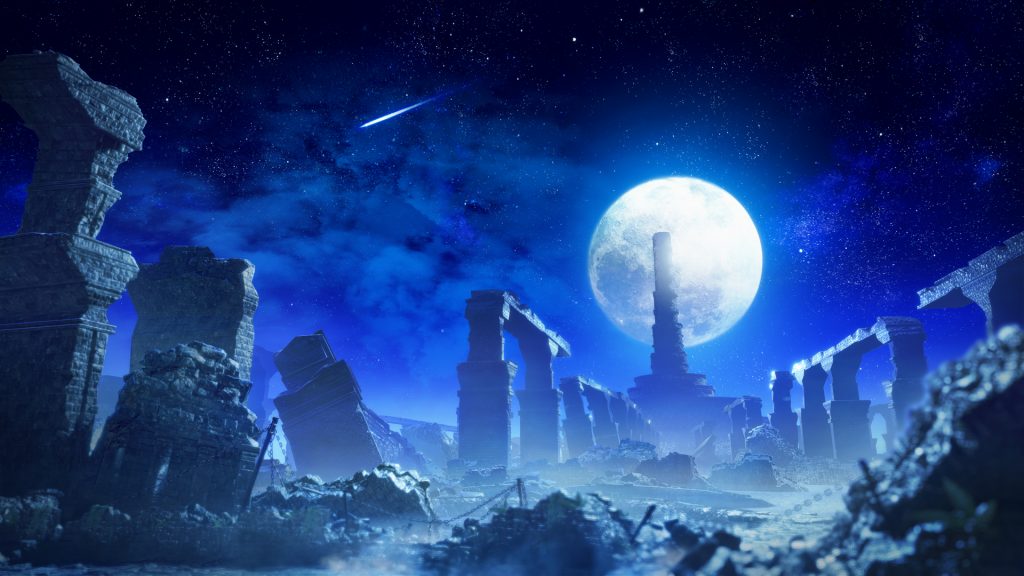 Forlorn Arena
Soaked in moonlight, the Forlorn Arena is a returning locale and home to Lucent Nargacuga. The team has taken great care to bring back this locale and the iconic tower, preserving the atmosphere of the original while updating it with new details and elements to dial-up the ambiance even further and make it fit right at home in Monster Hunter Rise: Sunbreak.
New Armor Sets
Here's a quick sneak peek at the four new armor sets accompanying our newest additions to Monster Hunter Rise: Sunbreak. All of them come equipped with new skills, so we're looking forward to seeing what new builds will emerge when you get your hands on them.
All of these new monsters will require that you reach MR 10 to fight, although not all four will immediately unlock at once. Make sure you're appropriately prepared with the right equipment to take on these challenges! Speaking of which, this next part might help you prep…
Expanding the Endgame
If you're not already familiar with Anomaly Quests, these are endgame quests where you battle monsters afflicted by the Qurio – creatures central to the main conflict in Sunbreak. By defeating these Afflicted Monsters, you can obtain materials that allow you to craft an assortment of powerful weapons.
Continuing the theme of fours, Anomaly Quests are receiving four big new additions to expand your journey into the endgame.
New Anomaly Research Quests
In the current version (Ver 10) of Monster Hunter Rise: Sunbreak, new Anomaly Quests are introduced up until A4, which is unlocked at MR 50. The Ver 11 update will add new A5 rank Anomaly Quests, which brings in a new set of Afflicted Monsters like Lunagaron, Mizutsune, and other powerful monsters.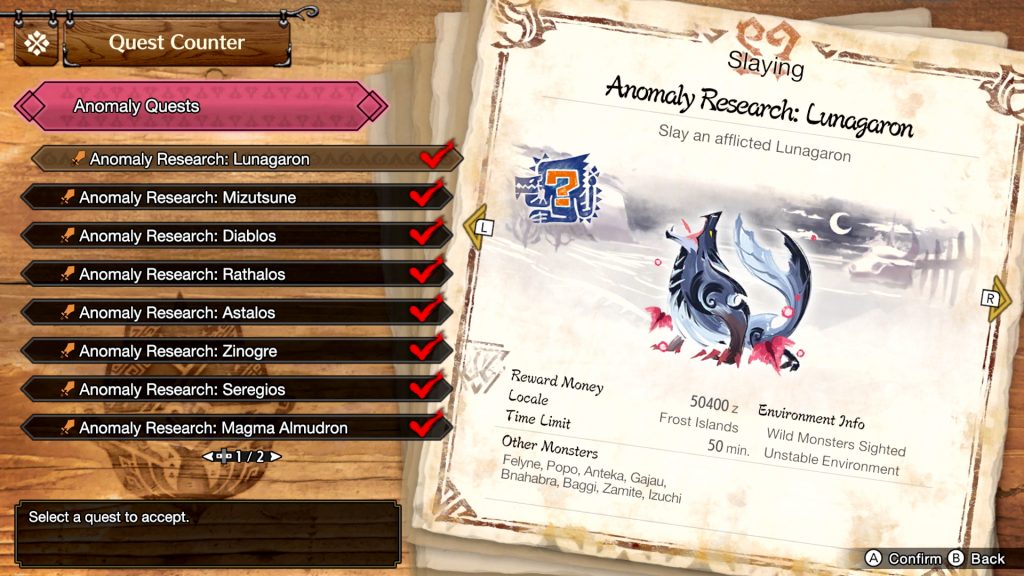 Some of these new monsters in A5 rank will be unlocked via Anomaly Investigations, which is the biggest part of the new update to Anomaly Research Quests.
Anomaly Investigations
New to Monster Hunter Rise: Sunbreak, Anomaly Investigations is a new quest system where quest conditions like the target monster, locale, and number of players are all decided at random. Anomaly Investigations also have a set level which determines the strength of the monster and the types of rewards you can receive for defeating them. Those rewards will open up new upgrades for your weapons and armor.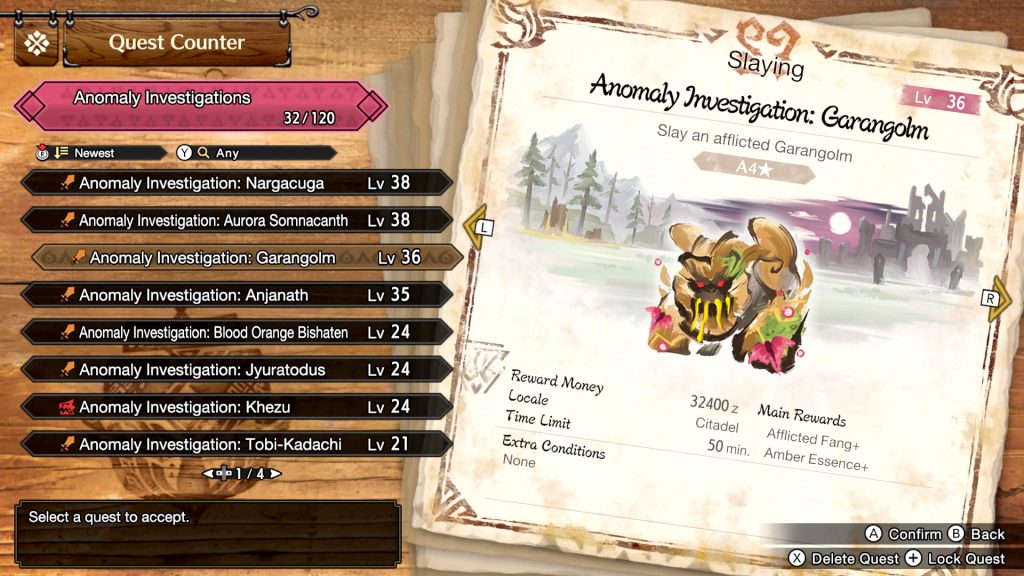 These randomized quest elements should spice up your hunts with many different and unpredictable permutations, and I personally can't wait to jump in and test my skills.
Qurious Crafting
With challenging new monsters and quests on the way, you're going to want any advantage you can get. Qurious Crafting is a way to strengthen your weapons and armor even further beyond their current state. And yes, it's pronounced like the word "Curious".
For weapons, you'll be able to select a type of upgrade you want, which includes upgrades like Attack Boost, Affinity Boost, Rampage Slot Upgrades, and more. Each skill type has different levels, and takes a certain number of Anomaly Slots, similar to how the Buddy Skill Memory system works. Mix and match different upgrades and levels to make the weapon that works best for your build.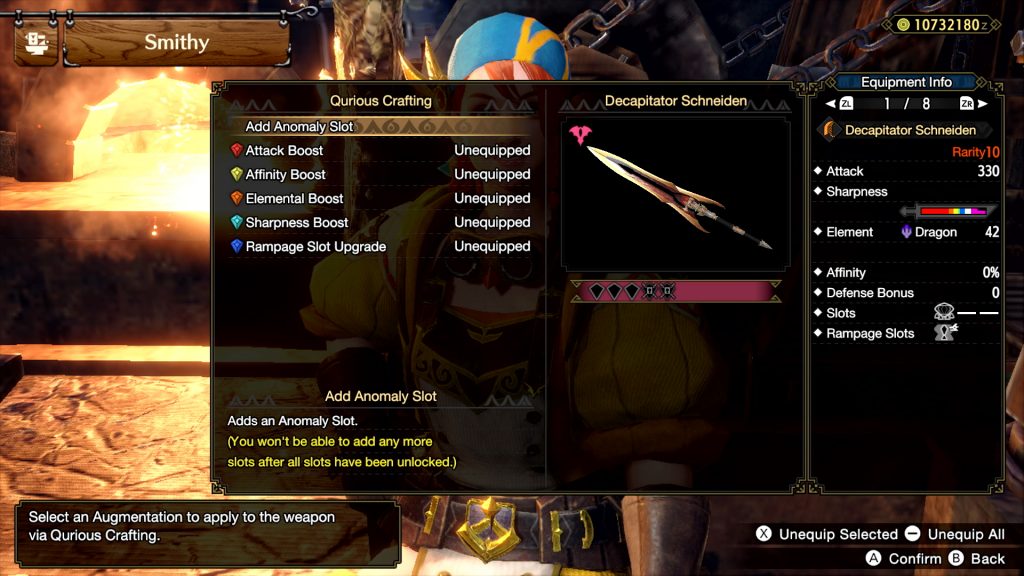 For armor, you can now randomly add different augmentations using materials and money. Stats like resistance, defense, and skill points can be applied at random, although you can ignore applying upgrades if they're not to your liking.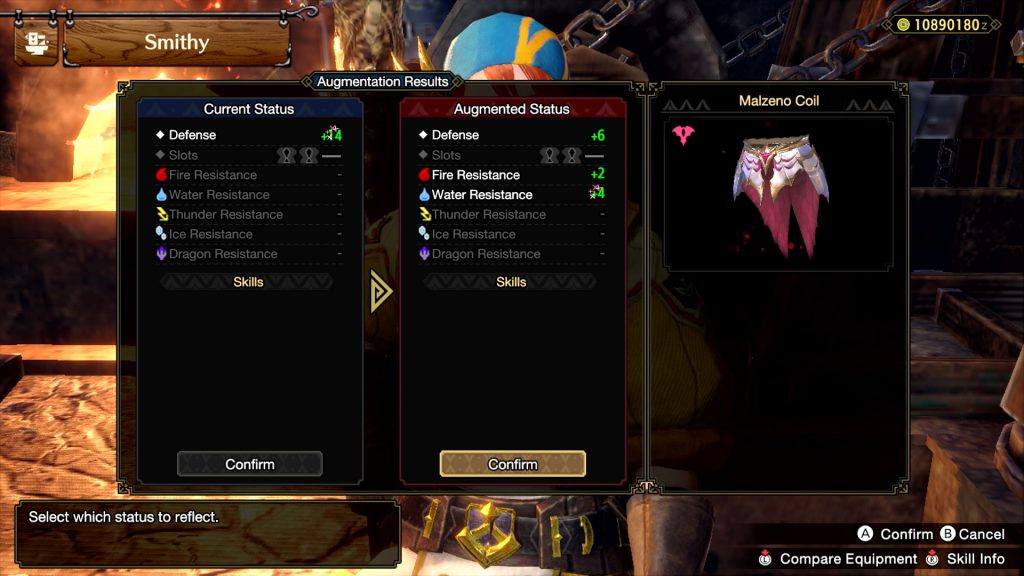 The Anomaly Research Lab
Bahari's Research Lab is open for business! Take all those items from the new Anomaly Investigations and exchange them at this new facility. These new materials will be useful for Qurious Crafting, so this will certainly be an essential stop in your endgame adventures. While we're adding a number of new Anomaly Monsters in Ver 11, keep in mind that the quest ranks and monsters for Anomaly Quests, as well as the level cap for Anomaly Investigations will expand with each new Title Update to come.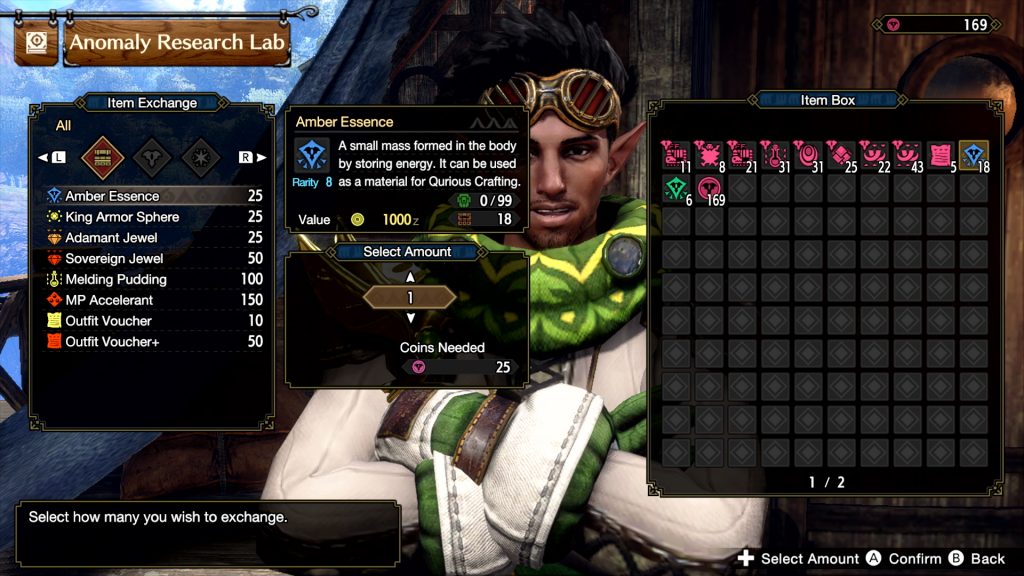 All of these new systems combine to deepen the experience of the endgame and enable new ways for you to tailor your hunter's gear to fit your personal playstyle. I'm really looking forward to seeing how this shakes things up!
Event Quests
Mark your calendars! We're excited to share that weekly Event Quests are back, starting on August 18! Each week we'll debut a new event quest with different conditions to tackle, so keep an eye out on the official Monster Hunter social media channels for details.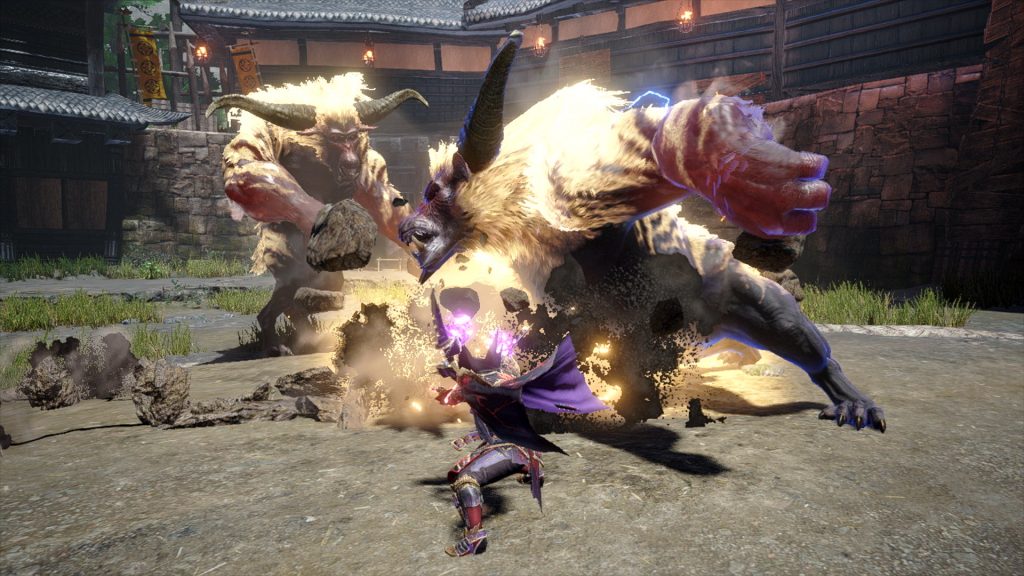 "Dual Threats" Event Quest
We also have a new extra challenging type of event quest called "Dual Threats". As the name implies, you'll face off against two monsters at the same time during these quests. One such quest will have you hunting both Silver Rathalos and Gold Rathian at the same time, but there will be other monsters included as well. Good luck tackling these challenges!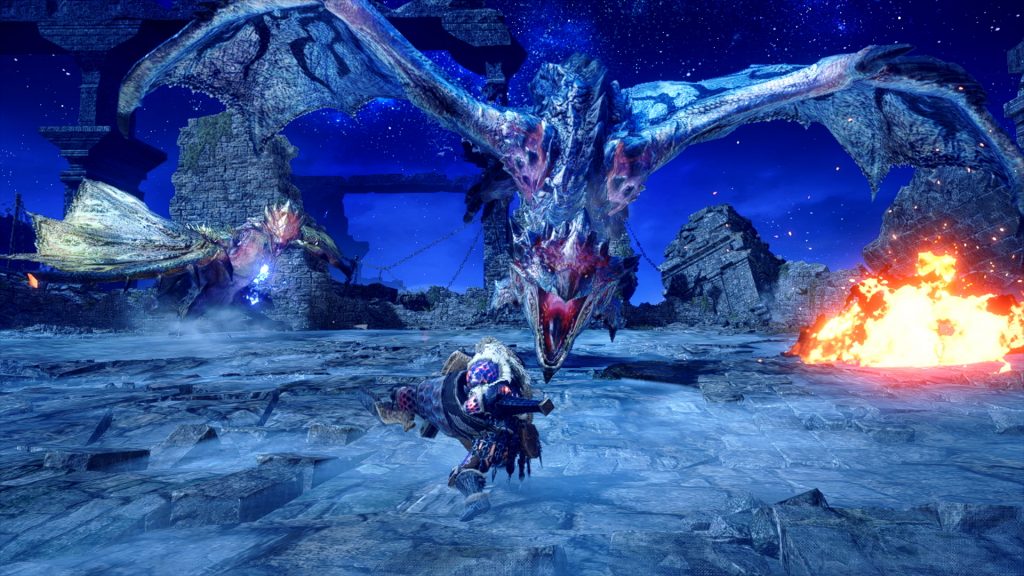 New DLC Options
We're adding additional paid DLC, which includes new layered armor, hairstyles, and BGM.
Here's the breakdown of what's on the way:
Layered Armor
"Fiorayne" Hunter layered armor set
"Utsushi" Hunter layered armor set
Hunter Layered Armor
Summer Hat
Summer Top
Summer Bracelets
Summer Belt
Summer Pants
Palico Layered Armor Set
"F Summer"
Palamure Layered Armor Set
"C Summer"
Pose Set
Gesture Set
Face Paint/Makeup
"Malzeno Menace"
"Single Stroke Cheek"
Hairstyle
"Spiribird Edge"
"Fiorayne Short"
Hunter Voice
Sticker Set
BGM
"Monster & Title Music: Piano Version"
"Monster Hunter Series Bases Pt. 2"
Wrapping Up
That does it for the first Free Title Update coming to Monster Hunter Rise: Sunbreak! The team is continuing to work on even more updates, with free Title Update 2 on the way in late September. It will be a bit longer until we can talk about it, but for now we think you'll have your hands full with all of the new content we just covered.
Take a look at the updated roadmap below to see what's coming.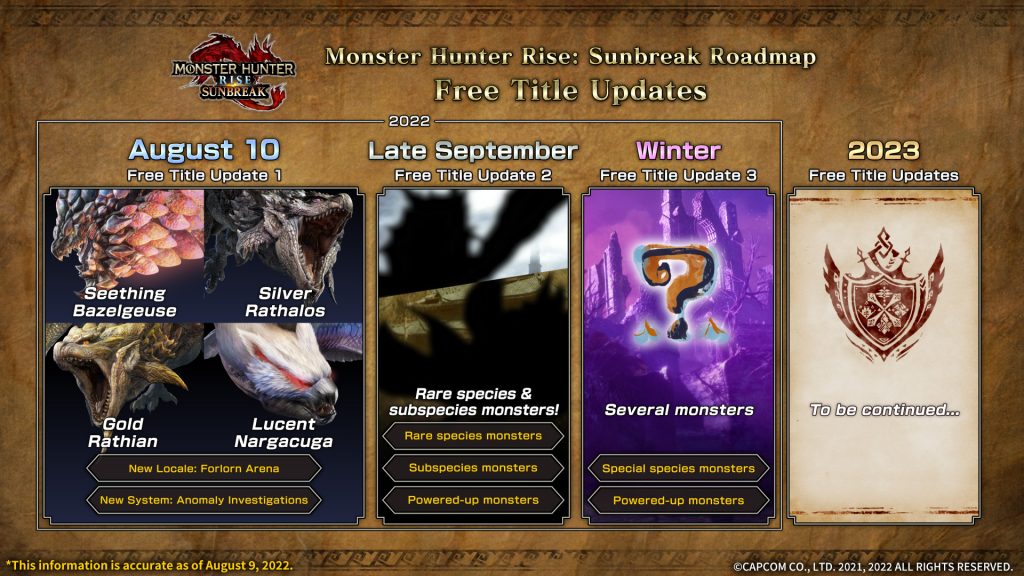 We hope you check out all of the new content being added to Sunbreak, and as always, let us know what you think on the official Monster Hunter social media channels.
Happy hunting!