EN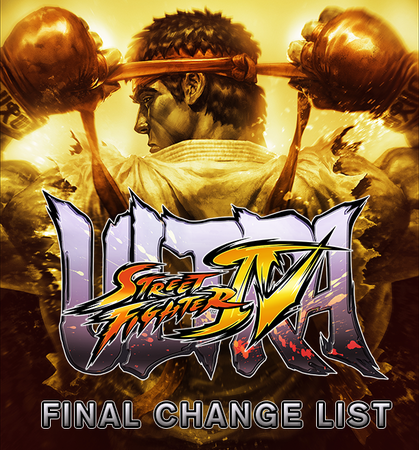 USFIV Final Character Change List
Over the last two weeks I've been providing you guys with character change videos . Although each video contained some pertinent changes you should look out for, it was by no means a representation of ALL the changes going into said character. This list that I'm providing today however, is a representation of all the changes you can expect to play with in Ultra SFIV.
So be sure to study up on your characters frame data and envision how these new changes can be applied to your game. And don't forget to pre-order the digital upgrade through PSN or visit your local GameStop to make sure you get the exclusive costumes for the five new characters.
There's only a week and half left, it's crunch time folks!
EDIT: There were a few changes that were off slightly. The list has been updated with corrections.
To further clarify, the changes here are from AE 2012 to Ultra Street Fighter IV. I know that some of you have been following Ultra closely and know about the Japanese Arcade changes, but seeing of how no one had access to that version, putting the Japanese Arcade changes to console version may end creating tons of confusion that I'd prefer to avoid.
Abel
Close Standing HP first hit hitbox greatly expanded downward
Hitbox on the 2 nd hit of C.HP extended lower
Far Standing HK start-up reduced by 1 frame (14F → 13F); active frames increased by (2F → 3F); recovery reduced by 1 frame (19F → 18F)
Falling Sky active frames increased by 1 frame (2F → 3F); upper-body invincibility frames increased by 1 (1F → 2F)
EX Change of Direction starts up 3 frames faster (16F → 13F)
2nd low hit advantage increased by 4 frames (+1F → +5F)
Finish slow startup reduced by 5 frames (22F→ 17F)
Heartless (Super Combo) active frames increased by 2 (2F→ 4F)
Soulless (UC1) pushbox greatly expanded upward, less likely to cross under after Crouching HP in the corner
Adon
Crouching LP advantage on hit increased by 1 frame (+5F → +6F)
Close Standing HK hitbox slightly expanded horizontally and upward
Jaguar Crunch (6+MP) frame advantage against standing opponents reduced by 1 frame (+4F → +3F)
L Rising Jaguar 2nd hit on grounded opponents floats higher upward and slightly more forward, easier to follow in the corner
L, M and H Rising Jaguar → EX Focus Cancel → Forward Dash is now -5F on block
L Jaguar Kick damage reduced by 50 against airborne opponents (140 → 90)
M Jaguar Kick damage reduced by 10 on standing opponents (140 → 130); damage against airborne opponents reduced by 50 (140 → 90); chip damage changed to 33
H Jaguar Kick damage reduced by 10 on standing opponents (130 → 120); damage against airborne opponents reduced by 40 (130 → 90); chip damage changed to 30; top side of the hitbox has been reduced slightly
M and H Air Jaguar disadvantage on block increased (-2F when done from the lowest height)
All versions of Air Jaguar Kick chip reduced by half
EX Air Jaguar Kick 2nd hit now overhead
Jaguar Revolver (UC1) forward movement from 2nd hit and after slightly shortened, easier to connect all hits on close opponents; damage reduced by 30 (510 → 480); Active frames on the first kick reduced by 1F (7F → 6F)
Crouch lp has one more frame of hitstun added (+5F → +6F)
Akuma
Close Standing MK now forces stand on hit; start-up reduced by 1 frame (5F → 4F); hitbox expanded downward; recognition range increased
Far stand heavy punch now EX Red Focus/Special/EX Focus Cancellable; damage reduced by 30 (120 → 90)
Crouching HK can no longer be cancelled into Wrath of the Raging Demon (UC1)
All versions of Back Jump Zanku Hadoken recovery increased by 2F
L, M and H Hyakkishu now have the same EX Zanku Hadoken follow-up as EX Hyakkishu
M Goshoryuken 2nd hit can no longer be EX Focus-cancelled on block
H Goshoryuken 2nd and 3rd hit can no longer be EX Focus-cancelled on block; invincibility time reduced by 1 frame (6F → 5F)
L, M and H Goshoryuken → EX Focus Cancel → Forward Dash is now -5 on block
EX Shakuretsu starts up 6 frames faster (25F → 19F)
L Hurricane hitbox increased downward slightly
Balrog
L Dash Straight advantage on hit increased by 1 frame (-2F → -1F)
M Dash Straight pushback on hit has been reduced
L Dash Swing Blow damage reduced by 10 (80 → 70); stun reduced by 30 (100 → 70); advantage on hit reduced by 10 frames (+10F → 0F); disadvantage on block reduced by 3 frames (-5F → -2F); charge time reduced by 10 frames (55F → 45F)
M Dash Swing Blow advantage on hit reduced by 8F (+10F → +2F); disadvantage on block reduced by 1 frame (-7F → -6F); charge time reduced by 5 frames (55F → 50F)
Turn Punch charge from Level 2-4 has been adjusted to 2 seconds per level
Turn Punch Lv2 disadvantage after block reduced by 1 frame ( -5F → -4F)
Turn Punch Lv3 disadvantage after block reduced by 1 frame (-8F → -7F); disadvantage after hit reduced by 1 frame (-4F → -3F)
Turn Punch Lv4 disadvantage after block reduced by 3 frames (-12F → -9F); disadvantage after hit reduced by 3 frames (-8F → -5F)
Crazy Buffalo (Super Combo) last hit can be changed to a straight when holding P or an uppercut when holding K
Dirty Bull (UC2) input command changed from 63214 x2+PPP to 720+PPP; recovery reduced by 10 frames (58F → 48F) after a successful Ultra; throw range extended from 1.09 to 1.30; damage reduced by 149 (399 → 250)
Blanka
Forward Dash total frames reduced by 1 frame (21F → 20F)
Close Standing MK now airborne 1 frame sooner (from 4F→ 3F)
Crouching MK advantage on hit increased by 1 frame (+4F → +5F); pushback on guard and hit increased
H Rolling Attack knocks down the opponent at all distances
All versions of Backstep Roll cause 2F more block-stun
All versions of Vertical Roll can be EX Focus-cancelled on hit or block
Shout of Earth (P version) now has a larger hitbox on the 1 st active frame; no longer hits standing opponents
C.Viper
Far Standing HK hurtbox slightly reduced; can now be performed with 3+HK
Crouching MK hitbox slightly expanded forward
Crouching HP hurtbox added to the 2 nd active frame; stun reduced by 50 (200 → 150)
Level 1 Focus Attack start-up reduced by 3 frames (26F → 23F)
Level 2 Focus Attack start-up reduced by 3 frames (17F → 14F)
Level 3 Focus Attack start-up reduced by 2 frames (70F → 68F)
Focus attack range has been reduced to her elbow
L Thunder Knuckle hitbox slightly expanded; stun damage increased by 50 (150 → 200)
M Thunder Knuckle now +4 after EX Focus-cancel → Forward Dash on hit; damage increased by 10 (110 → 120); stun reduced by 50 (200 → 150)
H Thunder Knuckle cancel recovery increased by 1 frame (6F → 7F); H Thunder Knuckle → EX Focus Cancel → Forward Dash is now -5 on block
Emergency Combination (Super Combo) damage increased by 20 (330 → 350); command changed to 214214+P
Burst Time (UC1) smoke visual effects reduced
Burning Dance (UC2) start-up reduced by 1 frame (10F → 9F); height restriction removed
Cammy
Close Standing HP damage reduced by 5 (85 → 80); stun reduced by 30 (150 → 120)
Far Standing HP 1st active frame damage reduced by 10 (80 → 70)
Crouching LK start-up increased by 1 frame (3F → 4F)
Crouching HP damage reduced by 10 (90 → 80); stun reduced by 50 (200 → 150); advantage on hit decreased by 1 frame (+7F → +6F)
H Spiral Arrow first hit now has one more frame of hit stun (+3F → +4F)
L, M and H Cannon Strike height restriction slightly reduced; recovery increased by 2F (5F → 7F)
EX Cannon Strike block-stun reduced by 5F
Hooligan Combination now has L, M and H Cannon Strike follow-up
L, M and H Cannon Spike → EX Focus Cancel → Forward Dash is now -5 on block
Gyro Drive Smasher (UC1) non-cinematic last hit damage reduced by 40 (210 → 170)
Chun-Li
Vitality increased by 50 (900 → 950)
Rear Spin Kick (3+LK) hitbox expanded; start-up reduced by 2 frames (12F → 10F); active frames reduced by 1 frame (4F → 3F); recovery increased by 1 frame (15F → 16F)
Yosokyaku (Jump 2+MK, all 3 hits) hitbox expanded downward and horizontally
Light spinning bird kick now causes knockdown; damage reduced by 60 (160 → 100); recovery reduced by 2F (12F → 10F); stun reduced by 80 (180 → 100)
Heavy spinning bird kick total damage increased by 10 (200 → 210); now causes knockdown on hit; (recovery increased by 4F (12F → 16F)
EX Spinning Bird Kick hitbox slightly expanded forward and downward; 5th hit hitbox slightly expanded upward
EX Kikoken now causes knockdown on hit
EX Hazanshu now has armor-break properties
UC1 now floats lower on hits 2-7; damage reduced on hits 2-9 by 10 each (30 → 20)
Kikosho (UC2) invincibility increased by 1 frame (8F → 9F), damage increased by 35 (330 → 365)
Cody
Back Dash distance slightly increased
Walk speed slightly increased
Crouching MK disadvantage on hit reduced by 2 frames (-3F → -1F); disadvantage on block reduced by 3 frames (-6F → -3F)
When Jaw Crusher (4+MP) is beaten during start-up, is now treated as a counter-hit
Crack Kick (6+HK) now airborne beginning from the 8 th frame
Can now pick up the knife during the same attacks where the rock cancel is possible
Knife Throw now has armor-break properties
Knife ground attacks now can be used as follow-ups, can combo after L Criminal Upper; corresponds to Standing LP, Crouching LP, Standing MP, Crouching MP, Standing HP, Crouching MP
Zonk Knuckle can now be EX Focus-cancelled
When Bad Stone is held, the stone is thrown immediately at button release
Light Criminal Upper has less disadvantage on block by 1 frame (-5F → -4F)
EX Criminal Upper pushback on block reduced by half; hit invincibility increased by 2F (4F → 6F); can now be thrown
H Dead End Irony (Super Combo) float of opponent on hit changed
Last Dread Dust (UC2) damage reduced by 40 (506 → 466); forward movement slightly increased
Dan
Crouching Taunt meter build increased by 40 (0 → 40); meter build on hit reduced by 70 (70 → 0)
Air Taunt meter build increased by 10 (0 → 10)
Close Standing HK input command changed to 4+HK
Far Standing HK now activates regardless of distance from the opponent
Far Standing LP hitbox slightly expanded upward
L Dankukyaku hitbox expanded downward
H Koryuken 1st hit hitbox slightly expanded forward
Koryuken → EX Focus Cancel → Forward Dash is now -5 on block
All versions of Gadoken hurtbox on arm reduced to the wrist area
Shisso Buraiken (UC1) 1st hit now has armor-break properties
Haoh Gadoken (UC2) now connects all hits on air opponents; changed to 331 damage on air hit
Dee Jay
Far Standing MP start-up reduced by 1 frame (7F → 6F)
Far Standing HP late active frame hit now floats air opponents on counter-hit
Crouching LK start-up reduced by 1 frame (5F → 4F)
Crouching MP hitbox expanded forward
Crouching MK damage increased by 10 (70 → 80)
Crouching HP hitbox expanded forward
Knee Shot (2+LK during forward or back jump) hit-stun increased by 3F; damage reduced by 20 (50 → 30)
Air Slasher chip damage increased by 3 (12 → 15)
L Double Rolling Sobat disadvantage on block reduced by 2 frames (-5F → -3F); low invulnerability removed
M Double Rolling Sobat 1st hit hit-stun increased by 2 frames (+6F → +8F) on hit after EX Focus-cancel → Forward Dash
EX Machine Gun Upper start-up reduced by 6 frames (12F → 6F); full invincibility reduced by 2F (4F → 2F); all-but-midsection invincibility changed from frames 5-9 to 3-4, above-the-chest invincibility changed from frames 10-31F to 5-25F, now throw invincible from 1-7F; disadvantage on block increased by 3 frames (-5F → -8F, -9 → -12 with mash); 1st hit hitbox slightly expanded forward; floats the opponent higher on hit with or without mash; all hits can be EX Focus-cancelled on hit or block with or without mash; less pushback when the attack is blocked
Sobat Festival travels further during the first two kicks
Climax Beat damage reduced (501 → 460); recovery after animation version reduced by 11F (-29F → -18F)
Dhalsim
Standing MP start-up reduced by 1 frame (10F → 9F); advantage on hit reduced by 1 frame (0F → -1F); advantage after block reduced by 1frame (-3F → -4F)
Standing HP damage increased by 5 (75 → 80); advantage on hit increased by 1 frame (0F → +1F)
4+HP start-up reduced by 2F (7F → 5F)
4+MK pushback on hit and block reduced
4+HK damage by 10 (90 → 100)
L Yoga Blast hurtbox reduced
M Yoga Blast start-up reduced by 1 frame (15F → 14F)
EX Yoga Blast damage increased by 10 (90*50 → 90*60); hitbox slightly expanded forward
EX Yoga Flame damage decreased by 20 (50*70 → 50*50); hitbox slightly expanded horizontally; recovers 3 frames faster (16F → 13F); can juggle the opponent afterward
Yoga Shangri-La (UC2) throw range slightly increased; command changed from 236236+PPP in air to 236236+KKK in air
Dudley
Standing HP hitbox slightly expanded forward and downward
Standing HK counter-hit pushback reduced
Crouching LP hitbox slightly expanded forward; Crouching LP → 6+LP chain-cancel no longer works
Crouching MK start-up reduced by 1 frame (8F → 7F)
Neutral jump heavy punch is now the same as forward or back jump heavy punch
Kidney Blow (6+MK) hitbox slightly expanded forward
Step Straight (6+HP) now knocks down on air hit
All Target Combo damage increased by 10
Dart shot can now hit airborne opponents during combos
Target Combo 1 (6+LP → MP) 2nd hit chip damage on block removed (7 → 0)
Victory Rose (2+HP+HK) damage increased 1 (0 → 1); advantage on hit increased by 7 frames (+6 → +13); Recovery reduced by 18 frames (78F → 60F)
H Machinegun Blow pushback on hit reduced by half
L, M and H Short Swing Blow throw invincibility extended until the end of active frames
EX Short Swing Blow throw invincibility extended until the end of the 1st hit's active frames; start up has been reduced by 4 frames (24 → 20); causes untechable knockdown
Rolling Thunder travel distance increased
E. Honda
Close Standing HP hitbox expanded upward
Far Standing HP tip damage increased by 10 (80 → 90)
Far standing HK disadvantage on hit increased by 1 frame (-3F → -2F); disadvantage on block decreased by 1 frame (-7F → -6F); hurtbox slightly expanded forward
Diagonal Jump MP hurtbox slightly reduced
Diagonal Jump MK active frames extended by 1 frame (8F → 9F)
EX Sumo Headbutt pushback on block reduced
EX Hundred Hand Slap advantage on hit increased by 1F (+4F → +5F); damage reduced by 20 (140 → 120)
EX Oicho Throw now throw invincible from frames 1 – 5
Super Head Ram now armor breaks
Super Killer Head Ram (UC1) start-up reduced by 1 frame (11F → 10F)
Orochi Breaker (UC2) throw range increased by .24 (1.16 → 1.40); input command changed to 720+PPP
Ultra Combo W classification changed to 75% tier
El Fuerte
Close Standing LP hitbox expanded downward
Close Standing MK start-up reduced by 3 frames (14F → 11F); recovery reduced by 1 frame (14F → 13F)
Far Stand LK active frames increased by 1 (1F → 2F); advantage on hit increased (+5F → +6)
Far Standing MK recovery reduced by 1F (15F → 14F)
Close Standing HK start-up reduced by 2 frames (12F → 10F)
EX Guacamole Leg Throw recovery reduced by 4 frames (10F → 6F)
Lv1, Lv2, Lv3 and EX Quesadilla Bomb start-up reduced by 3 frames (17F → 14F); recovery reduced by 4 frames (18F → 14F)
Quesadilla Bomb Lvl 1 damage increased by 30 (50 → 80); charge time reduced by 60 frames (120F → 60F)
Quesadilla Bomb Lvl 2 damage increased by 20 (100 → 120); charge time reduced by 110 frames (210F → 120F); keeps the opponent standing on hit
Quesadilla Bomb Lvl 3 charge time reduced by 120 frames (300F → 180F)
EX Quesadilla Bomb now fully invincible from frames 1 – 15
Fajita Buster damage increased by 30 (150 → 180)
Tostada Press start-up reduced by 1 frame (20F → 19F); active frames increased by 1 frame (7F → 8F)
Gordita Sobat recovery reduced by 1 frame (18F → 17F)
Evil Ryu
Vitality increased by 50 (900 → 950)
Crouching MK disadvantage on block reduced by 1 frame (-4F → -3F)
Crouching HK start-up reduced by 1 frame (7F → 6F)
Target Combo 1 (Close Standing MP → HP) can now be done from Far Standing MP
Senbukyaku (6+MK) hitbox greatly expanded downward
HK Ryusokyaku start-up reduced by 1 frame (26F → 25F)
L, M and H Shoryuken → EX Focus Cancel → Forward Dash is now -5 on block
Fei Long
Crouching LK start-up increased by 1 frame (3F → 4F); can no longer be chain-cancelled into Crouching LK; advantage on hit increased by 1 frame (+3F → +4F)
Crouching MP damage increased by 10 (55 → 65)
Close Stand HP recognition range increased
6+HK pushback on hit reduced
Focus attack hitbox area reduced to his palm area
L Rekkaken forward movement distance reduced
L, M and H Rekkaken 2nd hit hit-stun reduced by 2F; each version now has one more frame of recovery
MK flip kick hitbox expanded to hit on all opponents
Shienkyaku no longer activates with 464+K input
L, M and H Shienkyaku → EX Focus Cancel → Forward Dash is now -5 on block
All versions of Tenshin now do 1 damage (0 → 1)
EX Tenshin start-up reduced by 2 frames (12F → 10F)
Rekkashingeki (UC1) non-cinematic 3rd hit floats the opponent higher, when used in air combos the last hit now connects
Gen
1F invincibility time on neutral wake-up removed
Bug that made reversal Focus Attack more difficult to perform fixed
Stun increased by 50 (900 → 950)
Mantis Style
Focus Attack hitbox size reduced to position of hurtbox
Crouching MP damage reduced by 10 (70 → 60)
L, M and H Hyakurenko hitbox slightly expanded downward; recovery increased by 1F (17F → 18F)
L, M and EX Hyakurenko pushback on hit and block slightly reduced
L Gekiro invincibility on frames 1 – 3 removed
H Gekiro causes soft knockdown instead of hard knockdown; button input timing now the same as Ver.2012 EX Gekiro
EX Gekiro disadvantage on block decreased by 15 frames (-35F → -20F); now causes hard knockdown; follow-up inputs no longer possible on block; Button input timing now the same as Ver.2012 H Gekiro
****nketsu (UC2) hitbox slightly expanded forward; 450 stun value added
Crane Style
Crouching LP advantage on hit increased by 2 frames (+3F → +5F)
Crouching HK recovery reduced by 5 frames (29F → 24F)
Diagonal Jump HP hurtbox expanded downward
Diagonal Jump HK hurtbox expanded downward
L Jyasen advantage on hit increased by 1 frame (+1F → +2F)
L and M Jyasen disadvantage on block reduced by 2F (-3F → -1F)
L, M, H and EX Jyasen charge time reduced by 10 frames (60F → 50F); last hit damage increased by 10
Gouken
Far Standing LK now Special- and EX Focus-, EX Red Focus- and Super Combo-cancellable
Crouching LP start-up reduced by 1 frame (4F → 3F)
Crouching MP advantage on hit increased by 2 frames (+1F → +3F)
Back Throw untechable timing period now techable
Kongoshin no longer activated with 464+P input
Hyakki Gosai stun damage reduced by 40 (200 → 160)
L Senkugoshoha forward movement slightly increased
EX Tatsumaki Gorasen start-up reduced by 2 frames (7F → 5F); invincibility time reduced by 2 frames (8F → 6F); hitbox expanded downward and forward
Guile
Vitality decreased by 50 (1000 → 950)
Hurtbox on wake-up reduced
Air Throw range slightly increased
Crouching LP advantage on hit increased by 1 frame (+4F → +5F)
Crouching MK hitbox and hurtbox expanded forward
Reverse Spin Kick (4 or 6+HK near the opponent) hitbox expanded downward
Guile high kick hitbox increased downward
All versions of Flash Kick invincibility time extended by 1 frame
L,M and H FlashkickàFADCàForward Dash now -5F against a blocking opponent
All versions of Sonic Boom take counter-hit damage frames 1 – 20
Flash Explosion (UC1) start-up reduced by 1 frame (7F → 6F); damage reduced by 60 (510 → 450); 2nd Flash Kick start-up now slower, less likely to whiff opponents who float high; invincibility frames reduced by 4 frames (10F → 6F)
Sonic Hurricane (UC2) damage increased by 30 (300 → 330)
Guy
Movement speed slightly increased
Close Standing LK recognition range reduced
Far Standing LK hitbox slightly expanded upward; active frames increased by 1 frame (2F → 3F); Start-up reduced by 2 frames (6F → 4F); Recovery reduced by 1 frame (9F → 8F)
Far Standing HK start-up reduced by 1 frame (8F → 7F); active frames increased by 2 frames (3F → 5F); recovery reduced by 1 frame (16F → 15F); hitbox expanded forward and upward
Crouching MP hitbox adjusted, no longer can be used as an anti-air
Diagonal Jump MK hitbox extended forward slightly
Elbow Drop (Jump 2+MP version) hitbox expanded downward
Ninja Sickle (3+HK) start-up reduced by 4 frames (11F → 7F); Recovery reduced by 1 frame (13F → 12F); Pushback on block reduced
Target Combo 2nd hit expanded downward and horizontally
H Hozanto start-up reduced by 2 frames (30F → 28F)
Run-Sudden Stop recovery reduced by 1F (17F → 16F)
Run-Neck Flip first hit slightly expanded downward
EX Run-Neck Flip now knocks down on air hit
EX Bushin Senpukyaku hitbox slightly expanded, easier to pull in opponent
Bushin Goraisenpujin (UC1) 2nd hit movement distance slightly increased, easier to use in combos
Hakan
Stand MP advantage on hit increased by 1 frame (+4F → +5F); block stun increased by 1 frame (+1F → +2F); Recovery reduced by 1F (10F → 9F)
Standing HP hitbox expanded upward
Crouching LK recovery reduced by 1 frame (9F → 8F)
Crouching MP now Special-, Super Combo- and EX Focus-cancellable
6+HK (No Oil) knocks down the opponent
Neutral Jump MP knocks down like Diagonal Jump MP
Diagonal Jump MK hitbox expanded, easier to cross-up
Hakan Tackle (6+MP) disadvantage on block reduced by 1 frame (-5F → -4F); advantage on hit increased by 2 frames (-2F → 0F)
Air Throw damage increased by 10 (140 → 150)
L, M and H Oil Rocket (No Oil) throw range increased by .08 (0.97 → 1.05)
EX Oil Rocket (No Oil) throw range increased by .23 (0.97 → 1.20)
Ibuki
Guard bug where El Fuerte's 6+MK would cross over fixed
Walk speed has been increased
Crouching LP start-up reduced by 1 frame (4F → 3F)
Target combo 10 no longer hits opponents who are crouch blocking
Target Combo 4 (LP → MP → HP near opponent) 2nd hit hitbox expanded downward
Target combos 6 and 8 cause airborne juggle state
Hammer Kick (6+MK) hitbox expanded downward; advantage on block reduced by 1 frame (+3F → +2F)
Backhand Punch (HP → HP far from the opponent) now Special-, EX Focus-, EX Red Focus- and Jump-cancellable
L, M and H Tsujigoe can now be cancelled into any attack immediately upon landing
All versions of Tsumuji hitbox slightly expanded downward
M Tsumuji recovery increased by 1 frame (14F → 15F)
EX Kazegiri invincibility time increased by 1 frame (6F → 7F); hitbox on active frames 2-3 expanded, easier to use as an anti-air
L, M, H and EX Raida has one more hit of juggle potential
Juri
Close Standing LP hitbox expanded downward
Close Standing MP start-up speed during Feng Shui Engine now the same as normal version
Close Standing MK start-up speed during Feng Shui Engine now the same as normal version; considered airborne from the 2 nd frame; unthrowable from the first frame
Far Standing MP now Special-cancellable
Far Standing LK start-up reduced by 1 frame (5F → 4F)
Far Standing HK hitbox size during Feng Shui Engine now the same as normal version
Kasatushi now takes recoverable damage when absorbing attacks
L, M and H Shikusen no longer can be done from back jump
Second Impact and Third Strike hitbox expanded, less likely to miss
EX Shikusen now has input follow-ups like the normal version, activates with any single K button; trajectory changes with button combination: L+M is L Shikusen, M+H is M Shikusen, L+H is H Shikusen trajectory; advantage on guard reduced by 3 frames
EX Fuhajin (M+H) now hits grounded opponents
EX Fuhajin (L+H) damage increased 20 (50*50 → 60*60)
EX Senpusha invincibility time increased by 1 frame (6F → 7F); disadvantage on block increased by 1 frames (-14F → -15F); pulls opponent in closer when blocked
Feng Shui Engine (UC1) invincibility time reduced by 2 frames (4F → 2F)
Kaisen Dankairaku (UC2) hitbox slightly expanded horizontally
Ken
Movement speed slightly increased
Close Standing MK hitbox expanded downward, easier to connect on crouching opponents
Crouching HK start-up reduced by 1 frame (8F → 7F); recovery increased by 2F (6F → 8F)
Thunder Kick (6+HK) advantage on block increased bv 1 frame (-1F → 0F)
L, M and H Hadoken damage increased by 10 (60 → 70)
EX Hadoken damage increased by 10 (50*40 → 50*50)
M Shoryuken 1st hit now knocks down
H Shoryuken can be cancelled on the 2nd hit; damage increased by 10 (70*40*30 → 70*50*30); 2 nd hit → EX Focus Cancel → Forward Dash is -7F on block
L, M and H Shoryuken → EX Focus Cancel → Forward Dash is now -5 on block
L, M and H Air Tatsumaki Senpukyaku rising trajectory changed
EX Air Tatsumaki Senpukyaku trajectory on activation changed
Shinryuken (UC1) non-cinematic damage increased by 30 (330 → 360)
Guren Senpukyaku (UC2) movement distance of first several frames slightly increased
M. Bison
Far Standing MP start-up reduced by 2 frames (8F → 6F); recovery increased by 1 frame 11F → 12F; now Special/Super/and EX Focus-cancellable; damage reduced by 20 (90 → 70)
Crouching HP start-up reduced by 2 frames (12F → 10F)
Hell Attack (MP after Jump MP) now has the same hit effect as Jump MP, when Hell Attack only hits, can follow with normal attacks
Bison Warp total frames increased by 5 frames (42F → 47F)
L Double Knee Press advantage on block reduced by 1 frame (0F → -1F)
L, M, H, EX Double Knee Press damage increased by 10
EX Double Knee Press projectile invincibility increased by 7F (12F → 19F)
L, M and H Head Press start-up reduced 2 frames (22F → 20F)
EX Devil Reverse movement speed slightly increased
L, M and H Psycho Crusher leg hitbox can now be used in air combos
EX Psycho Crusher damage reduced by 15 (75*75 → 75*60)
Nightmare Booster startup reduced by 2 frames (12F → 10F)
Psycho Punisher (UC2) damage reduced by 30 (450 → 420); charge time reduced by 15 frames (55F → 40F)
Makoto
Forward/Neutral Throw range increased by .05 (0.90 → 0.95)
Back Throw range decreased by .05 (0.90 → 0.85)
Standing HP hit-stun increased by 1 frame on crouching opponents (now matches the hit-stun time when used against standing opponents)
Crouching HK stun increased by 100 (100 → 200)
Jump MK hitbox slightly expanded, easier to cross-up
L, M, H Karakusa recovery on whiff increased by 4 frames (47F → 51F)
EX Oroshi can now connect in combos against airborne opponents
EX Fukiage now hits grounded opponents; now jump-cancellable on hit only; damage reduced by 40 (120 → 80); stun reduced by 100 (200 → 100)
L and M Tsurugi advantage on block reduced by 2 frames; now -3 at the lowest height against a blocking opponent.
Seichusen Godanzuki (UC1) damage decreased by 40 (480 → 440)
Abare Tosanami (UC2) only projectile invincible and throw invincible
Ultra Combo W classification changed to 75% tier
Oni
Vitality reduced by 50 (1000 → 950)
Crouching HK start-up reduced by 1 frame (9F → 8F); recovery reduced by 1 frame (24F → 23F)
6+MK start-up reduced by 2 frames (13F → 11F)
Focus Attack hitbox expanded forward
L Gorai Hadoken total frames reduced by 2 (54F → 52F)
M Gorai Hadoken total frames reduced by 2 (61F → 59F)
H Gorai Hadoken total frames reduced by 2 (69F → 67F)
L Sekisei Jiraiken no longer airborne on 1 st frame; throw invincible from 1 st frame
M Sekisei Jiraiken 1F invincibility removed
H Goshoryuken complete invincibility reduced by 3 frames (8F → 5F); strike invincibility frames changed from 9-10F to 6-7F
All versions of Goshoryuken can now be EX Focus-cancelled on the 1st hit, on hit or block
L, M and H Goshoryuken → EX Focus Cancel → Forward Dash is now -5 on block; First hit causes hard knockdown
L Rakan Dantojin damage reduced by 10 (120 → 110); stun damage reduced by 20 (150 → 130)
EX Rakan Dantojin disadvantage on block reduced (-10F → -9F)
H and EX Rakan Dantojin rear hurtbox just before the attack starts reduced to throwbox area
Meido Gohado (Anti-ground UC1) non-cinematic damage increased by 25 (350 → 375); start-up reduced by 2 frames (11F → 9F)
Meido Gozanku (Air UC1) start-up reduced by 3 frames (14F → 11F)
Tenchi Sokaigen (UC2) command changed from 41236 x2+PPP to 63214 x2+PPP
Rose
Forward Dash total frames reduced by 1 frame (21F → 20F)
Close Standing MK hitbox slightly expanded downward
Crouching LP damage increased by 10 (20 → 30)
Crouching LK damage increased by 10 (30 → 40)
Crouching MP damage increased by 10 (60 → 70)
L Soul Spiral forward movement distance slightly increased
L, M and H Soul Spiral damage increased by 10 (100 → 110)
EX Soul Spiral damage increased by 10 (120 → 130); stun increased by 100 (100 → 200); invincibility time increased by 2 frames (11F → 13F); throw invincibility removed
L, M, H and EX Soul Spiral can now be used in air combos
M Soul Spark start-up reduced by 2 frames (22F → 20F)
H Soul Spark start-up reduced by 2 frames (29F → 27F)
Illusion Spark (UC1) start-up reduced by 2 frames (12F → 10F)
Soul Satellite (UC1) command input changed from 214214+PPP to 214214+KKK; recovery increased by 2 frames (2F → 4F)
Rufus
Forward/Neutral Throw damage reduced by 15 (150 → 135)
Far Standing MP now Special-, EX Focus-, EX Red Focus- and Super Combo-cancellable
Far Standing MK active frames increased by 1 frame (1F → 2F)
Close Standing HP hitbox expanded downward
Target Combo (LK → HK near the opponent) disadvantage on block increased by 3 frames (-5F → -8F)
Messiah Kick LK follow-up can now be used in air combos
Messiah Kick MK follow-up recovery increased by 3 frames (19F → 22F)
Messiah Kick HK follow-up recovery increased 2 frames (17F → 19F)
EX Messiah Kick less likely to cross over even when hitting low-state opponents; invincibility time reduced by 3 frames (16F → 13F); all hits connect against airborne opponents; floats opponents differently on hit
Spectacle Romance (Super Combo) 2nd hit hitbox expanded to the tip of the fist
Space Opera Symphony (UC1) damage reduced by 40 (460 → 420)
Big Bang Typhoon (UC2) damage reduced by 60 (420 → 360); knock back on air hit adjusted
Ryu
Crouching MK disadvantage on block reduced by 1 frame (-3F → -2F on block)
Jump MP 1st hit now cancellable into all versions of Air Tatsumaki Senpukyaku
L, M and H Air Tatsumaki Senpukyaku can now be used in air combos
EX Hadoken Start-up decreased by 1 frame (12F → 11F)
EX Air Tatsumaki Senpukyaku hitbox expanded and vacuum effect on hit increased, easier to land all hits
L and M Shoryuken → EX Focus Cancel → Forward Dash is now -5 on block
EX Shoryuken (1 hit) →EX Focus Cancel → Forward Dash can be followed by all strikes except throws
Metsu Shoryuken (UC2) invincibility time increased by 1 frame (8F → 9F)
Sagat
Close Standing LK 2nd hit now Special-, EX Focus-, EX Red Focus- and Super Combo-cancellable
Step Low pushback on block reduced
Step High Kick damage reduced by 20 (100 → 80)
Tiger Shot recovery increased by 3 frames (39F → 42F)
L, M and H Tiger Knee 1st hit now forces stand
L, M and H Tiger Uppercut→ EX Focus Cancel → Forward Dash is now -5 on block *Also applies to Tiger Uppercuts with Angry Charge
Tiger Destruction (UC1) air hit damage reduced by 55 (395 → 340); forward movement reduced; when hitting air opponents in the corner, now does full hits
Tiger Cannon (UC2) now does full hits on air opponents; air hit damage reduced by 129 (384 → 255); damage on standing opponents reduced by 27 (384 → 357)
Sakura
Distance traveled by opponent travels after a back throw has been reduced
Far Standing MP hitbox slightly expanded forward
Far standing HP now Special-, EX Focus-, EX Red Focus- and Super Combo-cancellable
Diagonal Jump HP hurtbox slightly increased
All versions of Air Shunpukyaku trajectory changed on activation
EX Shunpukyaku advantage on block reduced by 2 frames (+4F → +2F); made easier to connect on crouching opponents
All versions of Shouoken hitbox slightly expanded forward
EX Sakura Otoshi earliest timing for additional attacks reduced by 3 frames (15F → 12F)
Shinku Hadoken (UC2) rear hitbox removed
Seth
Triangle Jump movement distance reduced
Crouch MP advantage on hit increased by 2 frames (+3F → +5F); advantage on block increased by 2 frames (-1F → +1F)
Far Standing HP advantage on hit increased by 6 frames (-11F → -5F), disadvantage on block reduced from 7 frames (-15F → -8F)
Diagonal Jump MK now crosses up; hitbox matches jump HK version in AE 2012
Diagonal Jump HK no longer crosses up
Yosokyaku (Jump 2+MK) active frames increased by 1 (3F → 4F); hitbox increased downward
Tenmakujinyaku (Jump 2+HK) hurtbox slightly expanded; advantage on hit increased by 1 frame
M Hyakuretsukyaku stun reduced by 50 (150 → 100)
H Hyakuretsukyaku stun reduced by 50 (200 → 150)
L,M,H and EX Hyakuretsukyaku does 10 more damage
All versions of Spinning Pile Driver stun reduced by 50 (200 → 150)
L, M and H Shoryuken 2nd hit no longer can be Focus-cancelled on guard; EX Focus Cancel → Forward Dash is now -5 on block
M and H Shoryuken invincibility time reduced by 2 frames (7F → 5F)
L, M and H Tanden Engine can no longer be cancelled into from normal attacks
Tanden Stream (UC1) recovery reduced by 10 frames (66F → 55F); pushback on block reduced
Tanden Typhoon (UC2) now easier to land all hits on air opponents; disadvantage on block reduced by 19 frames (-89 → -70)
T. Hawk
Movement speed slightly increased
Close Standing MP pushback on hit and block reduced
Far Standing HK hurtbox slightly expanded; disadvantage on block reduced (-7F → -5F)
Crouching MK now Special-, Super Combo- and EX Focus- and EX Red Focus-cancellable
Condor Spire command changed from 421+P to 623+K
L Condor Spire disadvantage on hit decreased by 3 frames (-5F → -2F); start-up reduced by 9 frames (20F → 11F)
M Condor Spire start-up reduced by 6 frames (20F → 14F)
EX Condor Spire forward movement slightly increased; Damage reduced by 30 (150 → 120)
L Tomahawk Buster start-up reduced by 1 frame (5F → 4F); recovery reduced by 1 frame (28F → 27F)
EX Tomahawk Buster now EX Focus-cancellable
L Mexican Typhoon throw range increased by .5 (1.50 → 1.55)
Raging Slash (UC2) command changed from 63214 x2+PPP to 63214 x2+KKK; hitbox slightly expanded horizontally
Vega
Crouching HP active frames increased by 2 (2F → 4F)
Close Stand MK hitstun increased by 3 frames (+2F → +5F)
Diagonal Jump LK can cross up the opponents
Mask Pick-up from ground is now a command, 2+PP when standing over the mask
L, M, H and EX Rolling Crystal Flash charge time reduced by 10 frames (60F → 50F)
M Rolling Crystal Flash → EX Focus Cancel → Forward Dash advantage on block increased by 3 frames (0F → +3F)
Flying Barcelona Special (Super Combo) now has an attack added during the motion to the wall, does 100 damage; Rolling Izuna Drop damage 100*100*100; gauge consumption timing changed from when Vega reaches the wall to at the time of activation
Bloody High Claw (UC1) forward charge attack's hitbox expanded to match the EX Barcelona drop
Splendid Claw (UC2) start-up reduced by 1 frame (8F → 7F)
Yang
Movement speed slightly increased
Close Standing LK start-up reduced by 1 frame (5F → 4F)
Close Standing MK hitbox expanded downward, easier to connect on crouching opponents
Far Standing MP now Special-, Super Combo- and EX Focus-cancellable
Far Standing LK start-up reduced by 1 frame (5F → 4F)
Crouching LK damage increased by 10 (20 → 30)
Diagonal Jump MK hitbox size expanded, now in between the AE and Ver.2012 versions
L and M Torou Zan 3rd hit damage increased by 5 (60 → 65)
H Torou Zan 3rd hit damage increased by 10 (60 → 70)
L, M, H and EX Torou Zan hitbox increased downward
L Senkyutai 1st hit hit-stop increased by 4 frames (8F → 12F) (now matches the hit-stop on block)
All versions of Zenpo Tenshin now do 1 damage (0 → 1); L Senkyutai → FADC→ Dash forward -5 on block
Tenshin Senkyutai (UC2) start-up reduced by 1 frame (7F → 6F)
Mantis strike hitboxes increased downward
Yun
Far Standing MP damage increased by 10 (50 → 60)
Crouching MP damage increased by 10 (50 → 60)
Jumping MK active frames reduced by 4 (8F → 4F); Crosses up more often
All versions of Zenpo Tenshin now do 1 damage (0 → 1)
Ex Zesshou Hohou advantage on block increased by 2 frames (-1F → +1F)
Diagonal Jump MK active frames reduced by 4 (8F → 4F); Crosses up more often
Zangief
Close Standing LK now Special-, EX Focus-, EX Red Focus- and Super Combo-cancellable
Close stand MK advantage on hit increased by 5 frames (0F → +5F); advantage on guard increased by 2 frames (0F → +2F)
Far Standing MP hurtbox slightly expanded; hurtbox in front sticks out 1F before active
Far Standing MK disadvantage on hit decreased by 4 frames (-7F → -3F); disadvantage on block reduced by 3 frames (-10F → -7F)
Crouch LK advantage on hit increased by 1 frame (+4F → +5F)
Diagonal Jump HP hurtbox slightly expanded
L Spinning Pile Driver throw range reduced by .05 (1.75 → 1.70)
L Banishing Flat start-up reduced by 3 frames (11F → 8F); disadvantage on hit reduced (-5F → -2F); disadvantage on block reduced by 1 frame (-8F → -7F)
M Banishing Flat start-up reduced by 2 frames (13F → 11F); disadvantage on block reduced by 2 frames (-8F → -6F)
H Banishing Flat start-up reduced by 2 frames (16F → 14F); disadvantage after hit increased by 1 frame (-6F → -7F); disadvantage on block reduced by 2 frames (-9F → -7F)
Final Atomic Buster range increased to match his M Screw Piledriver