EN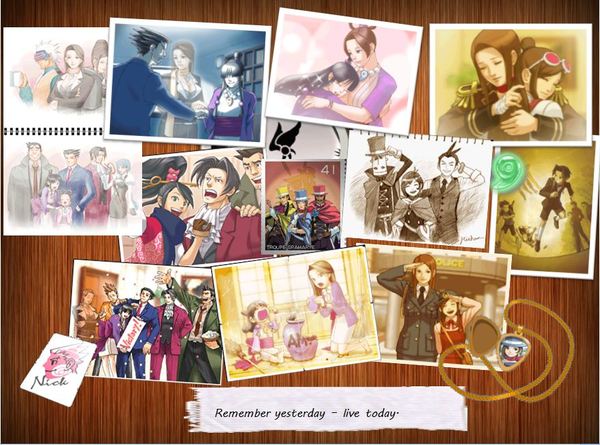 Remember Yesterday – Live Today
↑ ace attorney – through the years. by RyuClockwork (2012)
Hi everyone! Happy AA Trilogy launch day for all you Europeans out there! With this, AAT is now available all around the world, so what are you waiting for? Whether the series is a long-time favorite of yours or a completely new experience, grab your Nintendo 3DS and hit up the e-shop if you haven't already and let's get playing! When else are you going to get the chance to get the first three games in one place for essentially $10 a game? Besides the obvious graphical and sound upgrades, we've even thrown in the full Japanese versions of all three games and a brushed-up English script! What more could you ask for from this collection!
As you can see by today's header image (which is a very well-laid-out and heartwarming collage!), this final entry is all about you, the fans! This series couldn't have become as (in)famous as it has for its finger-pointing shenanigans if it wasn't for you fine folks.
Speaking of you fine folks, last week , I asked what the silly glasses the Judge is wearing is a reference to… and yup! A whole box of internet cookies for PlatonicWaffles for answering correctly as the first commenter! (Do you accept cookies in a clickable format ? *quickly covers head*) It was indeed a reference to the AA4 announcement trailer that was presented at TGS 2006.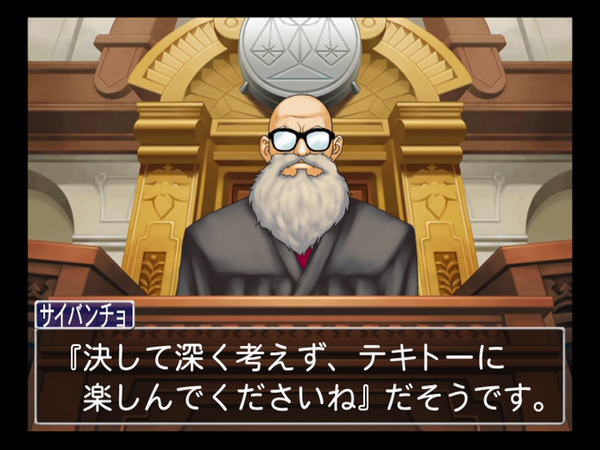 ↑ Judge: Apparently, we are to "absolutely not think too hard about things, kick back and enjoy."
And on that note, let's get into some awesome fan works! A word of warning: Spoilers do abound, unfortunately, so if you haven't played the games yet, be sure to bookmark this and come back later, ya hear?
It was so hard narrowing down what to feature – there's just too much great stuff out there – but I tried to keep to fan works about the first three games. In addition, I tried to find pieces among my personal favorites that didn't seem to be too well-known when I first saw them, though it seems a few have become more famous since then. Either way, I hope you'll like them as much as I do – enough to click on the links to go give the original artists a "Like", a reblog, a comment – or even all three!
~ Fanart  ~
There's something about the versatility of art to convey the wide range of thoughts and feelings we have for the things we love. Here is just a sampling of the many reactions people have had to the series.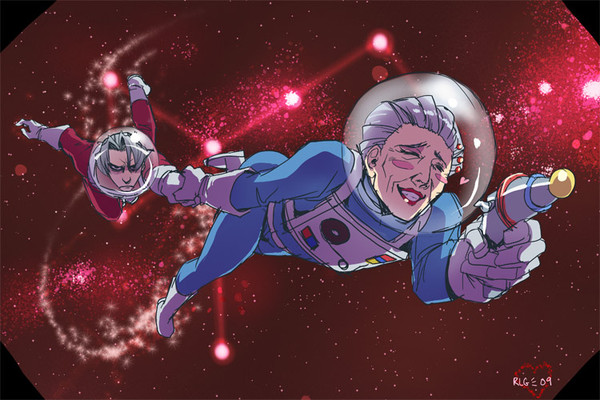 ↑ The Sequel Date by Soap-Committee (2009)
Poor Edgeworth looks like the personification of Grumpy Cat here. I love the contrast between that and the look of utter delight on Oldbag's face – talk about literally being in Heaven for her! As a bonus, definitely go check out Soap-Committee's extra young!Oldbag pic!

↑ Yes, Yes, of COURSE by sleepyotter (2014)
I have no doubt many people had the same thought upon completing "Justice For All" towards Edgeworth… Well, either this or some other thoughts I can't list here…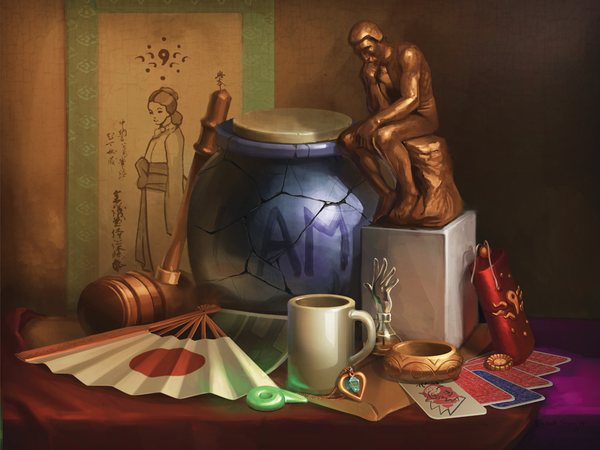 ↑ Ace Attorney Still Life by Photia (2014)
As a piece of art, it's incredibly detailed and well-done, and as a piece of fan work, it hits you right in the heart. It's obvious a lot of time and love went into this, as evident by this work-in-progress gif that details the many changes and all the hard work Photia put into this piece!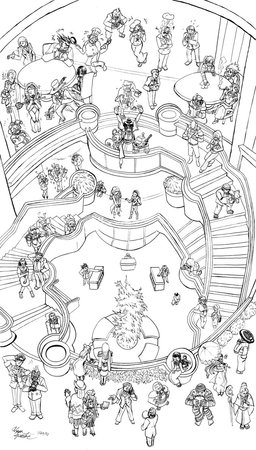 ↑ Ace Attorney Group Shot by lyssaspex (2010)
I hope lyssaspex will color this in one day, but even as it is now, I am in awe of how well each character's expressions and mannerisms were captured. Considering this picture includes all of the characters from the first three games, it's definitely no small feat!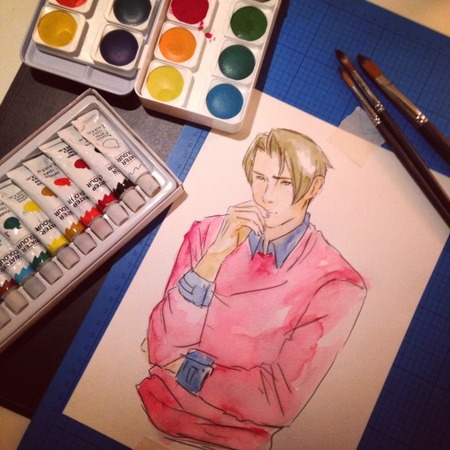 ↑ Edgeworth in Watercolor by andrillian (2014)
It's nice to see the characters outside of their usual clothes, and it's especially nice to see them drawn in a good ol' analogue method like watercolors. I especially like the contemplative look on Edgeworth's face. Then again, from some of her other artwork, it seems that andrillian has a knack for natural-looking facial expressions in general.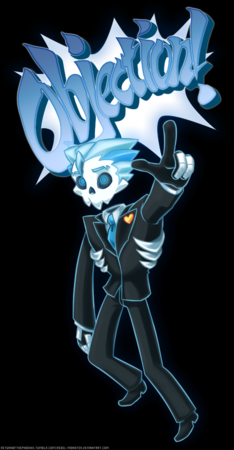 ↑ Mystery Skulls Ghost meets Turntable Turnabout by Rebel-Monster (2014)
Mystery Ben and his team's art style in the exceptional animated video for Mystery Skull's "Ghost" meshes really well with the color scheme and design Rebel-Monster gave to Phoenix in this ultimate mash-up pic! But Phoenix as Lewis…! Does this mean that Phoenix will disappear of a broken heart?! Say it ain't so!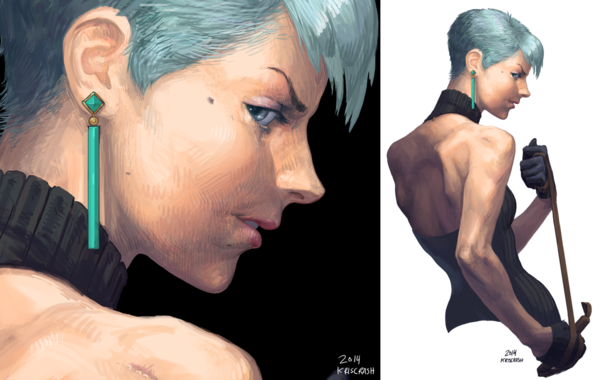 ↑ Older Franziska by Kriscrash (2014)
This is definitely not the teenager we know in the games but the fierce woman I can see her becoming someday. Not only do I love the new hairstyle, but the lighting and shadows across her back along with the look of determination on her face really makes this piece stand out for me. Also be sure to check out Kriscrash's work-in-progress post for some awesome rough sketches!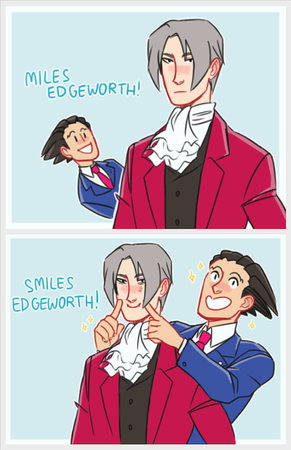 ↑ Miles Edgeworth, Smiles Edgeworth by Stacho (2014)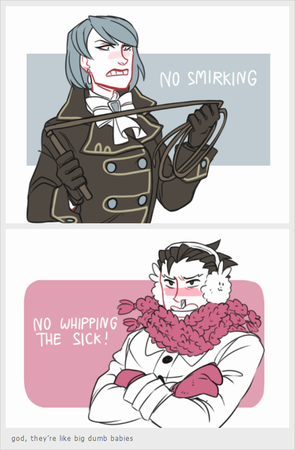 ↑ No Smirking! No Whipping the Sick! by Stacho (2014)
It's almost unfair how easily Stacho's humorous pieces capture so much about the characters in just a few short panels. The pun in the first comic is positively groan-worthy, and I really love Franziska and Phoenix's clothes in the second. Also, yes, I thought the same thing at that scene in the third game as Stacho, haha.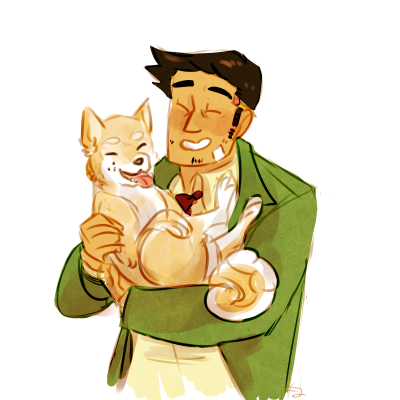 ↑ Gumshoe and Missile by Karly (2014)
Anyone who says this picture doesn't make them smile officially has no heart. Honestly, how can anyone look at these two smiling and not instantly feel happier? It's just not possible! A pic to keep handy for a rainy day.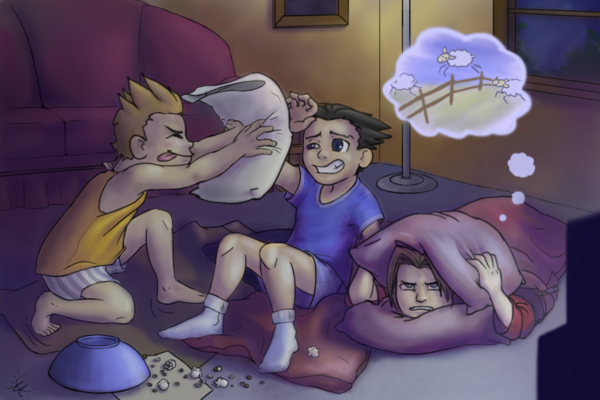 ↑ Ace Attorney: Slumber Party by Ayemae (2011)
I don't know how these three managed to be such good friends, but this picture captures the differences in their personalities beautifully. Larry is never going to let the other two get any sleep, is he?
~ Cosplay  ~
You guys have no idea how hard it was to narrow it down to just these folks. There are so many great Phoenix and Edgeworth cosplays, so I'll be highlighting some of the more rare cosplays I've come across. Of course, with cosplays, people aren't taking pictures of themselves, so big bundles of kudos to the talented photographers who took the following pictures, too!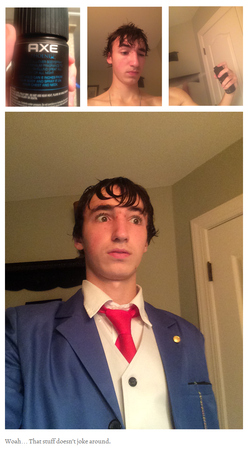 ↑ PhoenAXE Wright by Brick (2014)
Yes, yes, I know I said I'd keep it to AA1 through 3 and rare cosplays, but this was just too good to pass up. Not only is the joke great, but Brick's got the costume down!
As an aside, it turns out, there's also an Axe Apollo body spray… All we need now is an Athena body spray and all will be Wright (Anything Agency) with the world.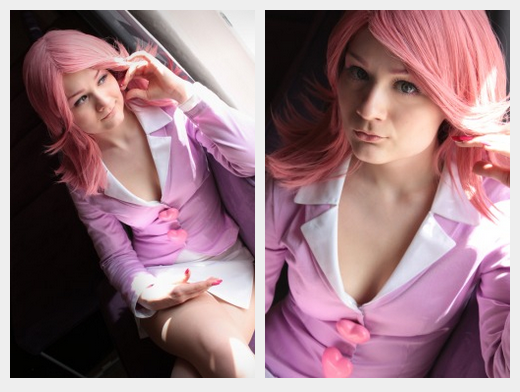 ↑ April May by YukiKoyuki, photo by majocosplay (2012)
I don't think I've seen an April May before, and YukiKoyuki pulls her sweet, innocent look off perfectly here.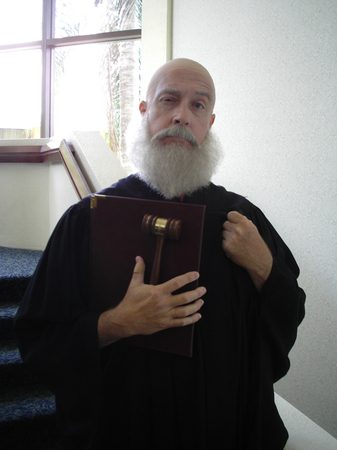 ↑ The Judge , photo by Hikikomori-Desu, cosplayer unknown (2009)
His Honor looks like he's just wrapped up another antics-filled trial here. I especially like the dedication in getting the shape of his beard just right.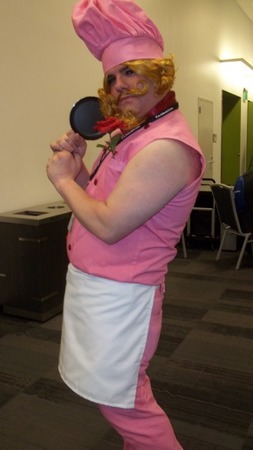 ↑ Jean Armstrong , photo by flannel-penguin, cosplayer unknown (2014)
Everything about this is just perfect. From his curly mustache to the deliciously pink outfit and the tiny fry-pan in his hands, this Jean Armstrong cosplayer is love.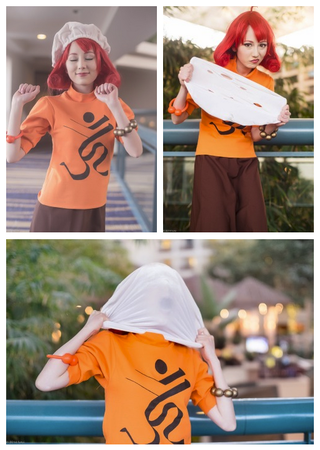 ↑ Ini Miney by generalkutan, photo by Jeff Davis (2014)
Another rare cosplay, but generalkutan is so spot-on here I'm almost certain she simply stepped out of the game itself… I don't know how she did it, but the wig work is fantastic and her expressions really sell the cosplay.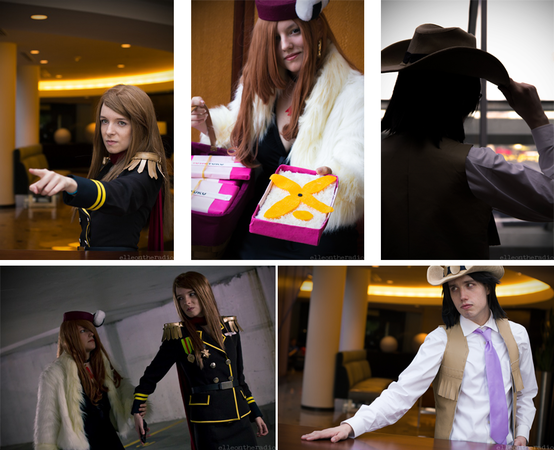 ↑ Lana Skye, Angel Starr, and Neil Marshall by endless-nine, blueamaranth, and your-baldness, photo by elleontheradio (2014)
I couldn't include all of the pics, but these guys are awesome as three of the characters at the heart of "Rise from the Ashes". Definitely click through to see the rest! The attention to detail in these costumes is outstanding!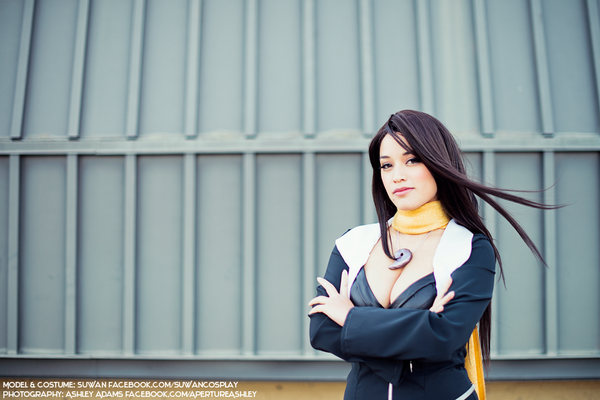 ↑ Justice on your side! by Su-Wan, photo by Apature Ashley (2013)
What can I say but wow! Su-Wan's expression and the wind blowing through her hair – it really feels like I'm in the presence of the legendary lawyer herself. Mia Fey would be proud.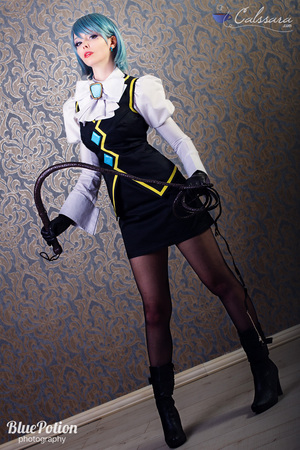 ↑ Franziska von Karma by Calssara, photo by blue-potions (2014)
The costume is great, but the body language Calssara uses is what lends this portrayal even more authenticity. Everything from the condescending look to the whip that looks like it's ready to lash out at the viewer screams "Franziska von Karma!"
~ Parody and Music Videos  ~
Animated videos are amazing feats of writing, drawing, animating, singing, timing, and editing. I'm sure everyone has seen the classics, such as Mystery Ben's " Phoenix Wright – Boot to the Head ", Brentalfloss's " Phoenix Wright WITH LYRICS ", and naturally – the AA video that started all AA videos – " Phoenix Wrong " by AshfordPride. I hope you guys will find these folks to be just as entertaining in their own ways, and make sure to check out each video's "show more" for lyrics and complete credits!
↑ Phoenix Wright – Captain Courtroom and the Courtroom-teers by evisneffo (2009)
I am a sucker for silly parodies, and one can never go wrong with Captain Planet… Then again, maybe it's just me, but I was really amused by the cleverly re-written lyrics.
↑ Tik Tok: Phoenix Wright , lyrics and singing by adrisaurus, art and animation by Berend (2010)
Adrisaurus has written original lyrics and sung amazing songs about other AA characters including Apollo and Athena, but one of her first parody videos is still one of my favorites. As with her character songs, this one features insightful lyrics and delightful singing, and Berend's special brand of humor in the visuals department adds that extra bit of polish that makes this badge of musical talent shine that much brighter.
↑ Ace Attorney Anime by HiroEcks (2014)
Every fan from every country has at one time or another imagined and/or asked us about an anime. Well, one talented man has put together his own version of an opening for just such a show. The completely original song and lyrics blend so perfectly with the melodic themes pulled from Turnabout Sisters that it simply works. Now, if only we could do something about a few of the kanji in the staff members' names… *sweatdrops*
↑ Objectionable Rhapsody by Avendasora (2008)
There is nothing objectionable about this video! Every mouth flap and every visual cue is dead on, with a good dose of humor thrown in with some ingenious choices as to which character and scenes to feature when.
~ Voice Acting  ~
Having done some placeholder voice work for some of our games when they're still in development in the past, let me just say that voice acting is definitely not as easy as simply speaking into a mic. So it's always exciting to hear such talented people devoting their time to fan works.
↑ PW:AA – Trials and Tribulations – Let's Dub Project (2013)
Though they started out with simply providing silly voices on the side during Let's Plays of the first game, it's been awesome to watch the Let's Dub Project take off and grow into a full-on fandub group. Starting with Trials and Tribulations, each episode is set up like an anime episode – complete with over-the-top "Last Time" opening narrations and montages. The amount of time and coordination that must go into each episode is mindboggling!

↑ Gumshoe Wanted to be a Wizard voiced by ProZD (2014)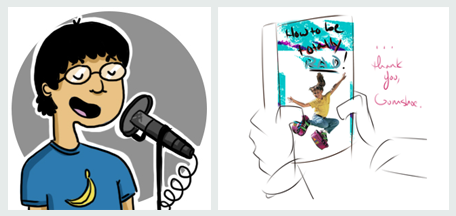 ↑ How to be Totally Rad voiced by ProZD, original comic by Karly (2014)
ProZD can do more than just a great Goofy – his Gumshoe is adorably lovable and, uh… well, goofy, you can really hear the exasperation in Edgeworth's sigh, and his sense of comical timing is impeccable, as you'll hear for yourself if you click on the links to these and other hilarious clips on his tumblr. By the way, he does all of the voices himself, son. Booya! How is THAT for range!
~ Song Arrangements and Remixes  ~
If you have never heard Smooth McGroove's " Phoenix Wright – Cornered Acapella ", you owe it to yourself to have a listen, and if you have, then you owe it to yourself to listen to these other fine and unique arrangements!
↑ The Fragrance of Dark Coffee (on Accordion) , played by Brendan Vavra (2012)
I never would've thought of playing Godot's theme on an accordion, but once you hear this, you'll wonder why you never thought of it either. When I listen to this, it feels like I've been transported to a small café in Paris and I'm being serenaded by a street musician as I silently sip on a cup of coffee… Ah… There needs to be more accordion arrangements in this world!
↑ This Feeling by OA (2007)
OA has done some really aurally intricate remixes of some of the most beloved pieces of video game music out there, and "This Feeling" is his first Ace Attorney remix, and as the title says, it really does make you feel warm and fuzzy on the inside afterwards. Each of his AA remixes is in a different style, but they are all worth a listen so be sure to give his other two, " Holiday with Mia Fey " (2009) and " Carry the Moment " (2012), a go after this.
~ Fanfics  ~
From the olden days of Livejournal and Fanfiction.net to the newer archives at Dreamwidth and Archive of Our Own, I… really wanted to feature some fanfics here because there are so many truly talented writers, but curse you all for making them so good, but so NSFW in every conceivable way! *laugh*
Regardless, there are many great fic rec lists on the web, and none of them have lead me to a bad fic yet, so if you are interested in sitting down to read some amazing works full of interesting character development and some sometimes-awkward situations that take place in all sorts of timeframes and all sorts of universes both in canon and outside of canon, I wholeheartedly recommend tracking down a recommendation list. Just make sure you are of age… (Bonus: Insert your own obligatory age disclaimer here!)
In closing, all I can say is… Wow! You guys rock. Your sense of humor and dedication to this series shines through in everything you've produced, and it makes me happy to see how much this little band of lawyers means to all of you. I know people like to crow that their fandom is the best, but honestly, I feel proud to be a part of this series and am honored to interact with such delightful fans. Thank you so much for playing the games and for supporting this series for all these years. I hope you'll continue to support it now and into the future.
Unfortunately, my time here on this blog has come to an end… for now. No one knows what the future will hold, but I believe it will be a bright one, as long as we strive to keep moving onwards and upwards through the strength and wisdom we've gained from our past. We'll meet again someday. Of that, I'm sure.
Until then!
Catch up on previous blog entries here!