EN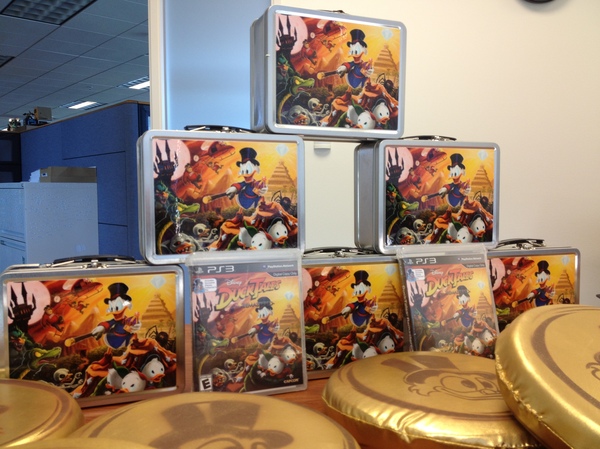 We're giving away A TON of DuckTales: Remastered Press Kits
Aug 23, 2013 // Chris
A handful of priceless DuckTales treasures, each containing a golden NES cartridge, are looking for new homes. You want one?!
Have you seen those DuckTales: Remastered Press Kits floating around on the web? "Woo-Hoo, can I buy one?!" we hear you asking. Uh, nope. Those were made for press only. "But that's not fair! I don't rate games on a ten point scale for a living!" you've also cried out, assuming we weren't listening. But, ho boy, do we hear ya! Here, take a look inside:
No, you may NOT buy the fancy-schmancy DuckTales: Remastered press kit. Sorry… oh, but we will give you one FOR FREE. Only a 150 of these things were produced, and we want to give away at least one DuckTales press kit EVERY DAY we're in the office from now until Sept. 11th, when DuckTales: Remastered launches on Xbox Live, and we're giving you numerous ways to throw your top hat in the ring. How do you get one? Well… Can you sing ?
Of course you can, which is why you should head over to our DuckTales Sing-Along site and upload a video of you belting out the immortal DuckTales Theme Song.
ART CONTEST: Another Way To Win!
Don't wanna sing? That's cool, maybe you're a more visual person. We want you to
A ) Insert the DuckTales gang into classic Capcom box art, and/or…
B ) Duckify you a Capcom character or characters! Make Ryu, Mega Man, Arthur, etc., look like they'd fit in perfectly on the streets of Duckburg.
And since I'm pretty sure I just made up the word "duckify" here's a little example I threw together using Bubble Man: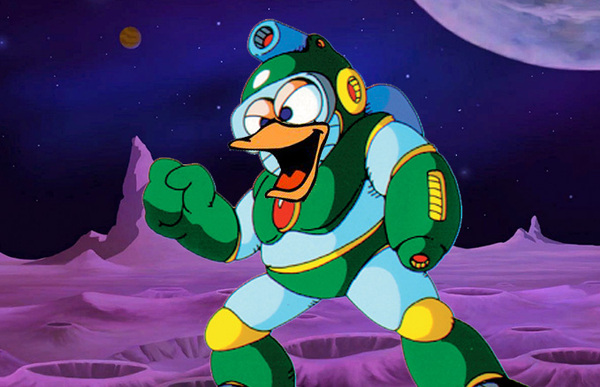 I don't know from art, but you kids reach for the stars!
Submit your artwork as an attachment to contest@capcom.com with "DuckTales Art" in the subject line. You have until Sept. 11th.
To reiterate, we'll give one DuckTales: Remasterd press kit away every week day and those two ways listed above are just the methods we're telling you about right now. Stay tuned, because we're going to have some surprises and flash giveaways here and there so be sure to check back with Capcom-Unity.com regularly, follow us on Twitter , Like us on Facebook , and Subscribe to us on YouTube .
Oh yeah! DuckTales: Remastered is now available on PlayStation 3, Wii U, and Steam, and you can see all the game's current news, media and information here . Press kit giveaways are valid for residents of North America and Europe only, end on Wednesday Sept. 11th, the prizes are priceless, and you gotta be 13 years of age or older to send us an address.
Click here to bore yourself silly with the legal parameters of our general contest rules!