EN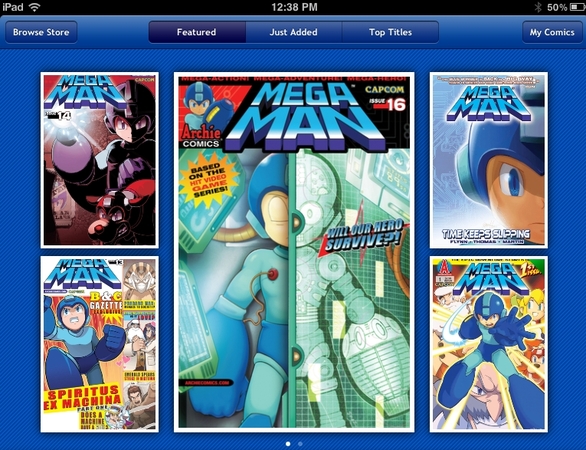 Get Mega Man #1 FREE with the Mega Man Comics iOS App
Aug 16, 2012 // Chris
If you've been on the fence about getting started with Archie Comics' Mega Man series, and you own an iPad or iPhone, you are officially out of excuses. The Mega Man Comics App is now live in the Apple store for the low, low cost of FREE . And if that weren't enough, you can also download the first issue for $0.00 down.
The App is 100% up to date with the entire series so far, and it updates with new issues the same day as print. Individual issues range from $1.99 to $2.99, however, I'd recommend that those who want to dive right into the series grab the first two volumes, which collect the first eight issues (saving you a little money at $5.99 each.)
Personally, I've been in head-over-heels in love with the series since Day 1 (and long before I worked at Capcom before you call me out as biased.) It sets up a surprisingly well-thought out backstory starting from the original game, elevating what could've been page after page of otherwise senseless robot murder into something consistently fun and funny, plus Patrick "Spaz" Spaziante's amazing attention for nostalgic detail makes the art angelic enough to bring any Mega Fan to his or her knees.
If you need further incentive, you might want to catch up Mega Man's sequential adventures in order to prepare for his first ever meeting with Sonic the Hedgehog ! Speaking of which, our buddies over at the Mega Man Network just conducted an interview with Archie Comics/Mega Man scribe Ian Flynn , so we encourage you to go give that a read .
Either way, you've got plenty of time to catch up before the colossal clash of gaming icons begins next year. Equip the Mega Man Comics iOS App right here .

Has there ever been a better time to be a comic lover/classic gamer?