EN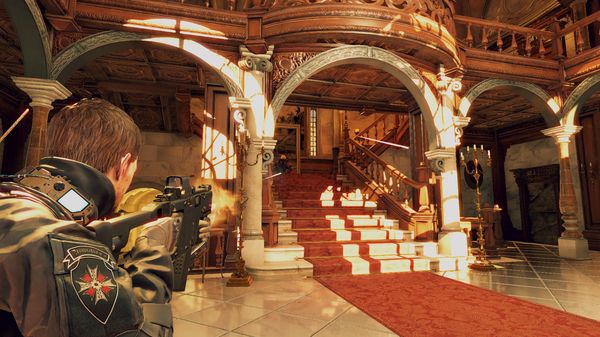 Umbrella Corps is Available Now on PS4 & PC!
Jun 21, 2016 // Tim
Today you can join the Umbrella Corps and face off against enemy mercenaries online in dangerous battlefields teeming with undead monstrosities. The 3 vs. 3 competitive third-person shooter set in the Resident Evil universe is available for digital download on PlayStation 4 and PC for just $29.99.
Umbrella Corps has a variety of maps drawing from different locales in the Resident Evil universe. The Resident Evil 4-themed map recreates the unforgettable Village, complete with dangerous Ganados armed with farm tools. The Raccoon City map allows players to fight it out on and below the streets as zombies wander everywhere.
Speaking of maps based on the RE series, today's launch trailer includes a peek at free DLC offerings that will be available to players in the coming months. One map reopens the doors to the infamous Spencer Mansion, hosting intense firefights in its ornate interior. Another free map transports RE fans back to the infected and chaotic streets of Lanshiang, China, from Resident Evil 6. Rounding out the free DLC offerings is 4 Survivors mode – a free-for-all mode inspired by classic RE games where ammo, health, and decent lighting is in limited supply. Players battle one another to survive the longest in these dimly lit, more atmospheric versions of the maps in Umbrella Corps.
The Standard Edition of Umbrella Corps is available for $29.99, which grants you access to endless hours of high-energy shootouts against other players while zombies and other monsters encroach from every angle. The Deluxe Edition, available for $39.99, gets you the core game along with the Upgrade Pack which is $14.99 if purchased separately. This cosmetic add-on pack comes with a host of customizable colors, RE-themed patches, and character skins. Want your merc to look like Leon, Chris, Wesker, or other RE favorites? This add-on lets you.
Ready to jump into the action? Head over to the PlayStation Store to download the game on PS4 or check out Steam to enlist in the PC version . Stay tuned for release info about the upcoming free DLC and community competitions! Visit the Umbrella Corps website for more information about the game, and check out our Facebook gallery to see new screens!