EN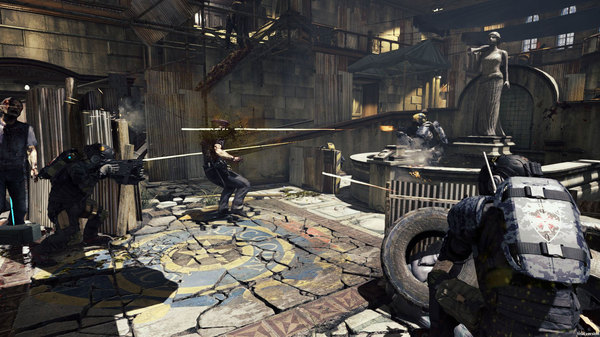 Umbrella Corps Deluxe Edition Details, Pre-orders Now Open!
May 24, 2016 // Tim
The U.S. government ordered the absolute sterilization (a.k.a. complete destruction via missiles) of the zombie-infested Raccoon City in 1998. Now fans can return to the iconic setting thanks to new maps revealed for Umbrella Corps. The competitive, online third-person shooter set in the Resident Evil universe allows players to take each other down in the chaotic city streets or battle in a dilapidated reimagining of the iconic RPD (Raccoon City Police Department) building. Fans can also look like iconic RE characters like Leon S. Kennedy or Chris Redfield with skins in the newly announced Upgrade Pack
The first new battlefield revealed is the Raccoon City map, which recreates the hazardous city streets first seen in RE 2 and RE 3. Overturned vehicles, walls of flame, and the shambling undead are scattered around the streets. Mercenaries can also venture down into the sewers below Raccoon City, shooting it out in the same narrow passages where infected rats once spread the T-Virus. Check out the fresh batch of screens on our Facebook page to see players exchanging fire beneath the gated archway of the RPD station.
Speaking of Raccoon City's Police Department, the headquarters' main hall plays host to one of the most open maps in Umbrella Corps. The ruinous RPD building interior is reimagined as a patchwork refuge, with metal sheeting and scaffolding connecting the first and second floors. Mercenaries can even take cover beneath the ornate statue which held a key item in RE 2. Don't get too nostalgic exploring the crumbling hall, however, because players are extremely exposed to enemy fire in this map.
If fighting enemy players and a host of zombies in Raccoon City doesn't sound right without RE characters like Leon S. Kennedy or Chris Redfield, fans are in luck. The Upgrade Pack includes a host of characters skins, weapons, patches, custom colors, and emotes to personalize your mercenary. The included masks allow players to assume the likenesses of the aforementioned Leon and Chris along with Albert Wesker, Barry Burton, Jake Muller, and a HUNK set that includes a helmet, mask and outfit. Finally, players can settle Wesker and Chris's differences under the roof they once shared as supposed S.T.A.R.S. team comrades. You can pick up the Upgrade Pack as an add-on for $14.99 to the standard edition of Umbrella Corps ($29.99), or get it as part of the Deluxe Edition of Umbrella Corps at a discounted $39.99.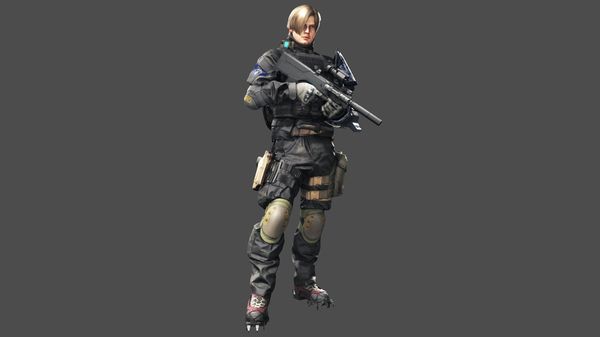 The release of Umbrella Corps is just around the corner, but you can lock in your copy of the game and score some awesome extra content by pre-ordering starting today for both PS4 and PC. Mercs who pre-order now will receive the "Fashion Victim Pack" as a free bonus. This cosmetic pack lets players add splashes of color to their weapons and armor. Want to see what a souped-up mercenary looks like outfitted in neon orange? Now you can. PS4 owners that pre-order will also receive a dynamic custom theme featuring sounds, music, icons, and other artwork from Umbrella Corps.
Umbrella Corps will be available to download when it releases on PS4 and PC on June 21.