EN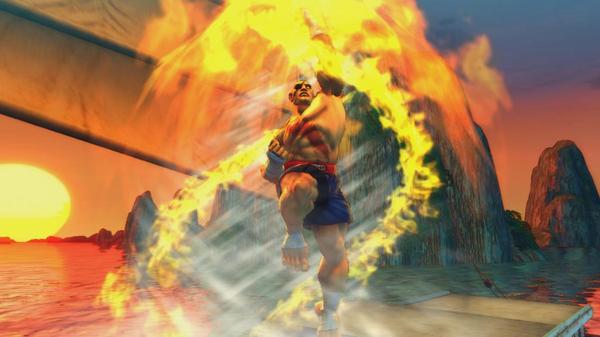 The Street Fighter IV PC – The Options
May 08, 2009 // Sven
There's several options when it comes to getting your fight on on PC with Street Fighter IV. Here's what you need to know.
Let's start at the top.
Obviously, Street Fighter IV PC will be available at retail on a normal Games for Windows DVD at retail for $39.99 (shipping in the US on July 7 th ). Naturally, it will also be available for purchase in the Capcom estore . Best Buy customers will have a little special gift in the form of an Eagle One animated comic DVD bundled with the game.
We've mentioned before Street Fighter IV PC will be available for digital sales at a variety of places (same price $39.99/€39.99). You'll pretty much be able to take your pick of vendors if you want it digitally: Capcom.com 's estore, Steam , Impulse , Direct2Drive , Metaboli , Gametap , Nvidia.com , GamersGate and others to be named later.
Lastly, while I've hinted at it before, given that the mouse and keyboard really isn't an ideal way to play Street Fighter IV, we felt we needed to take the opportunity to provide a turn-key solution by creating a controller/game bundle SKU in the US.
And so the bundle looks like this (tada!):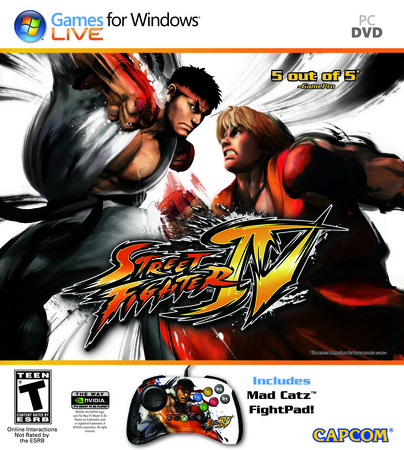 For $59.99, inside that big cool box, you will get Street Fighter IV PC in its own Games for Windows DVD packaging and the rare Street Fighter IV Fight Pad. Given that the game and pad normally sell for $40, each (good luck finding the pads though as they're still in short supply, ebay prices on the Fight Pads , often run over $60 by themselves), you're effectively buying one and getting the other 50% off. (Or, if you look at it in the inflated ebay value way, buy the pad, get the game for free!)
The Fight Pad is the exact same as the Xbox 360 fight pad that is sold separately (Ryu design only), so if you have a PC AND an Xbox 360, it'll work on both for future titles. For the PC on Vista (and presumably Windows 7, though I haven't tested the new RC yet) the pad just plugs in and works "out of the box" with Street Fighter IV. It's the same pad we were demoing on at Captivate a couple weeks ago. A painless and perfect SFIV experience.
We took the bundle out to retail buyers and we've built pretty much exactly the quantity we've got orders for. So when they're gone, they're gone. If you're interested, do not wait to place an order as you will likely miss them.
The bundle is going to largely be available at two places: Capcom.com 's eStore and Amazon.com (I'd expect them to post the SKU up soon). Some of our subdistributors are taking a bit of volume so I wouldn't be surprised to see places like Fry's and Microcenter also carrying them too. If you see em out in the wild in July, get em while the gettin's good
And sorry Europe/ANZ folks, unfortunately retail placed no orders in your territory so the only way you're likely to be able to get your hands on it is via the Capcom eStore which now offers international shipping (we know, it's expensive but these are our costs).