EN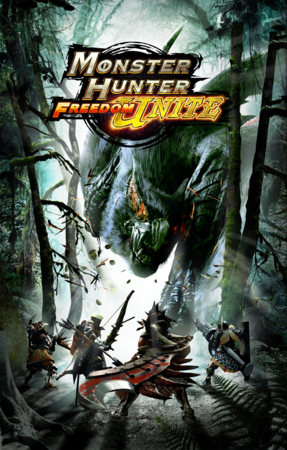 Monster Hunter Freedom Unite Releases Today
Jun 23, 2009 // Snow
Monster Hunter Freedom Unite is finally out here in the west! It's on shelves today, which means you can finally pick up the game that is quite possibly the biggest PSP game ever. Within the world of Monster Hunter, you'll be creating your own character and making him/her unique. Hunting monsters lets you take pieces of those beasts to create armor, weapons, and items to help you take down bigger and meaner creatures.
Monster Hunter Freedom Unite packs an awesome co-op mode, which makes hunting the difficult monsters a bit easier. You and your friends can team up to take down some of the new monsters, like the Nargacuga shown above. Even if you don't have buddies around to hunt with, you can always take a Felyne Companion with you. The Felynes will help you on the hunt by setting traps, distracting monsters, and even taking on the monsters head on.
You'll be hunting in all manner of environments, from deserts, jungles, mountains, swamps, caves, snow, and more. With tons of different monsters, huge varying landscapes, hundreds of pieces of armor and weapons, and over 400 quests you're sure to have plenty of bang for your buck. In fact, there's enough content to keep you occupied for well over 500 hours. Get to hunting!
Press release below.
Capcom Brings Its Biggest Selling PSP ® System Game to North American Gamers Beginning Today
San Mateo, Calif. — June 23, 2009 — Capcom®, a leading worldwide developer and publisher of video games, announced today that Monster Hunter Freedom Unite ' has shipped to North American retailers only on the PSP® (PlayStation®Portable) system. The game has sold over 3.4 million copies in Japan, making it one of the fastest-selling and most successful games on the PSP system. To date, the Monster Hunter ' series has sold over 8.5 million units worldwide, making it one of the biggest PSP brands of all time. Monster Hunter Freedom Unite is rated T for Teen by the Entertainment Software Ratings Board (ESRB) and will be available for a suggested retail price of $29.99.