EN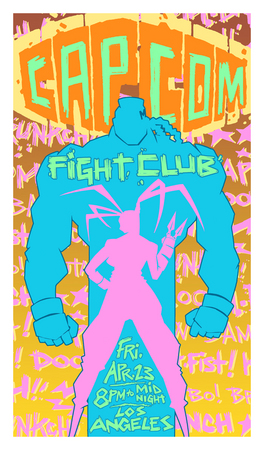 Super Street Fighter IV Fight Club!!
Apr 20, 2010 // s-kill
This is going up on the PlayStation Blog soon, but I can't contain myself so let's kick things off now 🙂
I'm posting to give you a heads-up on a little party we're teaming up with Sony to throw in honor of the arrival of our new game. It'll be full of totally exclusive shirt giveaways, exclusive artwork and giftbags, and maybe… just maybe, some totally epic events.
The party is going down this Friday, April 23rd, from 8pm to midnight, in Los Angeles, CA (in the Silver Lake neighborhood ). We'll post the exact address on Thursday, so stay tuned, but here's a little taste of what's in store, and why people are already making plans to fly into town just for this party:
–Of course you can go hands on with Super Street Fighter IV, and get chances to win an early copy of the final game on PlayStation 3.
–Great Street Fighter art on the exclusive shirts + posters, live art on the walls, and even… on you?
–Gift bags for the first few hundred fans through the door
–Live DJ, light food and drinks
–Big-screen game exhibitions, including appearances from some very special guests all the way from Japan 🙂
–One final note—we have an, um… special opportunity for some brave fans to win some great prizes, but to participate, you'll want to bring a change of clothes—clothes you don't mind having potentially destroyed 🙂
This event is open to the public, and based on some of our past parties, there's a very good chance this is going to be totally nuts. Translation: if you want to go, try and arrive early! We'll be posting the exact address and one more surprise on Wednesday, so stay tuned, but make your plans now, and set expectations to "awesome."
For anyone that isn't in LA, or just can't make it, you can watch the action on the Capcom ustream page . Event starts at 8, but we may begin streaming anytime that day, and this is going to be one you do NOT want to miss.
Super Street Fighter IV arrives on April 27th, and it's only $39.99. For fighting fans, this is a no-brainer, but for anybody that missed out on the original Street Fighter IV, or just wants to see what it is about these games that drives their fans so crazy, do yourself a favor pick this up (and come down to the party!).