EN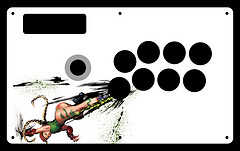 DIY Stick Art: SFIV FightStick Faceplate Templates
Feb 09, 2009 // s-kill
As promised, here are the faceplate template PSDs for the award-winning Mad Catz joysticks:
Tournament Edition FightStick Template
You can use the templates to size whatever art you'd like to the stick face, then print these babies out down at your local Kinkos (or wherever) and you can get em laminated to add what we call "a touch of class."
Here are a couple of basic examples from MarkMan :
It must be said: Swapping out the standard art for whatever you put on these templates will require you to open up your joystick. Opening up the stick, for any reason (yes, even if you got your beard stuck in there) will VOID YOUR WARRANTY, so we in no way encourage you to do that. These might be the easiest-to-mod sticks ever made, but modding is not for you unless (like me) you value being awesome more than having a warranty.
Also, these are just example faceplates, since you probably do not own the rights to these images. To be safe, you should only put pictures of, say, your cat or something on these joysticks 🙂
Finally, just in case you are new on this planet and haven't been already been completely saturated with how awesome these things are, check out this nice overview (complete with reviews) from MarkMan over at Shoryuken …