EN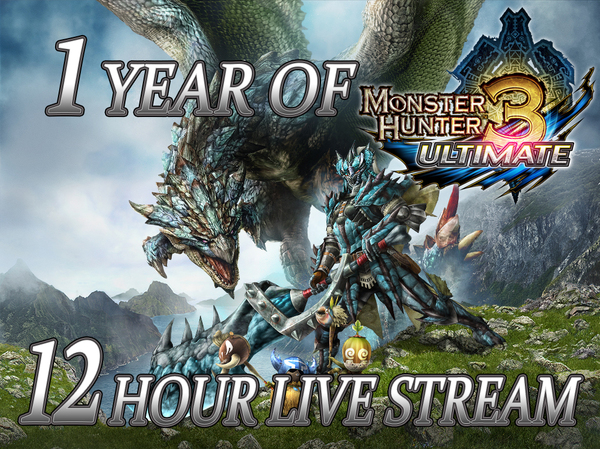 Celebrate 1 year of MH3U with a 12-hour live stream this Friday!
That's right: Monster Hunter 3 Ultimate will soon be 1 year old!! So get your hunting gear ready and celebrate its anniversary with us on a special live stream this upcoming Friday!
Full schedule and all additional details below:
WHEN: Friday, March 21, 2014
TIME: Starting at 10am, ending at 10pm (Pacific Time)
WHERE: twitch.tv/capcomunity and Help D Lobby 10
What are we hunting?
Pretty much everything! We've 12 hours and dozens of monsters to slay, so you can expect a wide variety of beasts to be featured and we'll even take some requests!
Speaking of requests, if you got the game recently and need some help you might consider signing up for the…
HELP A HUNTER :
Click the link above and you'll be taken to a thread on our Monster Hunter forum, where a wonderful community participates in all kinds of hunting talk. =)
In that particular thread, you may sign up for help – whatever it may be – and we'll try to help you out during our live stream between the hours of 1pm and 4pm (Pacific) .
So to reiterate and clarify the schedule:
10am – 1pm: Casual Hunting
1pm – 4pm: Help a Hunter
4pm – 10pm: G-Rank and Event Quests
GIVEAWAYS!
It's MH3U 's birthday, so to speak, but you get the gifts! I still have a bunch of t-shirts, blind box figurines and other miscellaneous MH goods that I'll be happy to send your way. We'll be giving them out through various ways on the stream, so be sure to tune in order to participate!
See you there!! =)