EN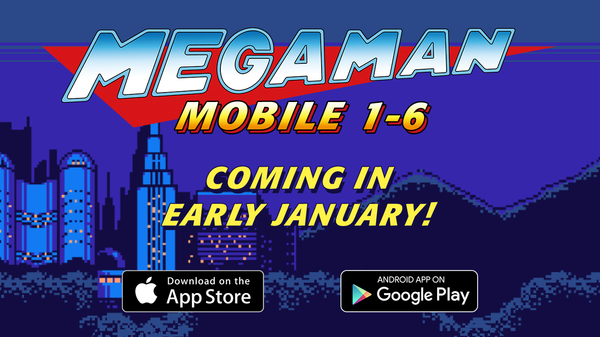 Mega Man 1 – 6 Coming to iOS and Android
The Blue Bomber's original adventures are finally making their way to iOS and Android. These lovingly-crafted adaptations will remind long-time fans and introduce newcomers to what made the Mega Man such a popular and iconic character.
The Games Releasing Include:
Mega Man® Mobile – The evil Dr. Wily must be stopped in this classic action platformer, the original Mega Man!
Mega Man® 2 Mobile– Dr. Wily resurfaces to threaten the world again! Only Mega Man can stand in his way.
Mega Man® 3 Mobile – Fight berserk robots on uncharted planets. Mega Man must set a course for space to resolve this mysterious crisis.
Mega Man® 4 Mobile – A year has passed since Mega Man's battle in space. A new enemy appears – Dr. Cossack.
Mega Man® 5 Mobile – Manic robots cause chaos in the city. How is Proto Man involved? Only Mega Man can find out!
Mega Man® 6 Mobile – The Global Robot Alliance is formed, but this newfound peace is threatened by a new foe – the enigmatic Mr. X!
Sign up with the link below for special offers and to be one of the first to be notified when the game is available for iOS and Android.