EN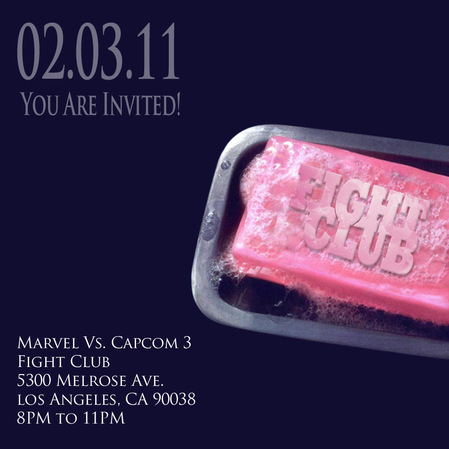 LA FIGHT CLUB VENUE AND INFO REVEALED!
Attention all Los Angelenos!!! Fight Club is coming to Hollywood next week. As you guys are no strangers to our Fights Clubs, you know the drill- come early (first come, first serve), eat good food, play MVC3 to your hearts content and hang with Seth, me and the whole Capcom crew. Being hosted in the biggest venue for a fight club yet and showing the latest 30-character build for the first time to the public, this Fight Club is going to be the best ever so bring your friends, your friend's friends and their friends too!
Working closely with our buddies from Iam8bit, this Fight Club will also have some insane extracurricular activities including live music from the Miles Mosley band, popular voice actors from the game hanging out and signing stuff, Mr. Seth Killian on the Mic and a bunch of popular LA local food trucks outside for a little snack while waiting in line.
And for the early birds, we will be giving away MVC3 gift bags to the first 200 in line.
Oh and did I mention there will be some hot cosplay action there too?!
Hope to see you all there. No need to RSVP, just come!
xxxooo
Melodious