EN

Udon's SDCC exclusives available now for pre-order!
Any World Warriors heading to San Diego Comic Con? Udon's got some great offers on their exclusive products that you won't find anywhere else! We've got some fresh info from Udon on some of their exclusive items, including online preorders that can only be picked up at SDCC! You can pre-order now at www.udonexclusives.com , or hit the jump for more info.
STREET FIGHTER LEGENDS: CAMMY #1 – CONVENTION EXCLUSIVE ARTIST JAM EDITION ($20)
Limited to 300 copies!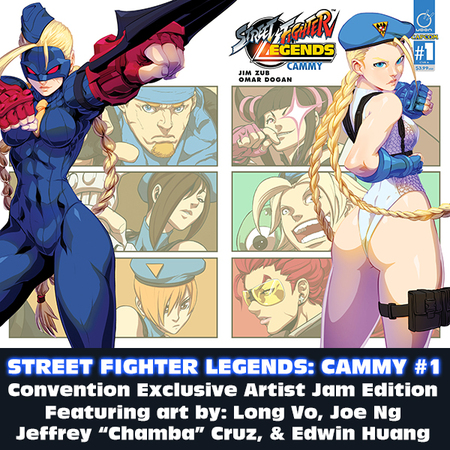 Street Fighter Legends: Cammy #1 – Convention Exclusive Artist Jam Edition features a brand new wrap around cover not available anywhere else, with art by the 4 main UDON artists: Long Vo, Joe Ng, Jeffrey Chamba Cruz, and Edwin Huang. Once you've picked it up at SDCC, all 4 artists will be available at the show to sign these free of charge!
SUPER STREET FIGHTER TURBO CHARACTER SELECT MYSTERY PIN COLLECTION ($20 FOR 2 PINS)
PRE-ORDER BONUS: Buy 10 packs, and receive a full set of the Street Fighter Metal Cards Series 2 (4 card set). Limited to 20 packs per person.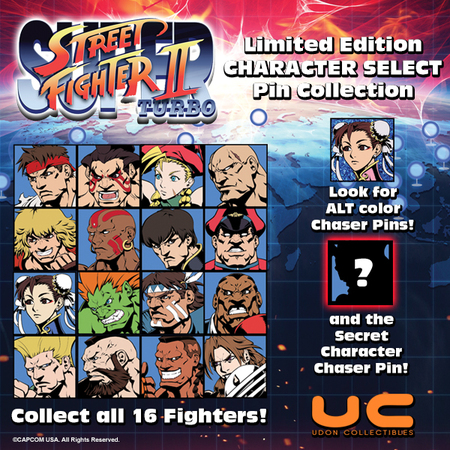 Available exclusively at San Diego Comic-Con 2016, these limited edition collector's cloisonné pins are made of high quality hard enamel and are sure to please discerning pin collectors everywhere. The set includes 16 regular pins, limited to 375 each, based on the portraits of everyone's favorite World Warriors as seen on the character selection screen in Super Street Fighter II Turbo. The pins come in blind boxes with two random pins per package, and each pin is 1.5" X 1.5" in size. Make sure to be on the lookout for special alternate color chaser variants of each character (limited to only 150 each; incredibly rare!) as well as the SUPER SPECIAL secret character hidden in the mix (1:17 chance)! Collect the whole set and become the ultimate champion!
SUPER STREET FIGHTER II TURBO CHARACTER SELECT PIN FRAMED SET ($399.99)
EARLY BIRD SPECIAL: Save $50 when you pre-order! (Limited 2 framed set per person.)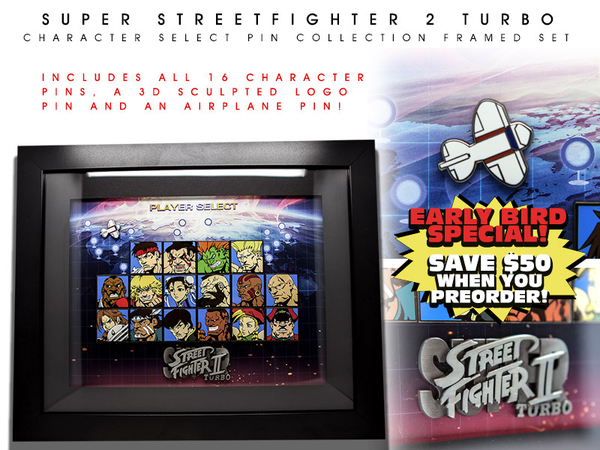 Not to worry, collectors! If sifting through each package isn't your cup of tea but you still want to own the full 16-character set of the Super Street Fighter II Turbo character select pins, we have another option just for you – but you'll have to act fast! Strictly limited to 125 units, this handsome framed set features the complete set of mystery pins mounted on a background resembling the character select screen from Super Street Fighter II Turbo. Even better, this framed set also comes with a 3D sculpted logo pin and an airplane pin – both of which are exclusive to this special set! Each framed set comes with a hand-numbered certificate of authenticity signed by both Erik Ko and Long Vo. Finally, this set also comes with a gold Akuma metal card that will not be available anywhere else! One of these elegant framed sets can be yours for $399.99. Don't miss your chance to be one of the few hardcore collectors who owns this super rare item!
As a reminder, these pre-orders are available exclusively through www.udonexclusives.com for pick-up at the show, so make sure you're not ordering something you can't pick up when you get there!