EN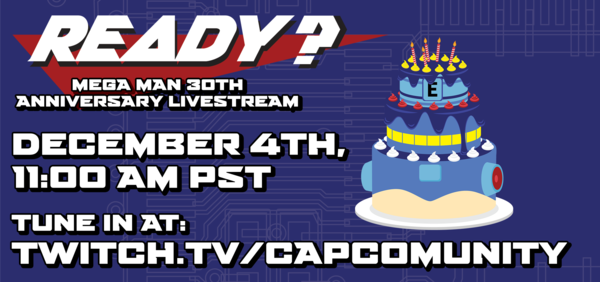 Tune in to the Mega Man 30th Anniversary Livestream on December 4th!
There are few characters in video games more well-known than Mega Man. From his first debut back on December 17th, 1987, the iconic 'bot has been a part of the gaming landscape and Capcom's mascot for just shy of 30 years. Fans around the world have enjoyed Mega Man's adventures in countless games and genres, and while the name "Mega Man" may represent a variety of different characters, it always means fun, challenging games, and a sense of justice and hope for the future. On December 4th -we were just too excited to wait until the 17th! – we're celebrating Mega Man's 30th anniversary with a livestream dedicated to our beloved Blue Bomber! Read on for more details on where and when to watch!
What: Mega Man 30 th Anniversary Livestream
When: December 4 th , 11:00 AM Pacific Time
Where: twitch.tv/CapcomUnity
The main festivities begin at 11 AM Pacific Time, but tune in at 10 AM for the "Streamer Showdown" pre-show featuring plenty of Mega Man trivia and special guests Mega Ran , Projared , and Usedpizza ! You'll also have a chance to win special Mega Man giveaways just by watching. Trust me – you won't want to miss this celebration of the Blue Bomber's birthday!