EN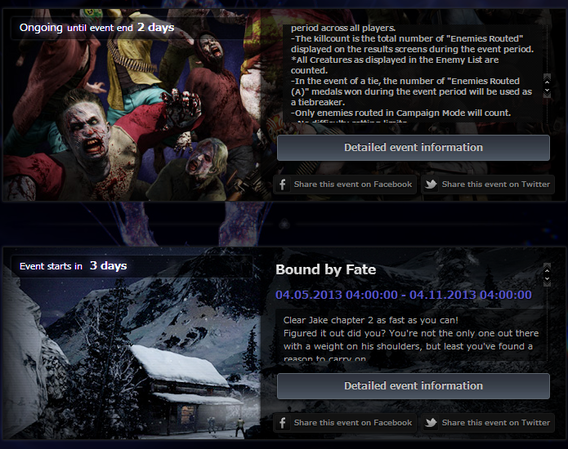 RE6 online events – April 2013
April showers sometimes bring May flowers, but today it also brings a brand new assortment of online events for Resident Evil 6, including another chance to win one of the polygonal EX3 costumes!
This month:
Extermination Tactics (ends this week!): Kill 3 million enemies within the limit
Bound by Fate (April 5~April 11): Clear Jake Chapter 2 as fast as you can!
4-player event Alpha Team (April 12~April 15): Create a team of four (using residentevil.net) and acquire as many Mercenaries medals as possible!
Requiem for War Dominator (April 19~April 22): Aim for the highest Mercenaries score on "Requiem for War" map
Proud Survivor (April 23~24): Aim for the highest number of wins in Survivors!
Agents, Abductors, Chainsaws (April 26~May 7): EX3 Costume Event ! Defeat Ustanak and/or Ubistvo within the date range. More details coming soon.
Visit r esidentevil.net for more!