EN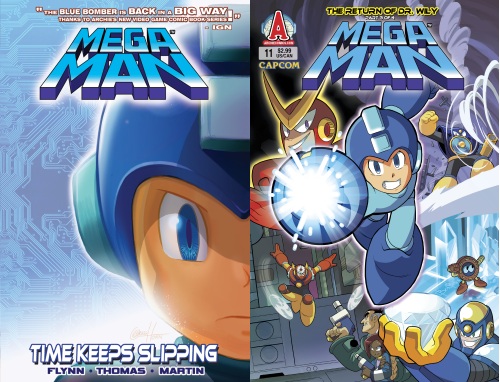 New Mega Man comics out this week and next – trade collections and single issues
If your Mega Man fandom skews toward the classic series, you really should be reading the montly Mega Man comic from Archie. The first storyline is available as a collection here , and you can also pick up the second storyline (seen above left), which brings in Powered Up characters Time Man and Oil Man. Comic shops have had the "Time Keeps Slipping" collection for a couple of weeks already, but the wider release hits march 20.
If you've been keeping up with the montly issues instead of picking up the graphic novels, Mega Man #11 hits comic shops this Wednesday, with #12 following on April 11. These two issues put the cap on the Mega Man 2 storyline teased in this earlier post .
The next wave of comics begins a story that incorporates pieces of Mega Man 4 with all-new plot elements. Can't wait to see where it goes! If you're interested in the creative team behind the series, check out Destructoid's interview from a while back.
And while I'm thinking about it… I'mma get some free comics to give away! Stay tuned…