EN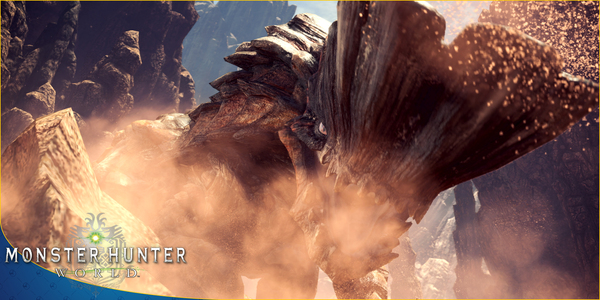 New ecosystem revealed for Monster Hunter: World, the Wildspire Waste
As we arrive in the New World of Monster Hunter: World, we are welcomed by the shores and dense jungle of the Ancient Forest and all its hidden threats. Now, we explore further into this new land, discovering the diverse ecosystems of the Wildspire Waste.
Much like the Ancient Forest, the Wildspire Waste is a vast ecosystem balancing two main components: swamplands whose water is sourced right from the Ancient Forest, and a mostly dry expanse of sandy areas dotted by huge spires.
Along with the reveal of this new ecosystem, we see the return of the bulldozing, headstrong Barroth. With its ability to cover itself with mud to protect from the hot midday sun, this brute wyvern can roam between the swampy plains and the quick-sandy dunes. Hmmm… looks like it now has some pretty fierce competition in the muddy department, and we can't wait to show more of the devilish hierarchy of this wasteland.
In the meantime, we've also introduced a brand new monster to the Ancient Forest ecosystem: the Kulu-Ya-Ku. This smart bird wyvern is capable of picking up objects from the environment or even digging up rocks. It can even use the latter, for example, as a shield against incoming attacks… Clever girl…
Of course, with the introduction of every new monster, we know to expect two things: 1) the exciting discovery of how that creature fits into the greater surrounding ecosystems and how to hunt it down, and 2) shiny new gear!
And if you're a new hunter, I highly encourage checking out a video we've prepared specifically to highlight one of the key cycles in the life of a hunter:
By now I imagine you probably can't wait to get your hands on Monster Hunter: World, so here are the currently confirmed gaming events we'll attend, bringing you all 14 weapon types and two quests to take on:
I'll be attending PAX West and Socks will be at gamescom. We're both ecstatic to see some you hunters take on the hungry Great Jagras and the mighty Anjanath!
Signing off,
Yuri