EN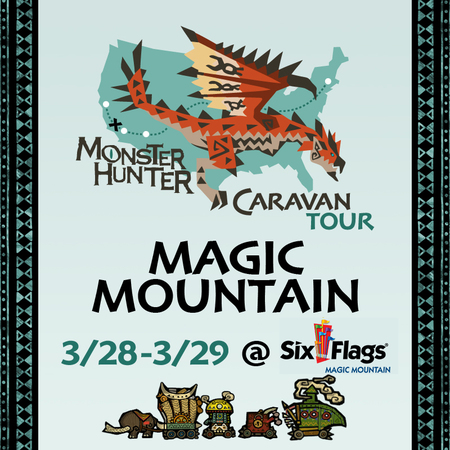 MH4U Caravan Tour makes a special stop at Six Flags Magic Mountain on 3/28 and 3/29
On March 28th and 29th, the national Monster Hunter Caravan Tour will make a very special stop at Six Flags Magic Mountain, in Los Angeles, California, to kick off the Monster Hunter 4 Ultimate experience at the park!
And I say "kick off" because, in case you can't come this weekend, the MH4U experience will be live until August 10th. That's 5 months from now – so you have no excuse – but you should really try to be there with the Caravan to take in as much Monster Hunter as possible. 😉
Now what's so special about MH4U being at Six Flags Magic Mountain? Well, among other things, we've worked together to theme their metal monster Goliath coaster to resemble the mighty Gore Magala we all know and love (or hate?). Get this, now you can actually ride the monster in real life!
We'll have more pictures of the coaster and the whole experience soon, but in the meantime, read (and watch) more about the Goliath right here .
There's something in there about gravity and 4 .5 G s… like, 4G… 4U… right?