EN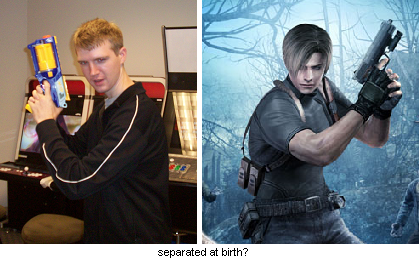 Meet The Capcom Interns: Mike
Aug 04, 2009 // MikeeB
Hey everyone! As the title so lovingly states, I am Mike and I also happen to be one of the marketing interns here at Capcom. I've always been a HUGE Capcom nerd growing up in the midwest, so now it's a little like finding a golden ticket every morning when I get to come to the office here in sunny California.
We just got back from Comic-con last weekend which was a ton of fun. I'll post a few of my pics from the trip soon so be sure check em out. If you got a chance to visit the Capcom exhibit you might have met me at one of the Resident Evil booths. If I wasn't demoing Darkside Chronicles I was tending to the zombie-esque hordes of people demanding a t-shirt. With that I apologize, because I don't have any extra shirts on hand…yet 😉
The majority of my work has been with Matt and the Resident Evil crew on the upcoming Resident Evil: The Darkside Chronicles. In conjunction with that title, I'm also excited to start a new project here on Unity. Given that 'Darkside Chronicles' also covers content from Resident Evil 2 and Resident Evil: Code Veronica, we are breaking out the marketing campaign into phases focused on the different sections of the game. If you haven't checked it out, the first phase is already live on the official website .
As for my project, I'm tasked with providing a tribute for each game covered in 'Darkside Chronicles'. This means I'm dusting off the old consoles, and I'll be replaying these games in their entirety and blogging every so often about what made them so awesome/memorable. I'll be trying to keep my happenings in some sort of chronological order, so you can probably guess what will come first…if you're still wondering what the heck I'm talking about, here's a little tease of things to come.
Keep your eyes peeled, because my first entry will be coming soon! I'm always floating around the Unity site in some way/shape/form so don't be a stranger 🙂
mike~