EN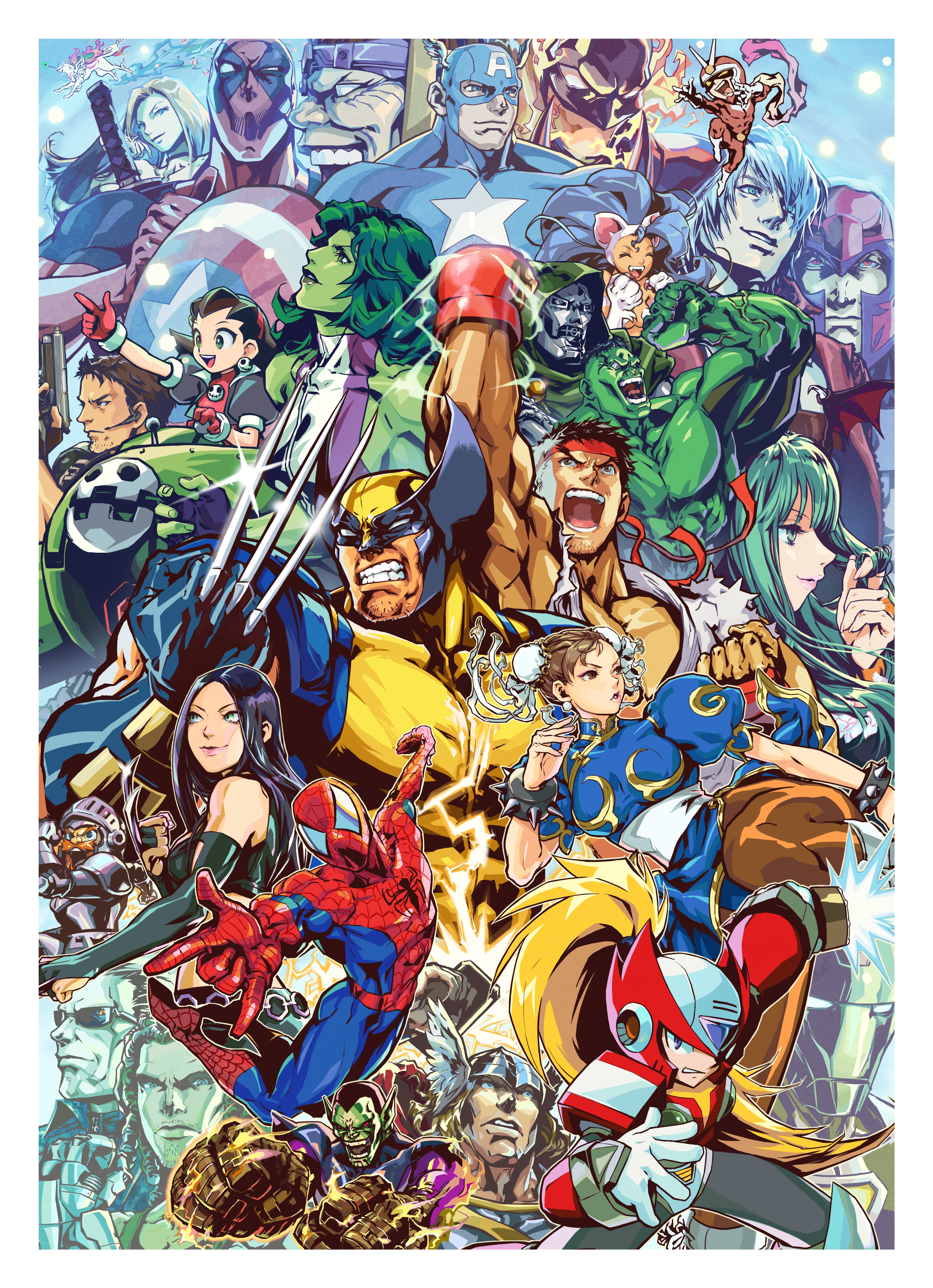 Marvel vs Capcom 3 Promotional Artist Program- Miho Mori
All of us here at Capcom are playing MvC3 every night until our eyes hurt and we hope that you're doing the same! Let's take a break and check out a new piece of Marvel vs. Capcom 3 promotional art by Miho Mori. She did some art for our favorite murder-solving, object-posessing, ghost-tricking, DS game- Ghost Trick. Here is her take on the characters of Marvel vs. Capcom 3.
Continue reading for a Q&A with Miho Mori!
Q: Which characters did you enjoy drawing the most?
A: Marvel characters seem a little older, and they look great with aggressive expressions. Drawing characters with masks that covered their faces was something that I found especially interesting because I never really had the chance to draw any. The characters I enjoyed drawing most were Morrigan, Hulk, Super-Skrull… I guess I like green?
Q: Which characters were you drawing for the first time? The most difficult to draw?
A: For Capcom characters, all were new to me except for Ryu, Chun-Li, Felicia, Morrigan. For Marvel characters, it was my first time to draw all of them. The most difficult one to draw was Wolverine. If I had the chance to revise, I would like to do so… Capcom, PLEASE let me revise!
Q: Which MvC3 character are you most similar to?
A; Maybe Felicia? The thing we have in common is that we both like to sing… but I guess that's all.
Q: If you can borrow a MVC3 character's powers/abilities, who's would it be?
A; Super-Skrull, because he has many different powers. With his powers, if I was stuck on an deserted island, I think I can still have fun.

Q: What games do you like the play, if any?
A: I play action games, fighting games, RPGs, and basically anything other than horror games. I'm not that good though.
Q: What are you working on now?
A: It's a secret 🙂
Q: Who would you root for in a fight- Dante or Deadpool?
A: It's close, but I would say Deadpool. I think he can entertain us with his dynamic and funny action moves. Also, I'd love to see what Dante would be like if he loses because he's always acting cool.
Q: Any final comments?
A: I'm definitely always learning everytime I draw, so that's what keeps it fresh for me. I'll continue to try my best. To aspiring artists out there, please give it your all!
We hope you've enjoyed seeing these new pieces of art. So what do you guys think of Miho's piece? Do you think Miho needs to revise her art like she says, or are you impressed with it as is like we are? Which character did she draw the best? Let's hear it in the comments!