EN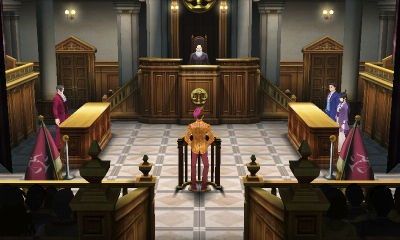 HOLD IT! A whole new DLC case for Spirit of Justice is available now!
TAKE THAT! Phoenix Wright is back at the defense bench in a new full-length DLC case, available now! Download the brand new case, 'Turnabout Time Traveler,' and explore a whole new chapter. Taking place after the events of Phoenix Wright: Ace Attorney – Spirit of Justice, this case features the return of fan-favorite characters, including legendary defense attorney Phoenix Wright and long-time rival, Chief Prosecutor Miles Edgeworth. Investigate a time-traveling mystery, and prepare for the ultimate showdown in the courtroom! Can't wait to dive in? You can grab the DLC via the in-game menu for $5.99(USD)!
Long-time fans may be familiar with Larry Butz, Phoenix's childhood friend and an extraordinary trouble magnet in his own right. While it seems at first that he's finally found true love, poor Larry just can't catch a break when he finds out that his bride-to-be, Ellen Wyatt, seems to already be married – and moreover, she's a murder suspect! As if things weren't perplexing enough already, she also claims to be a time traveler.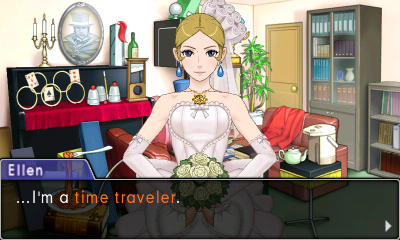 It's up to the recently reunited team of Phoenix Wright and Maya Fey to help prove the innocence of Ellen the bride-to-be (or is she a bride-already-was?) in this new full-length case. Search for clues and interrogate witnesses aboard an old-timey airship to untangle the time-traveling murder mystery, then head to the courtroom for the ultimate blast from the past – a showdown with Phoenix's long-time rival, Chief Prosecutor Miles Edgeworth!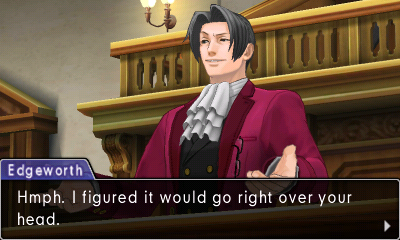 The DLC is available now and can be purchased directly through the in-game menu for just $5.99(USD), so don't HOLD IT! See what this new case has in store.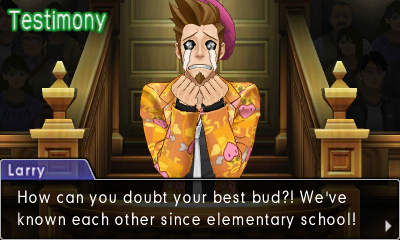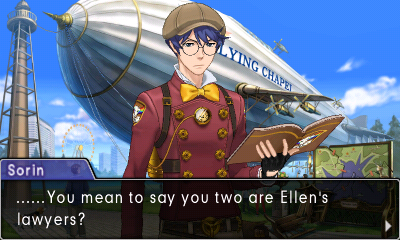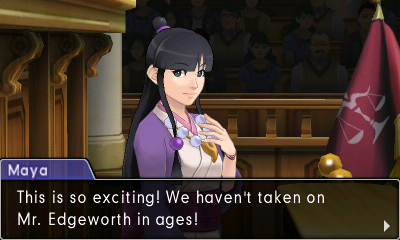 If you can't get enough Ace Attorney, you can also grab two additional "Asinine Attorney" short stories, each bundled with its own 3DS pixel art theme, for just $3.99(USD) each.
(From the "Apollo Justice: Asinine Attorney" DLC)
(From the "Apollo Justice: Asinine Attorney" DLC)
(Apollo Pixel Art theme)
(From the "Phoenix Wright: Asinine Attorney" DLC)

(From the "Phoenix Wright: Asinine Attorney" DLC)

(Phoenix Wright Pixel Art Theme)