EN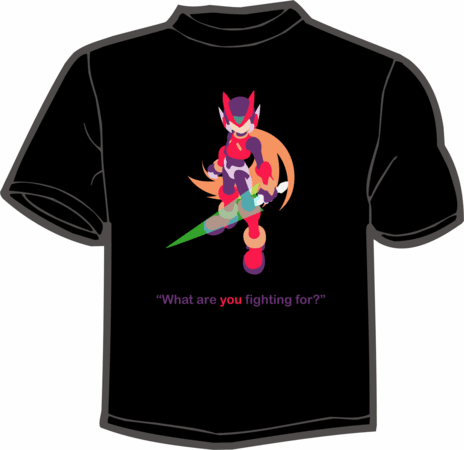 Here It Is: Your Official Mega Man Zero Collection Winning T-shirt Design
May 27, 2010 // jgonzo
This is it, the winning entry for the Mega Man Zero t-shirt design contest! Congratulations to Capcom Unity member GeminiSaint ! We're going to be printing a very limited supply of these t-shirts, so be sure to stay tuned for more details on how to get one!
From MMZC producer Takashi Horinouchi : Every single piece of his design is awesome! It was difficult to choose between his other entries. This is very stylish and good looking! It's very POP art. I want this as a t-shirt!
mikeeb from marketing: I LOVE the vector/fill effect on Zero, simple yet really pops off the shirt. The ultimate win is the tagline which not only fits in with zero's story, but would also make Iris proud 😉
jgonzo (me): This design really stood out for me because of its awesome, simple vector design and the ridiculously funny inside joke with the tagline. Yes, yes, it's from the Mega Man X series, but the line can apply to the idea of fighting for freedom in the Mega Man Zero series. What a fantastic shirt for any Zero fan to wear!

We also have a special message from Mega Man Zero Collection producer Takashi Horinouchi after the jump!
Hello, I'm Hori-ken (my nickname) from Capcom Japan! I'm the producer for Mega Man Zero Collection and we've made this collection because of the passion that all you fans had for the Zero series, as evidenced by this inspiring t-shirt contest!
It's been years since the series ended, but Zero's personality and coolness live on! The collection will include all four games for one budget-friendly price of $29.99. Please enjoy and keep up the love for the Mega Man series here at Capcom Unity!