EN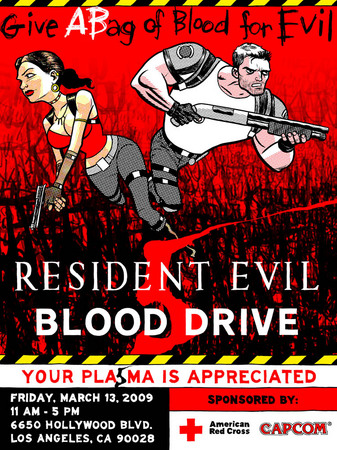 Give Resident Evil 5 A Shot – Win a Red Xbox Bundle
Mar 04, 2009 // Snow
We're inviting you to give Resident Evil 5 a shot and make a positive change for the community on the day Resident Evil 5 Ships! On Friday. March 13th Capcom's Resident Evil 5 and the American Red Cross will be hosting a blood drive in the LA area. Before you go pick up your copy of the game, come give back to the community by donating blood. Aside from helping out the community, Capcom's got a slew of cool, collectible giveaways to those that come by and participate in the blood drive..We'll have some limited edition RE5 Blood Drive Collectables including one-of-a-kind posters, pins and bumper stickers along with a chance to win copies of the game and even the limited edition Red Xbox 360 RE5 bundles! Click the more button for details.
It wouldn't be a Resident Evil 5 event if you couldn't play the game, so there will be kiosks set up showcasing the game for some hands-on time as well. So swing by the World of Wonder gallery at 6650 Hollywood Blvd Los Angeles, CA 90028 from 11 am – 5 pm to help out a good cause, play the game and collect some cool Resident Evil 5 goodies before heading to the store to get your own copy!
Although drop-ins are welcome, we would appreciate you guys signing up ahead of time. Here is what we will need from you:
Name
Date of birth (18+ only)
Gender
Blood Type (if known)
Address
Email
Phone
Appointment Time (if they have a preference)
Email all that to teresa@fortyseven.com , with "Give RE5 a Shot" as the subject line.