EN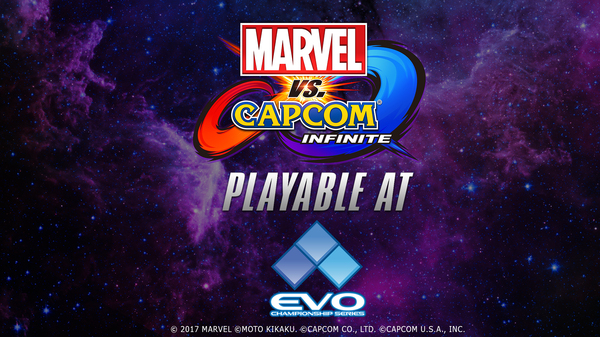 Everything Capcom at Evolution 2017
Capcom will be hitting the floor once again this year for the mid-summer throwdown of fighting games. Evolution (Evo) is a major highlight of the Capcom Pro Tour, with Street Fighter V returning for its second year after a huge 5,000+ turnout last year. Also, special thanks to everyone for getting Ultimate Marvel vs. Capcom 3 added to the tournament via community support! Both of these games will be featured during finals day on Sunday, so be sure to tune in for all of the action. Unfortunately, we had to cancel our panel at Evo, but we wanted to let all Evo attendees know that we still have several exciting announcements planned for this weekend. Additionally, we'll provide plenty of hands-on and video capture opportunities with Marvel vs. Capcom: Infinite at our booth, so be sure to stop by.
Hit the jump to check out booth and stream times and we'll see you at Evo this weekend!
Marvel vs. Capcom: Infinite Booth
We will be on the show floor Friday and Saturday from 10am PDT to 7pm PDT with 12 kiosks dedicated to the new title. Four stations will also offer direct feed of the game, so if you are a content creator looking to record some gameplay, don't forget to bring your equipment. Direct feed stations will be on a first come first served basis.
Street Fighter V – Capcom Pro Tour
The Capcom Pro Tour continues with Street Fighter V at Evo 2017 as well! If you are a spectator looking to view the action at home on Capcom Fighters , that programing schedule is listed below. Finals will also be broadcasted on ESPN2!
Friday: 10am PDT – 10pm PDT
Saturday: 10am PDT – 6pm PDT
Sunday: 7pm PDT
Ultimate Marvel vs. Capcom 3
Evo 2017 is also bringing back the fan favorite Ultimate Marvel vs. Capcom 3. You can watch these action-packed matches on the Evo Twitch channels .
Saturday: 10am PDT – 8pm PDT
Sunday: 8am PDT
Ono-san Signings
Ono-san will also be doing signings at the Capcom booth Friday and Saturday!
Friday: 11:30am PDT -1:00pm PDT
Saturday: 1:30pm PDT – 2:30pm PDT
To keep up with all of the announcements taking place this weekend, follow us on social media.
Street Fighter
Marvel vs. Capcom