EN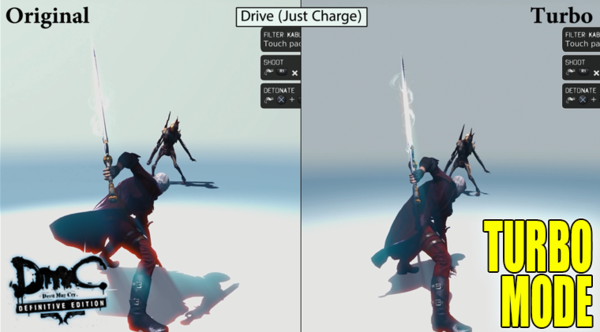 DmC: Definitive Edition Turbo Mode side-by-side comparison
For today's DmC: Definitive Edition gameplay video, I did something a little different. Hit the jump for a side-by-side comparison of the game's original speed versus the newly added Turbo Mode, which gives gameplay a 20% speed boost across the board. The original speed is great for beginning players, but I, for one, am never going back. You decide for yourself!
And don't forget to catch our livestream today at 5:30pm PT on Twitch !
(View in Google Chrome at 1080p60 for best results.)
0:09-0:21 – Dante races himself. Though it looks neck-and-neck for a brief moment, Turbo Dante quickly surpasses Non-Turbo. Note the differing fall rates.
0:22-0:38 – Hollow Vergil's summoned swords sequence is essentially a choreographed evasion challenge, but note the differing rate of the sword animations. These sequences start on the exact same frame.
00:38-00:51 – A practical in-game comparison. Dante performs the same combo, starting on the same frame, but finishes several beats ahead in Turbo Mode.
00:54-3:26 – Side-by-side speed comparisons of individual moves for Dante and Vergil. All moves begin on the same frame of animation.
Previous Vids
– Combo Showcase
– Manual Lock-On
– Must Style
– Vergil's Bloody Palace