EN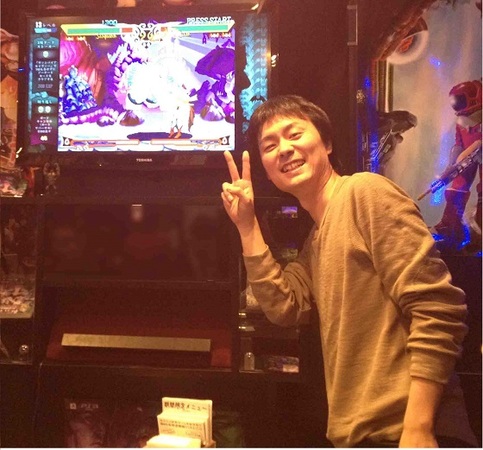 Darkstalkers Resurrection Title Update: Release Date Confirmed
This week's blog from Ayano-san comes bearing good news. A DSR update patch has been in the works for a little while now and finally Ayano-san is allowed to share more details on what the patch will entail and when it will come out. He also discusses some of the special menu items that were inspired by the characters from Darkstalkers at the Capcom Bar in Japan. Read below for the full blog.
Hi there everyone, Tomoaki Ayano here.
Spring is in full swing now, and with spring comes hanami ! If you don't know what hanami is, it's a custom in Japan where people go out to view the cherry blossoms in full bloom. Where I live there are a bunch of houses that have their own cherry blossom trees that I check out whenever I'm leaving home or coming back from work.
In Japan, spring is a time of change. It marks the start of the new school and fiscal years, and it's also when many new graduates start their first real job. Because of this, I'm seeing a lot of new faces around here. It's going to take some time to get used to everyone, but it'll be awesome if some of them turn out to be fighting game fans!
And now, to get to the topic at hand, I'm proud to announce that the update for Darkstalkers Resurrection will be made available on Friday, April 12!
This update will add fight request features to arcade and training modes, and it will also include a number of bug fixes including replay upload issues.
Speaking of Darkstalkers, the fighting game team at Capcom went to the Capcom Bar in Shinjuku, Tokyo to check out the special Darkstalkers-themed menu!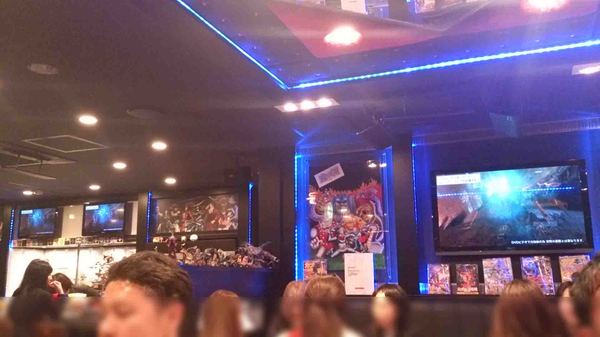 It was a packed house on Friday night at the Capcom Bar. Everyone was really excited to be there!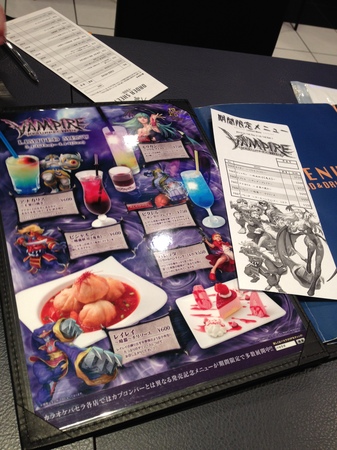 There was also a special Darkstalkers Resurrection-themed menu —only available until April 14!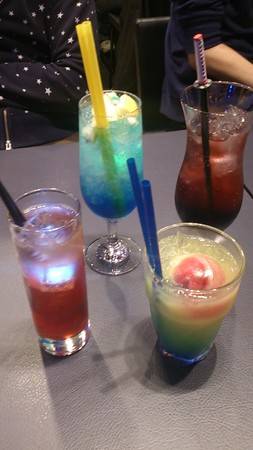 Front row, left: Morrigan Soul Fist
A sweet and easy-to-drink alcoholic beverage.
It might be hard to see in the photo, but the ice cubes in the glass are actually glowing!
Front row, right: Anakaris Ouke no Sabaki
A non-alcoholic cocktail that tastes of pineapple.
Here you can see the giant eyeball from Anakaris's palm floating in the middle of the drink! (Okay, it's just ice…but play along!)
Back row, left: Victor Thunder Break
A vodka tonic cocktail with blue curaçao and watapachi popping candy floss.
This cocktail also comes with glowing ice cubes and radiates as if electrified.
Back row, right: Bishamon Bloodthirsty Sword "Kien Zan"
A non-alcoholic beverage that's both sweet and sour.
This drink isn't too sweet, so it's easy to drink. Just watch out though, because the cocktail stirrer is actually the bloodthirsty sword of Bishamon!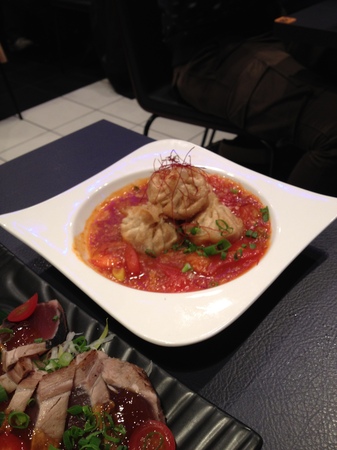 Hsien-Ko Anki Chili Sauce
Slightly spicy shu-mai dumplings.
The seasoning on this is great and makes for a delicious dish!
B.B. Hood Cool Hunting Milk
This dessert perfectly captures the cuteness of B.B. Hood!
That's it for our rundown of the Capcom Bar. Don't forget that the Darkstalkers Resurrection menu only runs until April 14. The Capcom Bar also has menu items based on other Capcom games too, so if you're ever in Tokyo, why not go along?
Finally, to close this week's blog, I want to talk about some of the write-in votes we got for the Street Fighter character poll.
Shin Akuma
Yeah, this is one cool customer! I still remember when I first got destroyed by the Raging Demon during the Street Fighter Alpha days.
Dark Sakura
This version of Sakura doesn't just have a rad tan, she's also able to teleport and gets access to the Raging Demon. Well, did you really think that somebody who learned how to Hadoken just by watching Ryu was just an ordinary schoolgirl?!
Captain Sawada
This guy is really popular! When we were going through the write-in votes, his name kept coming up. I used him a lot in the Sega Saturn game Street Fighter: The Movie .
The Drinking Dude in Zangief's Stage
Oh yeah, I remember this guy! He had a certain rhythmical way of drinking…
The background characters in Street Fighter have always made an impression on me. I still remember the guys on the bikes in Chun-Li's stage, and the blonde beauty in Guile's original Street Fighter 2 stage. I guess it's hard to notice them in the heat of battle, but they're pretty hypnotic if you pay attention to them.
Well, that's it for this week. Thanks for reading and I'll see you next time!