EN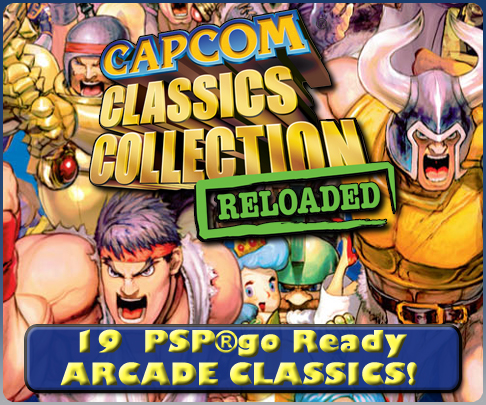 Celebrate the PSP go, Capcom style!
Oct 02, 2009 // Ryan
For all of our early adaptors out there, I have another PSP digital announcement: we're bringing both Monster Hunter Freedom Unite AND Capcom Classics Collection: Reloaded to the UMD Legacy program, starting today!
Monster Hunter Freedom Unite is the latest in monster-hunting goodness, and has been the talk of this blog for some time now (Thanks Snow!). It's got everything you expect from a Monster Hunter title: 4-player co-op, huge monsters, intense gameplay, deep customization, and high praise from reviewers. This is is your chance to take your hunting on the go [LITERALLY. HAH-ha.]
And Capcom Classics Collection: Reloaded? It comes with 19 arcade and console classics sure to satisfy the most discriminating of retro gaming connoisseurs. Reloaded serves up a hearty spread of games, spanning almost every genre: vertical shooters, beat-em-ups, fighting games, and more.
The best part? Everything in the game can be played with a friend. Whether it's versus mode, in games like Street Fighter II: Hyper Fighting, co-op in games like 1943, or even turn-based in games like Super Ghouls 'n Ghosts, everything's better with a partner.
CCC:Reloaded is a collector's must-have, and comes with game music, galleries, classic illustrations, and gaming tips (you'll need them). What more could you want? Check out the full list of games below:
1. 1942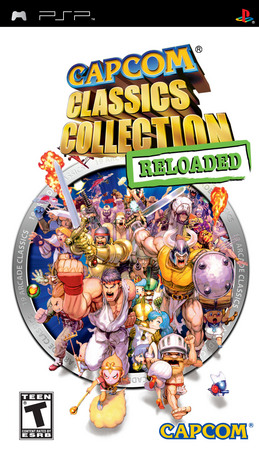 2. 1943
3. 1943 Kai
4. Commando
5. Eco Fighters
6. Exed Exes
7. Ghosts 'n Goblins
8. Ghouls 'n Ghosts
9. Super Ghouls 'n Ghosts
10. Gun.Smoke
11. The King of Dragons
12. Knights of the Round
13. Mercs
14. Pirate Ship Higemaru
15. SonSon'
16. Street Fighter II
17. Street Fighter II: Champion Edition
18. Street Fighter II: Hyper Fighting
19. Vulgus