EN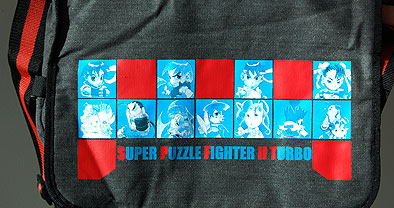 Big Price Drop On Super Puzzle Fighter II Turbo Messenger Bags
Jun 02, 2009 // DJay
I just made a great deal with the company that makes our Super Puzzle Fighter II Turbo messenger bags and I'm passing the savings on to the fans.
These cool and very functional messenger bags have been extremely popular. They have tons of pockets and are perfect for carrying laptops, game systems, books and more! One version features Ryu , another Ryu vs Ken and the third the Super Puzzle Fighter II Turbo cast . Look for a Super Puzzle Fighter II Turbo zippered tote bag to join the others in the Capcom Store in the next few weeks. I bought everything they had in stock and they will not be making more; once they're sold out, that's it.
Check this out. Not only have I dropped the prices up to 40%, but scattered randomly among the messenger bags are small Puzzle Fighter-themed goodies. Go to the Capcom Store and order yours – and remember – these now ship to our international fans!