EN

Akihito Kadowaki's Blog: Phew! Tokyo Game Show is done – everything went great!
Oct 01, 2009 // jgonzo
If you recall, we had previously introduced Tatsunoko Vs. Capcom product manager Akihito Kadowaki a little while ago. Today, he writes on his blog about his experience with the game at TGS this year.
Thank you very much to those who visited the TvC stage at the Capcom booth. Did you enjoy the stage presentation? I am curious to know what everybody thought about it.
As I mentioned in my last blog, I was accompanying (TvC producer) Niitsuma-san during the entire TGS.
Man, producers are very busy…
During TGS, he would go up on stage, but he was also doing interviews the entire show at a hotel nearby the Makuhari Messe. All the back and forth made it feel like it wasn't an event held in Japan!
Hit the jump for more!
As it was a tight schedule, I knew Niitsuma-san didn't have a lot of time to look around other booths or even have a few minutes to meet with people.
Knowing his tight schedule, I prioritized looking around the booths and didn't attend the interviews… That's not really "accompanying him", is it? But hey, he spent quite a long time with the interviews!
Well, anyway… On the second consumers' day, we decided to have consumers come up on stage. So we did a stage rehearsal on the previous day.
This is the photo: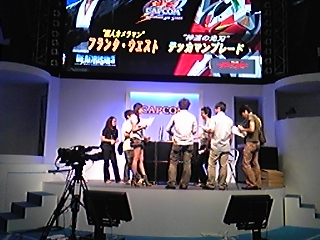 We had Tsujimoto-san from the Monster Hunter series join the rehearsal as a role of a consumer, but since I was concentrating on the stage, stage script, and the monitor screen at the rehearsal, I totally forgot to take photos…. 🙁 I regret this sooooo much… Tsujimoto-san played Gold Lightan against (TvC director) Neo_G who played Tekkaman Blade. Although I think it has been quite a long time since he played a fighting game, Tsujimoto-san was pretty good.
But at the real stage in front of the audience, a consumer who played as Tekkaman Blade and Ryu TOTALLY beat Neo_G up.
You'll probably hear some excuses from him… (right, Neo_G?)
This is an additional photo from me of Niitsuma-san.
In a hotel room when he was fiddling with his PC during his short break between interviews.
Me: "TGS is going well. Are you having a break?"
Niitsuma-P: "yeah, checkin' mails"
He seemed pretty busy. He heard of the great response from the consumers and got excited. He was so excited that he started talking about the price point for the game. The problem was that this topic was not in the stage script, which surprised us all. It is my job to stop the producer from getting TOO excited… but there is no way I can stop him if he's on stage, don't you think?
P.S. There were some Capcom staff from America during TGS and they helped us demo our games to the media.
This is one of the photos: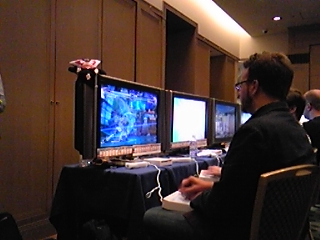 The guy who's in front is Seth, who is introducing TvC in the US. He has a different play style, don't you think?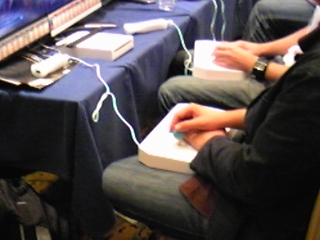 According to Seth, in America, there are a lot of fighting game fans who hold the stick with the right hand and press the buttons with the left hand.
Is that so??