EN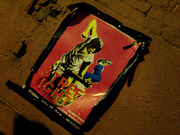 The first Street Fighter Club was a smash. Were you there?
Jul 21, 2008 // Kramez
As if we didn't have enough to do in LA with E3! On top of the madness of the show (which, to be honest, was not as mad as past years), the Capcom crew decided to kick off our underground series of Street FIghter Club gatherings in downtown LA on Friday night, July 18.
The setting: a beat-down warehouse space in an ultra-sketchy downtown LA neighborhood. As Thoth put it when he arrived two hours early (!), "Do you really think this is a good place for this?" The answer: a resounding yes. Over 150 Street Fighters turned out for an evening of free pizza, sodas, an amazing goodie bag and ten Street Fighter IV arcade machines. From the EVO tournament players in the steel cage to our two cosplayers amking rounds, everyone had a good time and experience over 4 hours of face-pummeling goodness.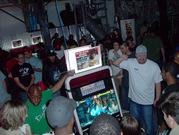 But don't just take my word for it. Check out Unity reviews of the event from Thoth — first! — and bigmex , aka the man in the El Fuerte mask. Bigmex has a ton of pictures that he took that are definitely worth a view. Seth and I will be posting more pictures once our digital camera reappears from whatever black hole it has fallen in to.
The next SFC will be coming later in the fall, as Capcom has a pretty intense Summer tour schedule (Comic-con, Indy for MotoGP, Games Convention in Germany, Tokyo Games Show…), but I can tell you two things: those of you on the other side of the continent will be stoked and the event is going to be much heavier on the console verion. Make sure you sign up on the site and check back from time to time for updates!