EN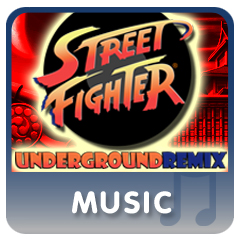 Street Fighter Underground Remix soundtrack drops today on the PSN!
Joe Esposito once eloquently proclaimed that "History repeats itself" and it's an honor for me to announce that Street Fighter returns today on the PlayStation Network. On a personal note, it's been a dream of mine to work on this franchise. I remember going to the local 7-11 and spending hours trying to pull off an invisible throw or handcuff glitch. I remember sharing theories with my friends that it was possible to throw that rock in the Chun-Li stage, pull out Guile's gun, control Ryu's red fireballs or defeat the mysterious Sheng Long. Street Fighter was a cultural phenomenon not seen since the days of Pac Man. Here we are, almost 20 years later, and this franchise is as relevant as ever.
I'm also really excited to give you a soundtrack inspired by the Street Fighter series. The Street Fighter Underground Remix soundtrack contains tracks from artists that I admire with that underground, hip hop flavor. Did I mention that you can download these tracks for free on the PlayStation Network? I have fond memories battling my frat bros on the SNES and listening to Souls of Mischief's "93 til Infinity" . You know Hieroglyphics had to be on the album. You'll also hear the musical stylings of Redman, Oh No, Mistah F.A.B, Zion I, DJ Toure and the turntable legend himself, DJ Qbert. Oh, did I mention these tracks were FREE ? Go to our MySpace Music page to hear previews of the songs. Make sure you add us!
See you online tonight!
Peace,
John D