EN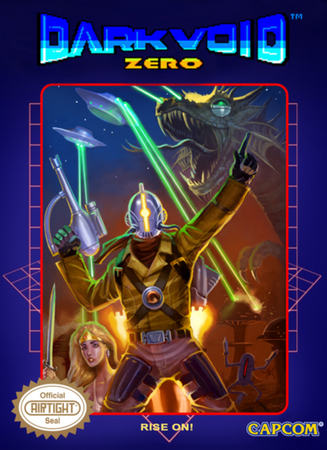 Dark Void Zero Launching on iPhone and PC April 12th!
Apr 07, 2010 // jgonzo
As a bonus, there will also be an exclusive hidden ending!
Check out the official press release for more info, and don't forget that we still have that " create your own lyrics " contest going on!
Dust off those jetpacks and jump back into the fight! Dark Void' Zero rockets to the iPhone and Windows PC on April 12th!
In this critically acclaimed 8-bit re-imagining of the Dark Void console release, you play as Rusty, warrior test-pilot and Nikola Tesla's trusted friend. With the help of your state-of-the-art rocket pack, blast through three deliciously retro levels of baddies in your quest to close Portal X and save the human race!
Hit the jump for the full press release!
Dark Void Zero on iPhone and PC is packed with all new online features! Get rewarded for your skills with Achievements via OpenFeint on iPhone and Steam Achievements on PC. Connect with Friends and link your Facebook to your OpenFeint account. Compete to be the best on the block or the best in the world with the all-new Online Leaderboards that track scores and speed runs!
Sink deeper into the void with Dark Void Zero for the iPhone. Featuring carefully refined touchscreen controls, Dark Void Zero on iPhone gives players the tools for an amazingly precise and intuitive gameplay experience without the need for a controller.
Also, don't forget that like its parent game, Dark Void Zero features an award-worthy soundtrack created and performed by famed Battlestar Galactica composer Bear McCreary. It's true retro.
Lastly, there's something new for even veteran DVZ players. Think you've mastered the game? See if you can unlock the secret ending, exclusive to Dark Void Zero on iPhone and PC.
Don't miss out! The fate of the human race rests in your hands! Rise on!