EN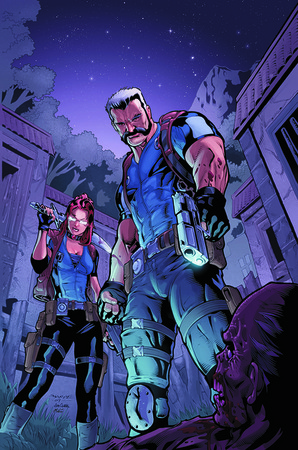 Resident Evil #3 and Resident Evil #4 Comic Book Covers Revealed!
Oct 26, 2009 // jgonzo
Attention comic book and Resident Evil fans! November will bring us issue #3 of WildStorm's Resident Evil comic book series. You can see the cover up there and the solicit is as follows:
Written by Ricardo Sanchez; Art and cover by Kevin Sharpe and Jim Clark
Videogame industry writer Ricardo Sanchez brings the bio-weapons of Resident Evil to the jungles of South America! Follow two agents as they unravel the connections between a Space Station, a telepathic G-Virus and Geisel Industries.
On Sale November 11, 2009
Issue #4's cover can be viewed after the breakand is due out on January 13, 2010. Again the solicit is as follows:
Written by Rick Sanchez; Art by Jheremy Raapack and Ed Benes; Cover by Kevin Sharpe
Neuermann Giesel is the cat's meow of Ubelandia's 20-something party scene. So it's only natural that BSAA Agents Gere and Sugarman wonder why he's chosen to hang at the remote jungle compound of Fritz Giesel – the CEO of Giesel Industries – instead of at a trendy club. And a tour of the compound turns deadly as the two agents are caught in Neuermann's idea of a T-Virus play date.
Plus don't miss superstar artist Ed Benes' 2-page origin story of Agent Mina Gere!