EN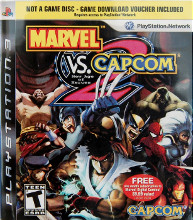 It's Legit! Marvel vs. Capcom 2 PS3 Retail Edition Arrives!
Aug 12, 2009 // jgonzo
There have been whispers and rumors regarding a retail edition of MVC2 and now we can officially confirm that yes, in addition to the PSN release on Thursday, the PS3 retail edition will be available exclusively at Gamestop!
The retail edition contains a product voucher code to download the game, along with another code that gives you a free, one-month subscription to Marvel Digital Comics Unlimited. All of this for $14.99!
Did I mention that this is a limited edition run with only 15,000 copies available?
[update] To answer your comments, this retail package does not include an instruction manual or Capcom Unity points.