EN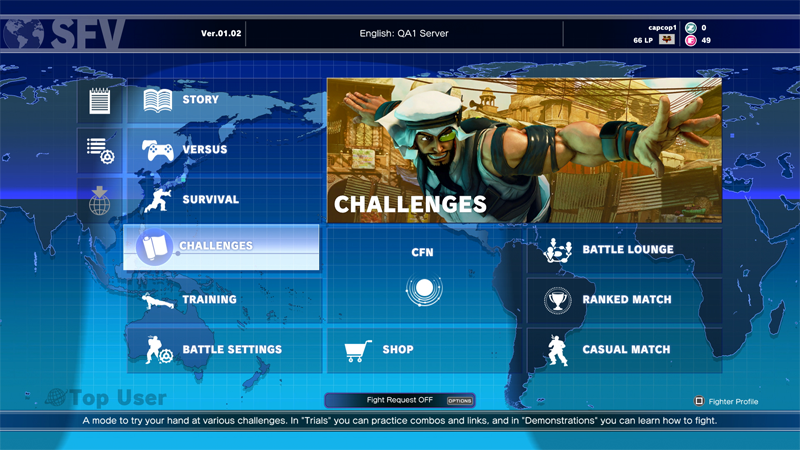 SFV March Update – Release Date and New Details
Mar 24, 2016 // haunts
Hey everyone!
We have some exciting news to share today: the long awaited March update that contains Alex will be releasing next week in two separate drops. Hit the jump for more details!
The first drop will take place on March 28 (MON) and contains the following content:
Challenge Mode

Demonstrations: Learn the ins and outs of Street Fighter V through helpful demonstration and tutorial content. Contains content for each of the 16 characters, as well as advice geared towards players of all skill levels:

Beginner Tutorials: 12 lessons covering, movement, normal attacks, special attacks, V-System, throws, counter hits, chip/recoverable damage, etc.
Intermediate Tutorials: 11 lessons covering projectiles, invincibility frames, armor and armor break, recovery, cross-up attacks, anti-air options, etc.
Advanced Tutorials: 4 lessons covering back dashing, frame advantage/disadvantage, combo potential, button priority, etc.
Character Tutorials: 16 lessons covering each individual character.

Trials: Put your skills to the ultimate test with combo trials for all 16 characters, ranging from basic to pro combos. Completing Trials will also earn you some extra Fight Money.
Online Rematch Option

Salty from a close loss online? Want revenge? Players can now play a 2/3 set in Ranked Match and Casual Matches, provided both players accept the rematch.
Battle Lounge Improvements

Enjoy up to 8 person lobbies, complete with match spectating.

Bug fixes and gameplay balancing

Various game bugs have been fixed, along with minor gameplay balancing. For more details please see the previous post .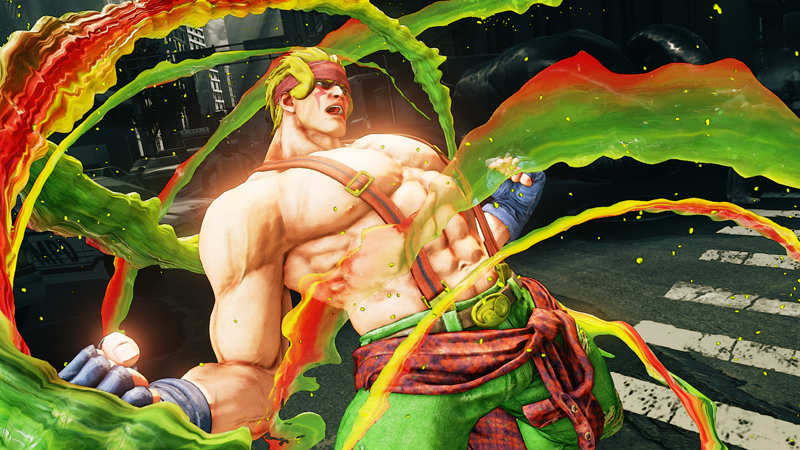 The second drop will take place on March 30 (WED) at 10AM PT and contains the following content:
Alex + related character story content
In-Game Shop

Fight Money Expenditure: Spend your hard earned Fight Money to purchase extra game content, such as DLC characters (100,000 FM each) and the Story Mode Costumes (40,000 FM each).
One feature that will not be making it into the March update will be the Zenny (real money) functionality of the in-game shop. We have taken a long hard look at this part of the store, and after much review, have decided it is not ready to launch just yet. As Zenny is purchased with real money, we wanted to be extra careful and make sure it's fully tested and optimized before launching it. There is currently no ETA on the Zenny store and we will release it as soon as it's ready.
We realize that this causes an inconvenience to fans who want to purchase the DLC characters, such as Alex, but do not have enough Fight Money or own the Season Pass. To address this, we will be making Alex available for free as a trial period to all players, until the Zenny shop launches . This also will apply to any future DLC character that releases prior to the Zenny shop launching. Once the Zenny shop launches, the free trial for any DLC characters that released prior to the Zenny shop opening will end, and players will need to either use Fight Money, Zenny, or the Season Pass to access those characters.
Any DLC character related content (such as costumes) that is purchased with Fight Money during the trial period will remain in your account once the trial period ends, but you'll need to purchase Alex to use that content. The same goes for colors and character progress, etc. that are earned during the trial period; everything will be saved, you'll just need to purchase the character to resume your progress once the trial period ends.
As a special bonus to our Season Pass users, they will be the only ones who will be able to access the premium costumes of the DLC characters until the Zenny shop launches, and they also get to keep character access once the free trial period ends. Additionally, we will be giving all Season Pass users a free, brand new stage in the near future!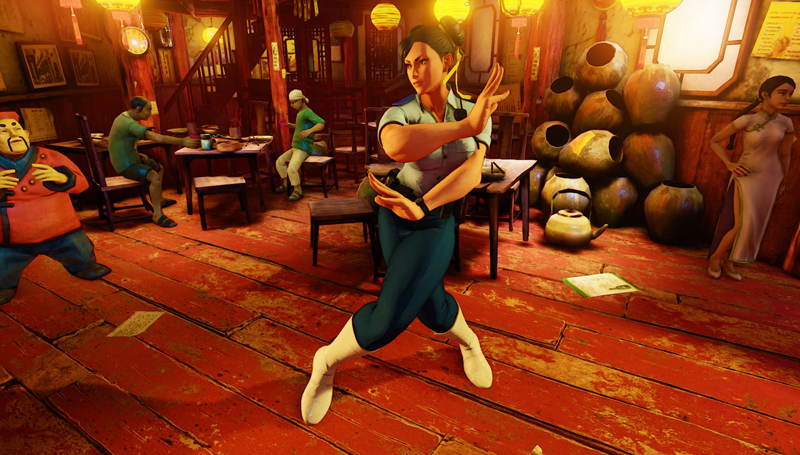 Finally, as a way of saying thanks for everyone's patience and understanding throughout the beta phases and game launch we will be making Ryu and Chun-Li's story mode costumes available for free to all users on March 30 as well. This is an 80,000 Fight Money value, almost the full value of a DLC character.
Thank you for continuing to support Street Fighter V and we promise that the game will continue to improve from here on out. More new updates, fixes and support for other pressing issues like rage quitters are in the works and we hope to have more information to share soon.
Until next time!