EN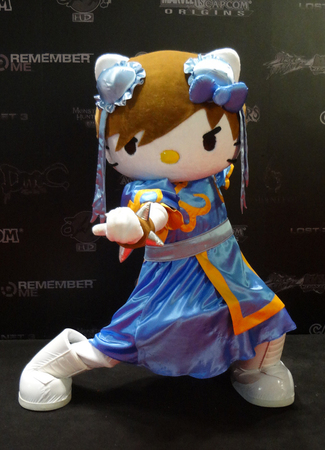 Street Fighter x Sanrio: Hello Kitty Chun-Li is confirmed for the SF25th Grand Finals!
Nov 28, 2012 // haunts
To celebrate the Street Fighter 25th Anniversary Global Tournament series and promote a new, exciting partnership between Sanrio and Capcom, Hello Kitty Chun-Li will be attending the Grand Finals in San Francisco on December 8th!
All your favorite Street Fighter characters will be reimagined in this epic crossover with Sanrio characters in a dynamic new line of products. T-shirts are the first of many new items fans can expect and are already available on the Sanrio website — click here to order yours today . A big wave of products is coming next year as well such as plush figures, toys and other goodies so keep an eye out for those.
Also, those of you who order the Street Fighter products from the Sanrio website can receive a special collectors pin set by entering the promo code STREETFIGHTER at check out.
Hit the jump to check out images of these remixed characters, upcoming plush figures and remember to snap a photo with Hello Kitty Chun-Li at the SF25th Grand Finals! For more information on the finals, click here .