EN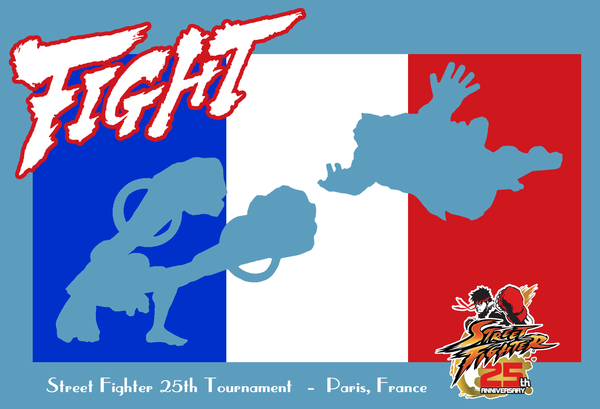 The SF25th European Qualifiers Begin This Weekend!
Nov 03, 2012 // haunts
I hope everyone who was able to tune in enjoyed the French Cup tournaments over the past few days here, live from Paris Games Week. If you missed out, this was France's own set of tournaments that determined who would enter the Street Fighter 25th Anniversary European qualifier which takes place both today and tomorrow! 16 countries all over Europe have held qualifiers which led up to this epic two day event which you can watch live on Capcom Fighters !
Hit the jump for a full schedule and a complete list of who will be competing this weekend and don't forget to follow our TwitchTV channel to know when we go live.
Saturday November 3rd
(1AM PDT / 4AM EST)
9AM – 12PM: Super Street Fighter II Turbo HDR – MSE Top8
12AM – 7PM: Super Street Fighter IV AE ver.2012 – MSE Top32
Sunday November 4th
(1AM PDT / 4AM EST)
9AM – 3PM: Street Fighter X Tekken – MSE Top32
3PM – 6PM: Street Fighter III: 3rd Strike OE – MSE Top8
Super Street Fighter IV Arcade Edition Ver.2012 (32 spots)
1] MFA2012 / Russia / Fighting.ru: Gr1ngo (Blanka)
2] MFA2012 / Russia / Fighting.ru: Goga (Claw)
3] Swizerland: V-Ryu (Makoto)
4] Swizerland: Easyman (Ryu)
5] Ireland / Random Select: Ladnopoka (Cody)
6] Ireland / Random Select: Stev0 (Honda)
7] Art of Tekken 4 / Poland / BackDash.pl: Kejim (Blanka)
8] Art of Tekken 4 / Poland / BackDash.pl: Snake (Rufus)
9] Israel / The Dojo Israel: Beni Best (Cammy)
10] Israel / The Dojo Israel: Zilberman (Guy)
11] The Netherlands / DutchNoobz: Bushin (Boxer)
12] The Netherlands / DutchNoobz: GaRrZeTT (Sakura)
13] EGL8 / The UK / EGL & ArmsHouse.tv: WW.MCZ|Andreas (Rufus)
14] EGL8 / The UK / EGL & ArmsHouse.tv: CG|Problem X (Seth)
15] Scandinavian Edge / Sweden / Negative Edge: Ixion (Dan)
16] Scandinavian Edge / Sweden / Negative Edge: Skatan (Sakura)
17] VanDammage 4.4 / Austria / Virtual Dojo Vienna: Tigra
18] VanDammage 4.4 / Austria / Virtual Dojo Vienna:
19] Round1 Oslo Round2 Paris / Norway / Round1 KO: Phenom (Dictator)
20] Round1 Oslo Round2 Paris / Norway / Round1 KO: Veggey (Zangief)
21] Revolution – Hell in a Cell 2012 / Italy / Revolution Championship Series: Bronzo (Guile /Dee Jay)
22] Revolution – Hell in a Cell 2012 / Italy / Revolution Championship Series: DaFeetLee(Cammy)
23] Spain / Arcadia Fighters: Fasoll (Ibuki)
24] Spain / Arcadia Fighters: WDM.MCZ|Nercromina (Cammy)
25] Germany / FightClubNRW & Hadoken.eu: GG.TR|Halibel (Akuma)
26] Germany / FightClubNRW & Hadoken.eu: orkanONE (Dhalsim)
27] Greece / Greek Dojo:
28] Greece / Greek Dojo:
29] Belgium / eLive Arena: Kenpachi (Ryu)
30 Belgium / eLive Arena: Phenix (T-Hawk)
31] SF French Cup / France / Alioune
32] SF French Cup / France / LDLC.Starnab
Street Fighter X Tekken (32 spots)
1] MFA2012 / Russia / Fighting.ru: Gr1ngo (Rolento, Julia)
2] MFA2012 / Russia / Fighting.ru: FLCL (Juri, Xiaoyu)
3] Swizerland: V-Ryu
4] Swizerland: Easyman
5] Ireland / Random Select: Cobelcog
6] Ireland / Random Select: Eff
7] Art of Tekken 4 / Poland / BackDash.pl: Kejim
8] Art of Tekken 4 / Poland / BackDash.pl: Snake
9] Israel / The Dojo Israel: Zilberman
10] Israel / The Dojo Israel: Beni Best
11] The Netherlands / DutchNoobz: Bushin
12] The Netherlands / DutchNoobz: GaRrZeTT
13] EGL8 / The UK / EGL & ArmsHouse.tv: Taaha
14] EGL8 / The UK / EGL & ArmsHouse.tv: Fuzzy
15] Scandinavian Edge / Sweden / Negative Edge: Robofobe
16] Scandinavian Edge / Sweden / Negative Edge: Rotbah
17] VanDammage 4.4 / Austria / Virtual Dojo Vienna: Tigra
18] VanDammage 4.4 / Austria / Virtual Dojo Vienna:
19] Round1 Oslo Round2 Paris / Norway / Round1 KO: SimSim
20] Round1 Oslo Round2 Paris / Norway / Round1 KO: Veggey
21] Revolution – Hell in a Cell 2012 / Italy / Revolution Championship Series: Bronzo
22] Revolution – Hell in a Cell 2012 / Italy / Revolution Championship Series: DaFeetLee
23] Spain / Arcadia Fighters: Vaan619
24] Spain / Arcadia Fighters: Ryumanjisen
25] Germany / FightClubNRW & Hadoken.eu: Damooni
26] Germany / FightClubNRW & Hadoken.eu: orkanONE
27] Greece / Greek Dojo:
28] Greece / Greek Dojo:
29] Belgium / eLive Arena: Jin The Best
30 Belgium / eLive Arena: Master VHD
31] SF French Cup / France / Alioune
32] SF French Cup / France / ARF.TueFADAA
Super Street Fighter II Turbo HD Remix (8 spots)
1] Ireland / Random Select: Chunkis (Ken)
2] The Netherlands / DutchNoobz: Twixmaster (Dee Jay)
3] EGL8 / The UK / EGL & ArmsHouse.tv: Fuzzy (Cammy)
4] Scandinavian Edge / Sweden / Negative Edge: Louie
5] VanDammage 4.4 / Austria / Virtual Dojo Vienna: Tigra
6] Revolution – Hell in a Cell 2012 / Italy / Revolution Championship Series: DaFeetLee
7] Belgium / eLive Arena: Kenpachi (Guile)
8] SF French Cup / France / Aero Rockman
Street Fighter III: 3rd Strike Online Edition (8 spots)
1] Ireland / Random Select: Chunkis (Ryu)
2] The Netherlands / DutchNoobz: Nindo (Sagat)
3] EGL8 / The UK / EGL & ArmsHouse.tv: Dignitas|Zak Bennett (Chun-Li)
4] Scandinavian Edge / Sweden / Negative Edge: Louie (Ken)
5] VanDammage 4.4 / Austria / Virtual Dojo Vienna: Tigra
6] Revolution – Hell in a Cell 2012 / Italy / Revolution Championship Series: DaFeetLee
7] Belgium / eLive Arena: Kenpachi (Ken)
8] France / Gunfight (dudley)