EN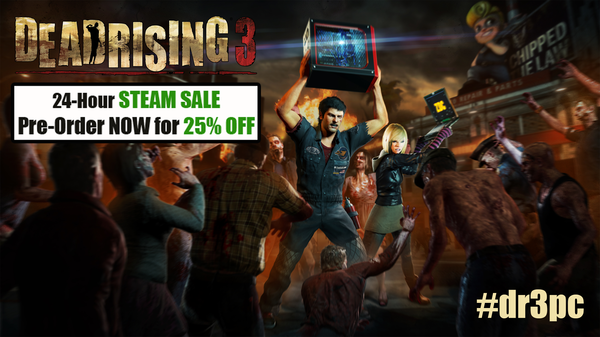 Pre-order Dead Rising 3 PC TODAY on Steam, get 25% off
::Update:: If you're new to Steam, be aware that their "daily deals" typically last, in actuality, for 48 hours, though they are only advertised for the first twenty-four. So you've got a little more time to snap this up!
The great news continues today for Dead Rising fans. If you're eagerly anticipating the release of the million-selling Dead Rising 3 on PC, you'll definitely want to jump on today's 24-Hour Steam Sale , which knocks a whopping 25% off the game's pre-order price, but just for the next 24 hours. That also of course means that, as of now, you can pre-order the game!
Meanwhile, I can happily confirm that the PC version will release on September 5 th , 2014 for $49.99. With today's discount, that means you can pick it up for $37.49. This is absolutely the time to buy.
For the deeply curious, we also have some more great information and footage over on Steam regarding the game's system requirements, frame rate, and performance.