EN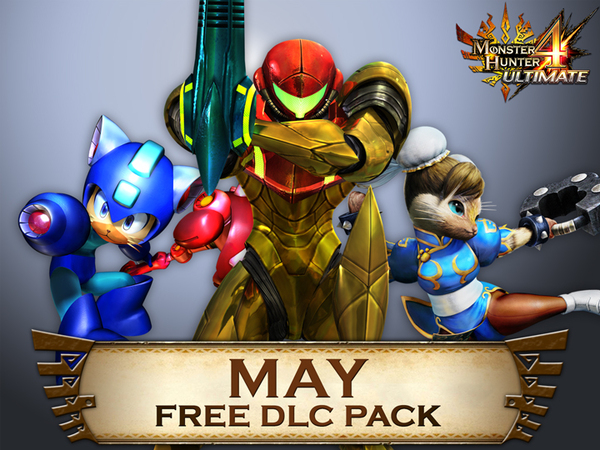 Monster Hunter 4 Ultimate Free DLC line-up for May
Looking for more awesome content for your Monster Hunter 4 Ultimate ? How about Mega Man and Street Fighter Palico gear, and 2 sets of armor from the Metroid series for your hunter? If that sounds good to you, then the May DLC pack is for you – and it's all free!
So how did you like that little teaser at the end? 😉
Anyways, we have the whole month of May to get all this cool stuff, and before I get to the usual list, let's just take a moment to identify all the unique weapons and armor here:
Hunter equipment:
– Metroid's Varia Suit
– Metroid's Zero Suit
– Metroid's Arm Cannon
– Taiko Drum Master Hunting Horn
– USJ's Star Rook armor
– USJ's Starlight Axe Charge Blade
Palico equipment:
– Mega Man
– Blanka
– Chun-Li
– USJ's F Star
– Cha-Cha
– Kayamba
Now add all that to March and April content and make sure you have enough free content to make completionists go crazy… especially considering we're still not done!
Alright, now onto the pure numbers:
14 New quests
5 New weapons
3 Complete armor sets
6 Palico weapons
6 Palico armor sets
1 Bonus Palico: Yellow Pal
3 Guild Card backgrounds
2 Guild Card poses
15 Guild Card titles
1 Poogie outfit: Kitchen Pig
New items sold by the Wycoon
To get this content, all you need to do is 1) connect your Nintendo 3DS to the Internet, 2) load your copy of Monster Hunter 4 Ultimate , 3) go to the "DLC" menu and 4) download all the things!
Quests will be saved under "Event Quests" (with the Questatrix) and "Challenge Quests" (with the Arena Bambina) in the Gathering Hall. G-Rank quests and G-Rank Challege Quests can be found in the Elder Hall and Assembly, respectively.
So good luck getting all that stuff, but please let me know if you do! =)
Happy Hunting!