EN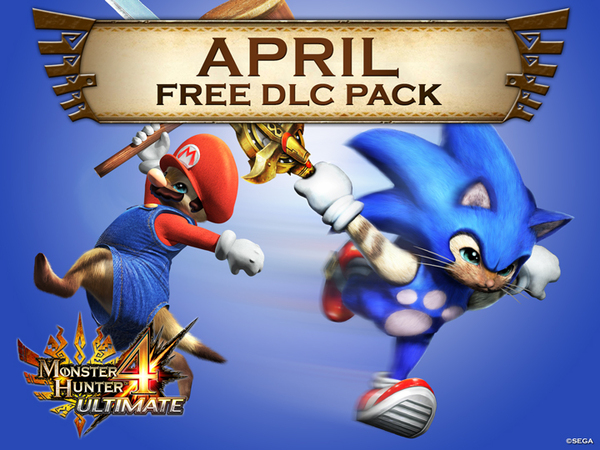 Monster Hunter 4 Ultimate Free DLC line-up for April
Alright folks, I hope you're ready for more awesome and unique content for your MH4U, for the April pack of free DLC is here!
As you can see by the nice little image above, starting today you can equip your Palico with Sonic The Hedgehog gear as well as Mario and Luigi from Super Mario Bros. Or, if you already had Mario or Luigi – courtesy of our Starter Pack – you can get the other one now.
At the very least, you gotta do that quest at least once – it's so much fun!
Anyways, here's the trailer with all the details:
To get this content, all you need to do is 1) connect your Nintendo 3DS to the Internet, 2) load your copy of Monster Hunter 4 Ultimate , 3) go to the "DLC" menu and 4) download all the things!
Quests will be saved under "Event Quests" (with the Questatrix) and "Challenge Quests" (with the Arena Bambina) in the Gathering Hall.
And since I know you like numbers, this time you'll be getting:
14 New quests
2 New weapons
3 Complete armor sets
4 Palico weapons
7 Palico armor sets
1 Bonus Palico: Blue Pal
4 Guild Card backgrounds
2 Guild Card poses
13 Guild Card titles
1 Poogie outfit: Vagaboar
It also bears mentioning that the March DLC Pack is not going anywhere; so if you haven't downloaded it yet ( what are you doing??? ) you can get it all now =)
Happy Hunting!
PS: we're running some essential Server Maintenance this weekend from April 4 to April 5. Since the DLC server will be down temporarily, if you want that Sonic outfit, you gotta download it fast . More info here .