EN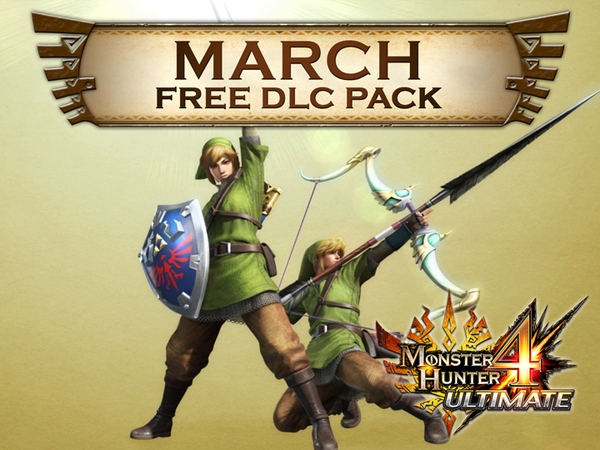 Monster Hunter 4 Ultimate Free DLC line-up for March
The first free DLC pack for Monster Hunter 4 Ultimate is here, featuring all-new quests, new equipment, special collaborations, a bonus Palico and more!
And the content is so awesome we even made a little trailer to celebrate the whole thing; check it out below:
To get this content, all you need to do is 1) connect your Nintendo 3DS to the Internet, 2) load your copy of Monster Hunter 4 Ultimate , 3) go to the "DLC" menu and 4) download all the things!
Quests will be saved under "Event Quests" (with the Questatrix) and "Challenge Quests" (with the Arena Bambina) in the Gathering Hall.
Anyways, in all, you're getting…
14 new quests;
11 new weapons;
4 complete armor sets ( 8 if you count Blademaster AND Gunner) plus the 3 Fan Club pieces;
2 Palico armor sets;
1 Palico weapon;
1 Bonus Palico: Red Pal ;
2 Guild Card backgrounds;
1 Guild Card pose;
9 Guild Card titles;
1000 Caravan Points;
A lot of stuff, I know… and here are a couple of highlight's I'd like to note:
– This pack includes both winners of our Weapon Design Contest: Emperor's Speech and Clockwork ;
– The Universal Studios Japan gear finally makes its way to a Western release!
– Legend of Zelda special collaboration equipment: Link's armor, Sword & Shield, and Bow! (I just need to say this all the time, because it's so awesome!)
So go download this pack and enjoy all this free content; we'll be back with more in April. Happy Hunting!