EN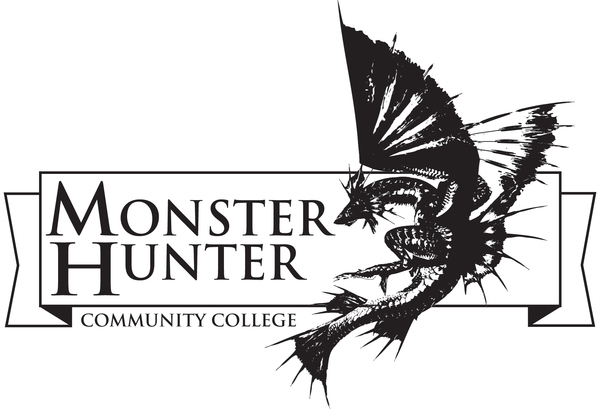 Monster Hunter Community College: enroll NOW for the April 20 session
On April 20th from 11am to 5pm we will host our first – and biggest yet – Monster Hunter community event, here at the Capcom U.S.A. office ! It is themed the Monster Hunter Community College and focuses both on expanding and servicing the existing community by teaching the curious and newcomers as well as giving you early access to DLC – not to mention the awesome prizes!
So get your hunting course materials ready and sign up today! Find out all the details below:
MONSTER HUNTER COMMUNITY COLLEGE
What is Monster Hunter Community College?
MHCC is a Monster Hunter community event centered on gathering together the Bay Area hunters and teaching the ways of the hunt to all who are new and/or curious about Monster Hunter .
ENROLL TODAY!
The enrollment process is simple an easy! Just log-in or sign-up for a Capcom-Unity account and purchase this RSVP ticket – don't worry, it costs you 0 (zero) Unity points, meaning it's totally FREE!
Come learn all about Monster Hunter!
We offer a strong curriculum of beginner and intermediate classes that will help you kickstart your hunting career, even if you've never played the game before. Our faculty to student ratio is also very favorable, and we're always ready to answer any questions you might have!
– In our beginner class, you will learn about movement, gathering and the basics of combat;
– Our intermediate class focuses on identifying monster patterns and put you in an actual hunting quest!
Classes will be held at various times throughout the event, but registration starts as early as 10am !
Get early access to DLC Event Quests!
In addition to providing a place for you to meet up and connect with other local hunters, you can also get early access to DLC Event Quests ! By coming to the April session of the Monster Hunter Community College you can walk away with up to 3 DLC Event Quests! These will eventually be released for download, but you can get a couple of weeks headstart on everyone else. The following list will be updated as we get closer to the event:
– Gigginox Buffet (High Rank) – hunt 2 or more Gigginox and deliver the Paw Pass Ticket
– Gathering of Songbirds (High Rank) – hunt a 2 Qurupeco and 2 Crimson Qurupeco
– Early DLC Event Quest 3
(Note: these will be available for the 3DS version only)
Take on Extra-Credit challenges! – Live-stream
Prove your hunting skills in our Extra-Credit extreme challenges and win some very unique prizes! These will remain as a surprise until the event, so make sure you prepare yourself for everything.
The Extra Credit challenges will also be Live-streamed – twitch.tv/capcomunity
BYOC – Bring Your Own Console
Nintendo 3DS – of course, bring your own 3DS, if you want to get the early DLC Event Quests, hunt with other local hunters, or even transfer your save file to one of the Wii Us in our office (so you can see your character in HD).
Nintendo Wii U – if the Wii U is your hunting gear of choice, feel free to bring it along! We will set up a limited number of TVs with HDMI cables, so all you need to do is plug it in and start playing. You can even play with other 3DS hunters, via local multiplayer. It's first come, first serve, so be sure to show up early to save your spot.
Win cool prizes! Buy exclusive merchandise!
Just by walking in the door, you will get a raffle ticket – hold on to it because at certain times during the event, we will call draw a raffle prize, so you might walk away with something awesome!
Plus, our very own Capcom Store will be there with a number of exclusive Monster Hunter items for sale!
When and Where?
April 20, 2013
11am to 5pm PT
Capcom U.S.A.
800 Concar Dr.
San Mateo, CA
94402
Here's a quick link to a map – and remember we are located just a few blocks away (walking distance) from the Hayward Park Caltrain station .
Don't wait – Sign-up today!
Again, the sign-up for the event is quite simple: just log-in or sign-up for a Capcom-Unity account and purchase this RSVP ticket – don't worry, it costs you 0 (zero) Unity points, aka totally FREE!
So mark the date on your calendar and join us for this awesome gathering!
EDIT: some exclusive giveaways signed by series producer Ryozo Tsujimoto…