EN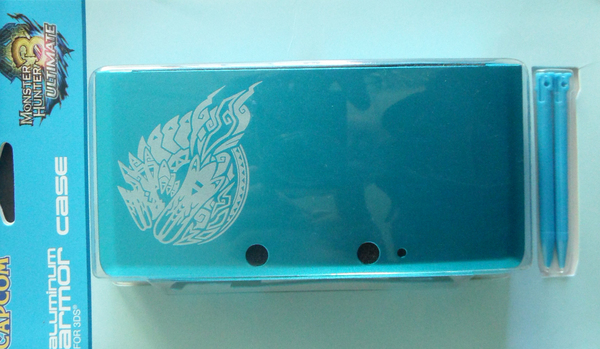 Monster Hunter 3 Ultimate 3DS case is now up for pre-order
::UPDATE 3:: Here's a picture of the actual 3DS case.
::UPDATE 2:: Good news, XL size will also be available!
::UPDATE:: There was a bit of a mix-up out there; just to clarify, this is NOT a pre-order bonus for the 3DS verion of the game. It is a separate item… and it's still awesome. =P
That's right! We've been working on this for a while (and by "we" I mean the awesome folks at the Capcom Store ), and it's finally ready. We've got the one and only official Monster Hunter 3 Ultimate 3DS case being sold ( exclusively through the Capcom Store) in the West… and it's pretty awesome! I've got it here in front of me, and the laser printed Brachydios looks especially nice. Read more below:
First of all, please note the picture above is a prototype and the final version is a bit dfferent.
This aluminum case is for the original 3DS model, fitting quite nicely and giving it a very unique feel. Also, it's a two-piece case, so you don't ever have to worry about hinges or anything like that.
Like the blog title says, it's up for pre-order already; and it's only $15.95 . We still don't have a firm release date for this, but it will be available sometime around February and March… but since you won't find it anywhere else, you might as well pre-order it already, right?
Get an awesome 3DS case and support MH; two bird wyverns with one stone. Speaking of which, it comes with 2 stylus (for free). And while we're at it, you can also pre-order the game too, and save on shipping!! 😉