EN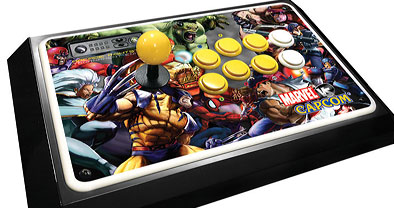 Marvel-ous Capcom Deal Of The Week
Mar 13, 2010 // DJay
The past ten months or so have been the season of the FightStick. Thanks to Capcom's partnership with Mad Catz you have never had better access to high-quality game controllers.
The Marvel Vs Capcom 2 Arcade FightStick Tournament Edition continues the trend of arcade-quality controllers. It's not only an excellent, high-quality controller, it's one of the best looking! Now, with the Capcom Store's latest Deal Of The Week , it's also one of the most affordable.
For this special Deal Of The Week I'm knocking $20 off the regular retail price! If that's not good enough, you get *50% off UPS ground shipping . To sweeten the offer even more, when you add the FightStick to your cart, you'll automatically be given the opportunity to add Street Fighter IV , the game voted Best Fighting Game Of 2009, for only $24.99 . If you want the game click the "Add" button. If you already have it just click the "Don't Add" button.
One final note, I've removed all quantity restrictions. Previously restricted to two per order, now buy as many as you want. But remember, the deal only lasts until Thursday at midnight when the next Deal Of The Week begins.
*50% off UPS ground shipping applies to US Customers Only. As much fun as it would be, we can't give these things away.