EN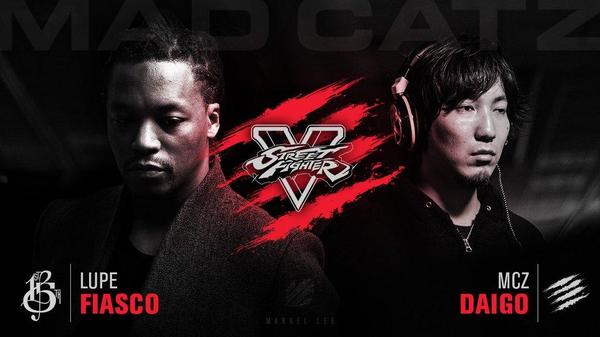 Street Fighter V Launch Event: Lupe Fiasco VS Daigo Umehara
Image credit:@Markel_Lee
Hey everyone!
We are just a few days away from the launch of Street Fighter V on February 16 th ! To commemorate the launch, we have decided to throw a FREE special launch party at the Folsom Street Foundry on Monday, February 15 th.
You may have seen this exchange on twitter the past week or so:
twitter.com/lupefiasco/status/6924148184…
That's right! World famous hip-hop artist, Lupe Fiasco has agreed to participate in an exhibition with fighting game legend, Daigo Umehara, and it will be going down at the launch party on February 15 th ! Details as follows:
(all times PST)
Street Fighter V Launch Event
Location: Folsom Street Foundry
Address: 1425 Folsom St, San Francisco, CA 94103
Live stream: twitch.tv/twitch (stream runs from 5:00PM – 8:15PM)
5:00PM – 9:00 PM
VIP and Press Admission Only
6:00PM~7:45PM
7:45PM – 8:15PM
9:00PM – Midnight
How do I become a VIP so that I can see this go down you ask? Simple! We will be letting in the first FIFTY people who line up at the door into the event to witness the Lupe VS Daigo event live, as well as a few undercard exhibitions leading up to it. If you don't make it in though, never fear, as all the exhibitions will be live streamed at twitch.tv/twitch.
From 9pm until midnight, the doors will open to general admission and those in line will be able to come inside and enjoy the game setups and festivities we'll have on hand to celebrate the launch. Remember, you must be 21 or older to enter the venue, as alcohol will be available for purchase.
But wait, it gets better! Once Lupe and Daigo are finished with their exhibition, they will head over to the GameStop on Market Street (in San Francisco) to participate in the midnight launch event there, and hand out copies of the game to the first people who line up to purchase the game, once it goes on-sale at 9PM PST (midnight EST).
(all times PST)
GameStop Midnight Launch Event
Location: GameStop Market Street
Address: 830 Market St., San Francisco, CA 94102
8:30pm – 10:00pm
Lupe and Daigo Special Appearance
The time to rise up is finally upon us. We hope to see you at one or both of the events!