EN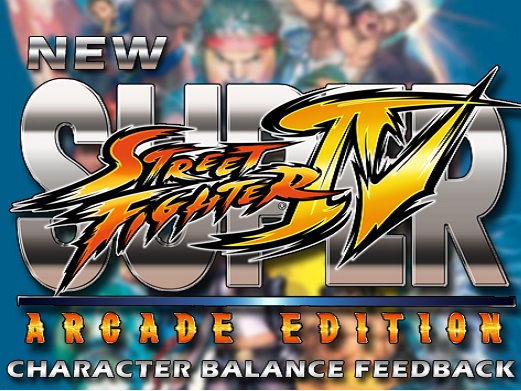 Current SSFIV Game Balance Questionnaire Results from Japan
I've been seeing tons of replies ever since we opened the forum floodgates allowing people to post their suggestions for character balance in SF4. In Japan, they are also receiving lots of feedback as well. Continue reading Ayano-san's blog below to see what's going on with our Eastern counterparts and if there are any similarities or differences in which characters have received the most suggestions.
Hello everyone, Tomoaki Ayano here!
Today I'd like to talk about some of the requests you fans have been sending in to us for the upcoming Super Street Fighter IV update. Thanks to everyone who has sent in their two cents!
This time around we're going to be showing some of the requests we've received thus far from Japanese users who wrote in via PC or smartphone, since it is easier for us to tally them more quickly.
| | |
| --- | --- |
| Characters | Requests |
| Other: system-related, etc. | 1,966 |
| Ryu | 307 |
| Chun-Li | 302 |
| Yang | 262 |
| Cammy | 256 |
| Akuma | 236 |
| Seth | 225 |
| Guile | 204 |
| Ken | 190 |
| Guy | 188 |
| Rose | 188 |
| Dee Jay | 185 |
| Zangief | 184 |
| Gouken | 181 |
| Sakura | 179 |
| Adon | 167 |
| Dudley | 166 |
| Sagat | 163 |
| Vega | 158 |
| M. Bison | 157 |
| Cody | 156 |
| Fei Long | 156 |
| Yun | 154 |
| Juri | 152 |
| El Fuerte | 139 |
| Ibuki | 134 |
| Oni | 130 |
| Blanka | 127 |
| Makoto | 123 |
| Gen | 121 |
| T. Hawk | 117 |
| Balrog | 115 |
| Evil Ryu | 109 |
| Hakan | 95 |
| E. Honda | 94 |
| Dhalsim | 90 |
| Abel | 81 |
| Rufus | 81 |
| C. Viper | 74 |
| Dan | 64 |
Aside from character balance requests, we've received a lot of ideas for changes to the actual game. These were the top four most requested changes:
Online training mode
Fight request for training mode
New characters
Something to combat hard-to-read wake-up games
Next, here are some of the requests we've received for character balance tweaks, starting with Ryu and working down the above list.
Ryu
Currently Ryu doesn't have any glaring weaknesses, nor is he an unsatisfying character, but you can't really call him a strong character either. His Metsu Shoryuken has such limited usage as an Ultra Combo, it's almost meaningless.
I'd like it if this attack could be used in combos more frequently, or preferably, if it was replaced with something entirely new.
Ayano: A lot of fans have actually voiced the opinion that Ryu doesn't need many changes and is a fun character to use, so I imagine most people like playing him as he is in SSFIV AE Ver. 2012. That's great for us, though we're still thinking about what we can do to make him even more enjoyable to play.
Chun-Li
Please increase Chun's vitality to 950 and make the trajectory of her jump lower. I'd also like it if the advantage on her far standing light punch was increased by 1 frame on hit. Keep up the good work!
Ayano: Chun's vitality increasing is one of the many requests we've gotten from fans. When we start working on her and other characters we'll look into it. Thanks for writing in!
Yang
I feel that Yang doesn't have the firepower nor enough tools to open up characters. If you could give his jumping medium kick some more oomph he'd be a better character. It'd also be awesome if you increased his health to 950!
Ayano: Lots of Yang players have been asking to boost up his attack power. Since he's a complex character built for speed, it's going to be difficult to give him lots of attack power, but we'll look into it as we continue working on the update.
Cammy
Her mid-air Cannon Strike is way too good on knockdown. You don't know when it's going to crossup or not, and even if you do guard it she's at an advantage so if you're using a character that doesn't have an attack with invincibility it's a very uphill battle.
Ayano: Yeah, a lot of people have been asking to tone down the capabilities of Cammy's Cannon Strike, in particular the EX version on hit or on block.
Akuma
Please do something about Akuma's Air Fireball on a jump back and his Ashura Senku. For example, make jump back fireball possible only if it's the EX version, or make his teleport cost meter, etc.
I know Akuma is supposed to be a character with a lot of offensive power, but he shouldn't be too strong in other areas.
Ayano: A lot of fans have also been asking us to weaken Akuma's teleport and jump back fireball. He's a character that doesn't have a lot of vitality and you have to be very efficient with his attacks, so we'll look into tweaking his defensive and runaway capabilities.
That's it for this week, thanks for reading!